Glad Rags & Cartridge Bags are five years old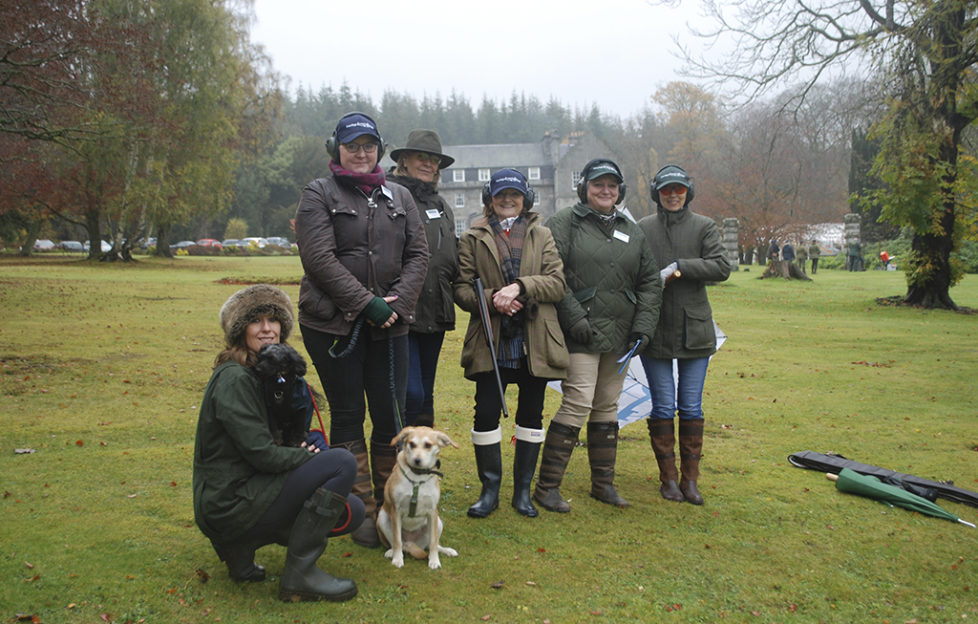 Scotland's premier ladies shooting club celebrated their fifth birthday at the weekend by doing what they do best – shooting clay pigeons.
The sound of laughter, cheers and applause could be heard echoing around the striking grounds of Raemoir House in Aberdeenshire as the ladies marked the occasion.
This saw a weekend of festivities and rejoicing in style with exclusive use of Raemoir House. A relaxed dinner on Saturday night with ladies enjoying an overnight stay in the exquisite Georgian mansion. The following day 41 ladies of all abilities from never held a gun before to the more experienced shot undertook a morning of clay shooting under instruction.
It was as always, a nail-biting exciting finish in the Country Ways Glad Rags Challenge. Throughout the year the more competitive ladies entered their four best scores from the events they attended, the birthday event was the final day to enter scores or improve on scores.
At all Glad Rags events ladies are allocated groups according to their ability, experienced plus, experienced, improver or beginner, the competition mirrored these groups, with fantastic prizes for first, second and third in each category. Helen Malcolm, Fiona Macpherson, Fiona Miller and Tricia Schooling coming first in their respective categories with Lois Moyes, Vicky Sell, Kim Shearer and Jenna Humphrey runners up.
Prizes included vouchers from Country Ways, day at the races for two people from Weatherbys Private Bank and bottles of fizz from MHA Henderson Loggie.
Kathleen O'Connor who looks after ladies shooting for BASC, British Association for Shooting and Conservation, attended the event and presented the Glad Rags 5th Birthday Bash trophies to the high guns on the day for each of the four categories. The lucky winners were Lois Moyes in the experienced plus, Marie Archer the experienced shots, Barbara Lumsden the improvers and Scottish Field's own Rosie Morton in the beginners.
Mhairi Morriss owner of Jomm Events and founder of Glad Rags and Cartridge Bags said she would have laughed five years ago if anyone had suggested they would be celebrating such an impressive milestone for the club.
Mhairi said: 'It has been the most amazing five years; we are unique unlike other shooting clubs Glad Rags does not hold its clay shooting events at traditional shooting grounds instead we are like a roving syndic holding our shoots at stunning exclusive venues.
'Over 1900 places have been filled at the 70 events at our 21 amazing unique venues, raising a staggering £10,000 for local charities.'
The club is going from strength to strength, with events continuing to sell out and new ladies attending each month. This year saw the addition of two new sponsors Country Ways and MHA Henderson Loggie coming on board.
Mhairi smiled: 'Country Ways and Glad Rags & Cartridge Bags are a perfect fit.'
Rosemary Michie, manager at Country Ways, agreed: 'I'm really passionate about encouraging women into the sport, so to have the chance to work with and support Glad Rags is fantastic.'
Lucy Crow, tax manager at MHA Henderson Loggie said: 'It has been a joy to be involved with the superb events that each and every Gladrags day is.
'It has been wonderful to meet all the women who are so passionate about the sport and support each other to learn and improve throughout the year. At MHA Henderson Loggie we are proud to have been a sponsor for 2019 and are very excited for 2020.'
So, what exciting plans are in place for 2020?
Mhairi explained: 'I am really looking forward to collaborating closely with our brilliant sponsors and new venues to offer the ladies a calendar of fun and exciting events. Children 1st is our chosen charity for the year and I have no doubt that we will reach are 500th lady to shoot with us, we are ending the year on 497.
'The 500th lady will come as my guest, I am in no doubt that this will happen at our first event of the year Blast away the January blues on 12 January at Pittodrie House.'
Mhairi is also very excited to announce a further two sponsors for 2020 Weatherbys Private Bank and Station Garage Mitsubishi Torphins.
Duncan Gourlay, head of Weatherbys Private Bank Scotland office, said: 'We are delighted to be supporting Glad Rags in Scotland. We look after clients right across the Country from our Edinburgh office and eager to encourage women into the sport. Glad Rags approach to tailoring the event to accommodate participants/ladies of any ability is very similar to our approach to Banking, treating each and every one of our clients as an individual and priding ourselves on exceptional levels of personal service.'
Mhairi concluded: 'I can't lie, but Glad Rags and Cartridge Bags happened a bit by accident. The very first clay shoot five years ago at Raemoir House started out as a fun day out for friends but as soon as it was planned I had requests from so many ladies wanting to join us, one press release later and a few posts on social media and the clay shoot was sold out with 30 guns joining 'my day out for chums'. Under the umbrella of Jomm Events her event management and marketing business Glad Rags and Cartridge Bags was born.'
Ladies who have never held a gun to the more experience shot are all welcome.
The emphasis is always on safety while learning how to shoot properly in a supportive and relaxed atmosphere. There is no joining fee and ladies dip in and out going along to the events they can manage.
For more information visit www.gladragsandcartridgebags.com