Generous gamekeepers do their bit to help those in need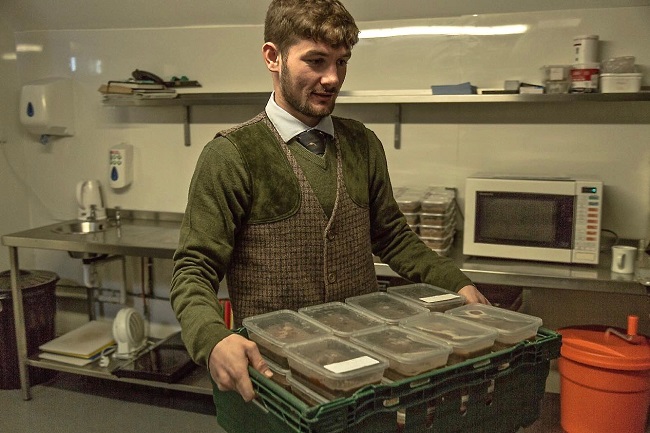 Gamekeepers and estates across Angus and Grampian teamed up to provide meals of fresh local game for over 600 homeless and vulnerable people at Christmas.
Angus Glens Moorland Group and Grampian Moorland Group were established in 2015 to showcase working and community life in remote rural glens.
Over the past year they have been working with several care, family and community causes to supply healthy, free-range game meat to those with limited opportunities to try it.
Group members worked hard to deliver to charities oven-ready pheasant and partridge, reared in the fields and woods of local glens.
Fresh venison and rabbit from the hills, sourced from gamekeepers, were also on the menu for some of the seven charities that the groups have been working with.
One of the beneficiaries was Aberdeen homeless charity, Aberdeen Cyrenians, which has helped around 50,000 people either homeless or at risk of losing the roof over their heads.
The city charity, which runs homes as well as offering street alternatives, received easy cook Game for Giving bags of pheasant or partridge plus vegetables, Christmas puddings and mince pies.
The free-range meat is hanged in licensed larders before being prepared for cooking by royal warranted HM Sheridan Butcher in Ballater and Sinclair's Kitchen in Forfar.
Lianne MacLennan, co-ordinator of both the Angus Glens and Grampian Moorland Groups, said: 'The moorland groups, which comprise gamekeepers, shepherds, estate staff and their families, have been collaborating with local charities for some time.
'It is not solely a Christmas initiative but there are particular requirements at this time of the year and the members have been delighted to get involved to help.
'We made it known on social media that we wanted to see quality local game being tasted by more people as it is a healthy free range product that not enough people get the chance to enjoy.
'Working like this helps everyone. Our group members are delighted to see the game being appreciated by people and to support vital homeless, family and community causes at this time of year.'
Game was supplied to several Grampian branches of the family support charity, Home Start, as well as Aberdeen Cyrenians and CFINE, a social enterprise which distributes affordable healthy produce and operates a food bank.
In Angus, beneficiaries included community wellbeing organisation Voluntary Action Angus, support hub and charity Brechin Community Pantry and Montrose's Christmas Community Meal.
Advice and accommodation charity, Transform, in Dundee also received the festive offering.
Leah Bruce, senior co-ordinator of the Deeside and Donside branch of Home Start said: 'We could not be more grateful for the hard work and effort of the groups, the butchers and chefs involved. When we first received the game parcels, we set up an online community with cooking tips and recipes and the response we received from the families was incredible. It has been a huge success.
'People who had probably never bought game before enjoyed it and we have welcomed the Game for Giving bags ever since. It is a fantastic initiative.'