Graham helps British riding team to feel champion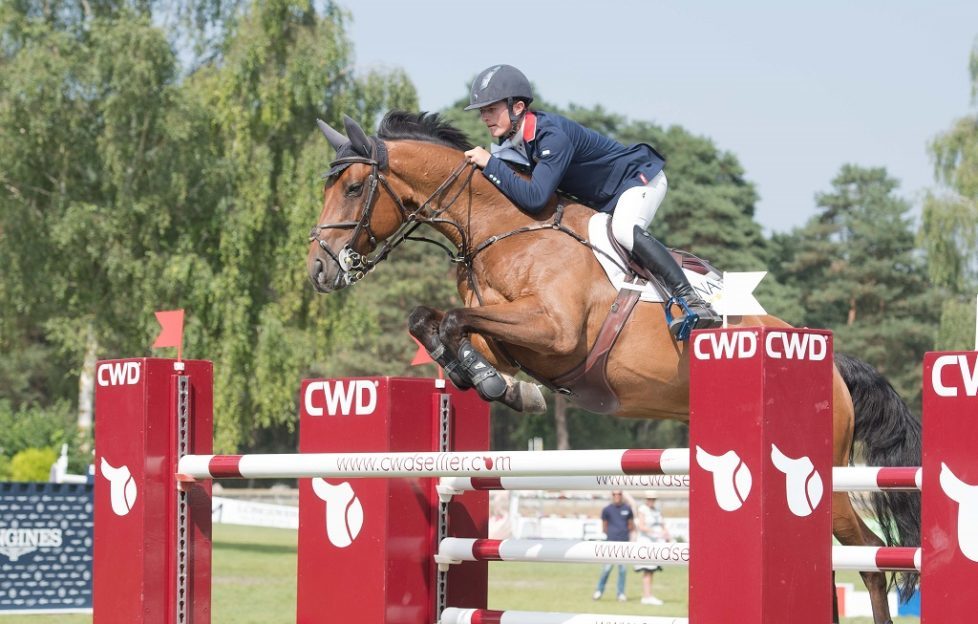 An Ayrshire man has helped the British Young Rider Team win gold at the Young Rider European Championships in Fontainebleau, France.
Ayrshire's Graham Babes, riding under the title sponsor banner of Team NAF, did Great Britain proud by winning team gold.
Going into the competition as the current Young Rider Champions it was an incredible back-to-back victory in a competition which they dominated from the start.
Their win which followed the Junior Team Silver win earlier in the day, which highlighted at a global level the incredible talent that we have coming up through the youth ranks.
Coming into the final leg of the team competition, which saw the 10 highest places teams come forward, GB were sat in pole position ahead of Germany and Denmark in second and third place respectively. With a fence in hand the team looked extremely strong coming forward but so did the others that were hot on their heels.
It was Graham Babes, aged 20, from Kilmarnock, with his own 12 year-old bay gelding Boucheron that took the role of pathfinder for the team of four.
Picking up four penalties across both prior days it was an eight penalty finish for them today when they touched two fences across the course.
Will Fletcher, aged 19, from Faringdon, Oxfordshire with Persimmon, a 12 year-old British bred brown gelding owned by Graham Fletcher had a touch in the final round this afternoon to accrue four penalties. His first and second round had also been the same with some great performances with just a touch of pole seeing him pick up four penalties on the first day and a toe on the water tape at the open water on day two.
Amy Inglis, aged 21, from Haywards Heath, West Sussex with Wishes, a 10 year-old British bred chestnut mare owned by Claire Inglis was the third rider in. Their superb opening round saw them jump clear and it was an unlucky touch at a fence that saw them pick up four penalties.
Then a foot-perfect round saw them head to the finish line clear however breaking the line just over the time allowed, it was their incredible misfortune to pick up a time penalty in what was otherwise a faultless performance.
Harry Charles, aged 18, from Alton, Hampshire with Vivaldi Du Dom, a 13 year-old chestnut gelding owned by Peter Charles MBE took the role of anchor. As always, Harry showed incredible calmness and maturity in respect of the pressure and responsibility that comes with the role of being anchor rider.
As he entered into the arena, Harry had nine penalties in hand to assure the team of a gold medal and you could have heard a pin drop as he set off.
Having jumped clear across the initial two days of jumping, he looked set to deliver a third however a stride out from the vertical over a water tray, Vivaldi Du Dom seemed to just look at something which momentarily lost his focus to see the top rail lower in what was otherwise a tremendous round just a fraction over the time. Knowing he had done enough to win Gold as the final rider to enter the arena the support team erupted in cheers of triumph to greet him as he exited the arena.
Claiming the gold medal position on the podium they were also accompanied by Georgia Tame, the fifth rider representing Great Britain. Georgia, aged 20, from Horsham, West Sussex with Cash Up, a 14 year-old bay gelding owned by Team Z7 contested the final leg of the competition as an Individual. Jumping for four penalties on both the first and second leg of the competition luck didn't go their way when they pick up 17 penalties as a result of four down and a time penalty.
Great Britain took gold on 25.08 penalties ahead of Germany and Denmark who held onto second and third place respectively on 30.73 and 41.79.
British Showjumping would like to thank NAF, title sponsors of the Senior Nations Cup Teams along with the Children, Junior, Young Rider and Veteran teams.