Whisky maker launches editions based on notes from 19th century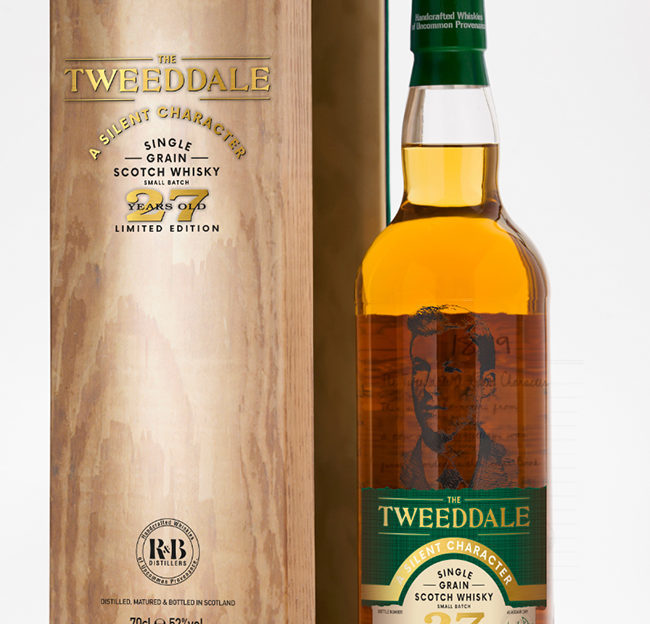 Award-winning craft whisky maker R&B Distillers has launched two new editions of The Tweeddale.
The Tweeddale The Evolution and The Tweeddale A Silent Character are the latest additions to the Tweeddale collection. These characterful whiskies have each drawn inspiration from the brand's fascinating heritage.
Co-founder of R&B Distillers, Alasdair Day, is the great-grandson of Richard Day, a master-blender in Coldstream in the Scottish Borders during the 19th century. Alasdair inherited his great-grandfather's whisky 'recipes' which had been painstakingly recorded in a cellar book – the back of an accounts ledger.
Alasdair has been recreating the original Tweeddale Blends since 2009. R&B Distillers studied Alasdair's great grandfather's recipes to create The Tweeddale A Silent Character. They discovered that single grain from Cambus Distillery was the whisky most consistently used in blending during the early 1900s and had been favoured by Richard Day.
The name A Silent Character alludes to the fact that the Cambus distillery is now silent, having ceased whisky production in 1993 and that is a key character is many of the historic Tweeddale bottlings.
This 27-year-old single grain Scotch Whisky is a vatting of two ex-bourbon casks: it is sweet and oaky, with honeyed notes on the nose, hints of pear, and a mineral structure on the palate. It is a limited edition bottling with fewer than 600 bottles available worldwide. It is priced at £175.
The Tweeddale The Evolution is 28 years old and the eldest Tweeddale to be released. It is fuller in character than previous impressions, with sherried and Speyside qualities. This latest edition boasts a richer and fuller character, with dark chocolate and black cherry on the nose followed by wood spice and earthy notes on the palate. This rich whisky is a luxurious addition to a sophisticated drinks cabinet.
Having analysed the cellar book R&B Distillers have carefully predicted the direction that they believe Richard Day was heading in with his blends had he continued to produce after WWII. The Evolution is their homage to this. It is also priced £175.
R&B stands for Raasay and Borders, two uncommon terrories brought together through one unique whisky company.
As well as Alasdair Day's great grandfather, Richard Day, his other great grandfather, Allan MacDonald, hailed from the Hebrides. It is this split history that prompted R&B to build a distillery on the remote Isle of Raasay in the Inner Hebrides and the plans for a subsequent distillery in the Borders region.
Meanwhile, Rasaay While We Wait has been released, at £56.95.
R&B Distillers are the founders of Scotland's newest distillery on the small Hebridean island of Raasay. Making whisky is a patient business, so before they can enjoy the island's first legal spirit, R&B created the aptly named single malt Raasay While We Wait, as a preview of flavours to look forward to from the new island distillery.
The brand has launched a limited edition third iteration: a mixture of whisky finished in Tuscan Cabernet Sauvignon and Cabernet Franc casks for eight weeks, with whisky finished in the wine casks for 18 months. This unusual spirit will have a full bodied fruity and lightly smoky flavour, the perfect accompaniment to a festive cheese board. It even works really well in cocktails!