Warehouse clearance sale will be gone in a flash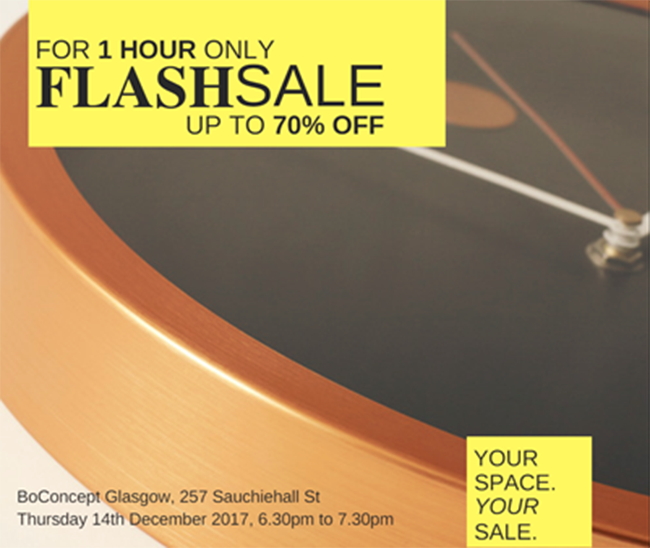 This Thursday a fantastic one hour flash warehouse clearance sale is being held in Glasgow.
From 6.30pm to 7.30pm only, BoConcept, 257 Sauchiehall Street, Glasgow, will have all clearance stock with up to 70% off, with at least 40% off.
It is on a first come, first served basis, with full payment or a non-refundable deposit.
Stock can be delivered locally pre-Christmas or collected.
Director Adam Davidson said: 'At BoConcept Scotland we are one of these brands that just do not believe in discounting.
'Occasionally BoConcept in Denmark may give us an offer to clear some stock. There is one other exception to that; the BoConcept Winter Sale!
'This is all about clearing ex-showroom models to make space for our new ranges to be launched in the new year so some real killer bargains to be had.
'This isn't a cosy event with dainty nibbles and some bubbly, this is one hour of serious offers for the serious buyers. Make sure you know your room dimension as we won't be able to offer our 3D interior design service at this event.'
BoConcept are also encouraging customers to watch out every day on their Facebook page for one 'Sudden Drop' on a key item with a great offer – and it's always first come, first served.