Theatres are celebrating 30 years of The Steamie on anniverary tour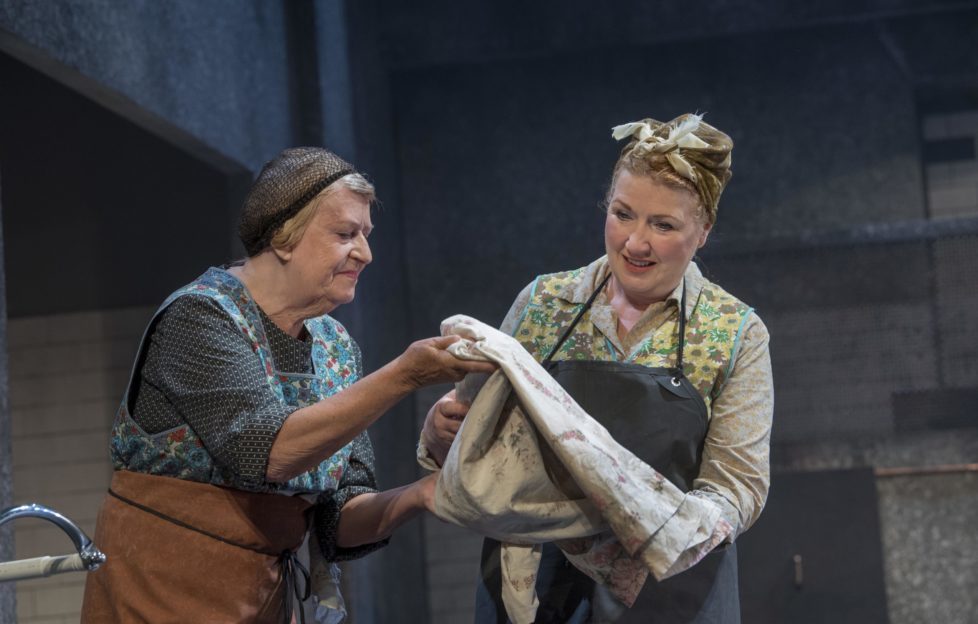 Renowned Scottish play The Steamie is returning to Glasgow and Edinburgh.
Still fresh in its 30th anniversary tour which has so far travelled to Kirkcaldy, Aberdeen, Dundee, Ayr, Inverness and Stirling, The Steamie marks its homecoming with a two week run at the King's Theatre in Glasgow.
First performed in Govanhill Baths in 1987 and set in a Glasgow washhouse, The Steamie is a Scottish theatrical classic; an ode to the hard-working women of the 1950s and to a bygone Glasgow.
The young Doreen envisions a new future, while Mrs Culfeathers looks back to the past – the play is a snapshot of a society, of a time and a cross section of strong women, all rolled into Roper's hilarious comedy.
The 30th Anniversary touring cast brings together Mary McCusker (reprising her role as Mrs Culfeathers from the 2012 production), Steven McNicoll (wrote and starred in seven series of the BAFTA Nominated BBC sketch show Velvet Soup), Libby McArthur (Gina Rossi in River City), Carmen Pieraccini (Kelly-Marie Adams in River City) and Fiona Wood (also reprising her role as Doreen from the 2012 production).
Writer Tony Roper and producer Neil Laidlaw are both alumni of the Royal Conservatoire of Scotland.
Tony – best known as as Jamesie Cotter from Rab C Nesbitt – said: 'In my late forties I sat down with a biro and a jotter and wrote my first ever play. Thirty years have since passed and The Steamie is still there, giving laughter and tears and touching that intangible something in an audience that has made it a favourite night out.'
On Tuesday, October 24, at the King's Theatre, Glasgow, a special red carpet gala performance will bring together the stars of Scottish theatre and screen in a celebration of this seminal Scottish play.
The producers are delighted to partner with the Royal Conservatoire of Scotland for this special gala performance. A number of tickets will be sold through the RCS to raise funds for the institution in its 170th anniversary year.
The Royal Conservatoire has consistently played a key part in creating a rich and successful theatre scene in Scotland over the last two centuries, and the producers are excited to join forces with them for the event to mark this incredible milestone.
Professor Jeffrey Sharkey, principal of the Royal Conservatoire of Scotland, added: 'For 30 years, The Steamie has enchanted audiences with its homage to Glasgow of years gone by.
'From Tony Roper to Neil Laidlaw, our alumni are involved in all facets of the production, highlighting the versatility and creativity of the students who pursue studies in the performing and production arts at the Royal Conservatoire.
'The Steamie remains a treasured part of Scotland's theatrical heritage and with so many graduates involved, it's only right for the Royal Conservatoire to celebrate this historic milestone in the same year our institution marks its 170th anniversary.'
The Royal Conservatoire's alumni include former Doctor Who David Tennant, movie stars James McAvoy and Alan Cumming, Outlander's Sam Heughan and Harry Potter's Cho Chang, Katie Leung.
Producer Neil Laidlaw concluded: 'The Steamie is one of the greatest Scottish plays – I am extremely proud to have had the opportunity to have been associated with it in the past and am now even more excited to be producing this 30th anniversary celebration.
'I first saw it in a student production at the Royal Conservatoire of Scotland while studying there. Dawn Steele played Mrs Culfeathers fabulously!'
The Steamie will be at Glasgow's King's Theatre, weeks commencing October 23 and October 30, then moves to Edinburgh's King's Theatre from November 6.