Tamdhu marks 120th anniversary with 50 Year Old whisky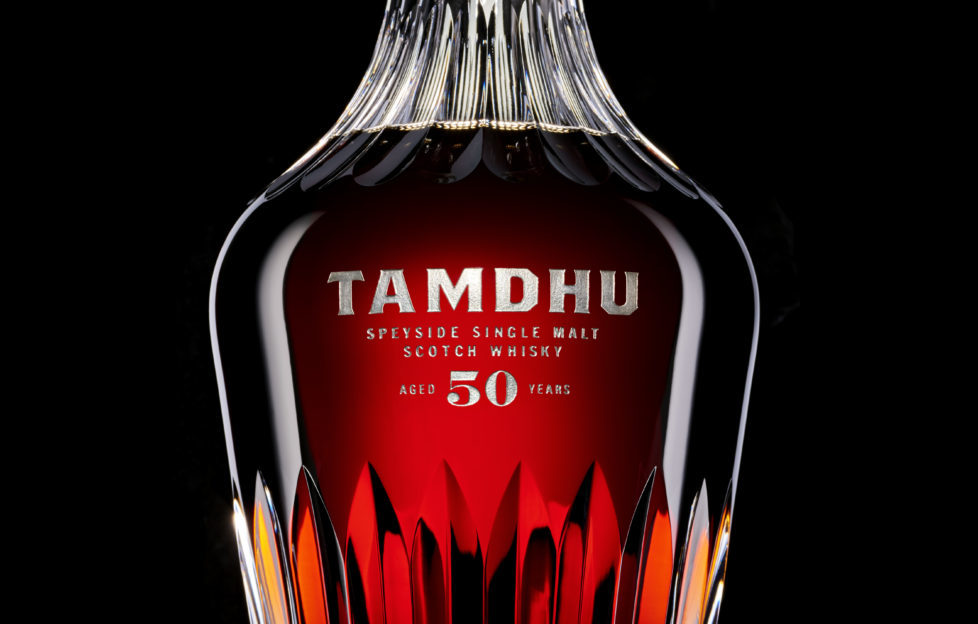 Tamdhu Speyside Single Malt Scotch Whisky has unveiled its oldest ever bottling – Tamdhu 50 Year Old – to coincide with the distillery's 120thanniversary.
Matured in a first fill European oak sherry butt for five decades, just 100 bottles of Tamdhu 50 Year Old will be made available globally. This single cask release will retail at £16,000 per bottle.
Tamdhu 50 has forest fruits, elegant oak and orange depths on the nose. On the palate, cloves, liquorice, espresso and baked apples are revealed, with a lingering finish of cocoa, ginger, walnuts and maple syrup.
This rare whisky is presented in an exquisitely-designed decanter, created by a team of traditional British craftsmen and women including glass designer Katy Holford, crystal experts Royal Brierley, and the silversmiths at renowned luxury jewellery house Hamilton & Inches.
Leonard Russell, Managing Director of Ian Macleod Distillers, who own Tamdhu, commented: '120 years of expertise and 50 years of maturation in an extraordinary sherry oak cask  have gone into making Tamdhu 50 Year Old, and we are delighted to be able to share it with the world.
'What makes this whisky really special to us is that it represents the rebirth of the distillery. There was a time, before we bought and reopened Tamdhu, when some thought it was gone forever. This cask, which may never have been released had the distillery remained closed, can be now enjoyed and savoured, and that is something we want to celebrate.
'In the spirit of celebration, we have been working with some of the UK's top craftspeople to create a beautiful decanter, inspired by the generations of expertise which has gone into making Tamdhu.  It's a fitting tribute to a remarkable whisky, in a very special year.'
Tamdhu 50 was unveiled at a special event at Hamilton & Inches' showroom on George Street, Edinburgh. The luxury jewellery house, established in 1866, was responsible for producing the sterling silver which adorns each decanter.
Each decanter of Tamdhu 50 Year Old is presented in a solid stained oak canister adorned with Hamilton & Inches hallmarked sterling silver. The pack design depicts Tamdhu Distillery's location on the Spey River, its Victorian train station and exclusive sherry casks.
Tamdhu is owned by one of Scotland's leading, independent family-owned distillers, Ian Macleod Distillers. Tamdhu was born on the banks of the River Spey in 1897 – an era when anything seemed possible. When obstacles were there to be overcome, an age of the Can-Dhu-Spirit. Its quality is defined by the hint of peat in its malted barley, the natural Speyside water that is drawn directly from the Tamdhu spring and the 100 per cent exclusive use of only the finest sherry oak casks.
Learn more at www.tamdhu50.com