Scottish gin plays its part in winning the World's Best Martini 2018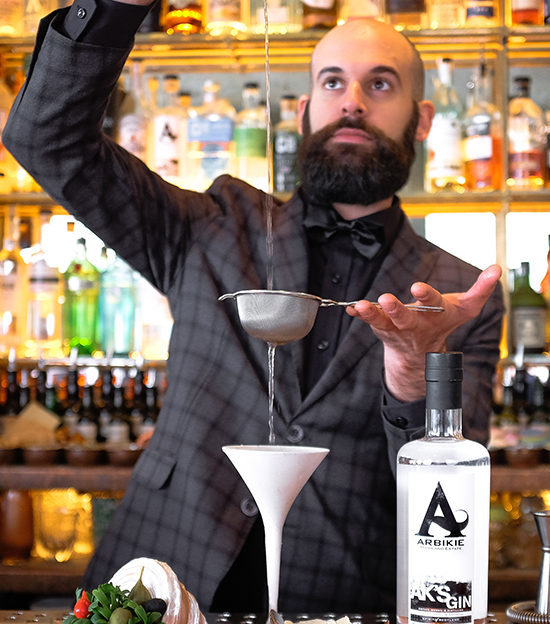 The search for The World's Best Martini 2018 is now over – and the title has come to Scotland.
Scottish distiller Arbikie Gin, in partnership with bartender Francesco Petracci from The Gibson, have claimed the title.
With the hotly anticipated final taking place recently at Oslo, Hackney in London, six spectacular gin brands competed for the trophy.
The night was an opportunity for guests and judges alike to sample some of the best Martini recipes around.
With over 250 people attending, the event saw 2017 champions Daffy's Gin beaten by Scotland's leading field to bottle distiller, Arbikie Gin.
They fought off tough competition with their Showcase Martini Recipe bringing home the title of the World's Best Martini, 2018.
Their combination of Arbikie AK Gin, Sea Herbs Vermouth and Smoked Liquid garnished with lemon zest and served with style, created a unique and innovative twist on the classic Martini that impressed judges Mark Ludmon of Bar Magazine, Annie Hayes of Master of Malt and Witek Wojaczek of Artesian Bar at The Langham.
With the British blended gin, Pothecary coming a close second and Irish distillers, Bertha's Revenge claiming the popular vote, each of the finalists created innovative, mouth-watering Martinis that tantalised tastebuds and kept guests going back for more.
The World's Best Martini Challenge will return in 2019 for its third year, welcoming gin brands from all over the world. 2018 winners Arbikie Gin will compete against 5 brand new finalists to defend their title of the World's Best Martini 2018.
Alexander Forsyth, Arbikie global brand ambassador said: 'We are absolutely thrilled to have won this prestigious award and all credit must go to Francesco at The Gibson who worked incredibly hard to create a superb twist on the classic martini whilst maintaining the delicate flavours of AK's Gin.
'We can't wait to defend our title next year.'
READ MORE DRINKS NEWS FROM SCOTTISH FIELD BY CLICKING HERE.