Scottish comedy Still Game is back for its eighth run – and it's bigger and better than ever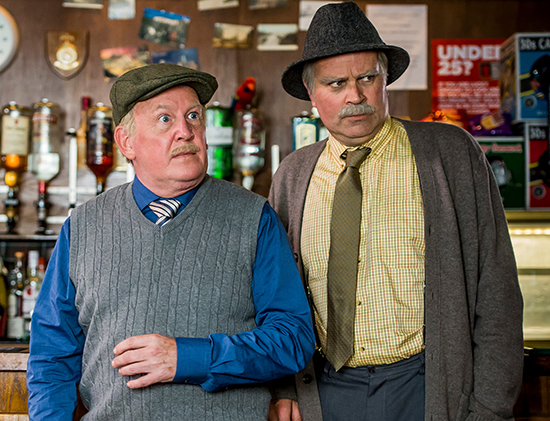 Hit Scottish comedy series Still Game is returning for another series next week.
The BBC Scotland show has become a huge success across the whole of the UK, with this eighth series following the adventures of lifelong friends Jack Jarvis and Victor McDade.
Created, written by and starring Ford Kiernan and Greg Hemphill, Still Game visits the fictional Glasgow suburb of Craiglang where Jack, Victor and the rest of the gang show comedy fans exactly how to grow old disgracefully.
The last series of Still Game – which aired in 2016 – saw the comedy series build its ever-growing fan base across the UK and became the most-watched, non-sporting programme in Scotland in over a decade and also scooped the Scottish Comedy Award and Celtic Media Award.
The old friends are joined by their pals Isa the gossip (played by Jane McCarry), Boabby the barman (Gavin Mitchell), Navid the shopkeeper (Sanjeev Kohli), one-legged Winston (Paul Riley), tight-fisted Tam (Mark Cox), as well as last series' toothy new sensation, Methadone Mick (Scott Reid).
It also features the arrival of a new face in Craiglang, creepy undertaker Iain Duncan Sheathing. The living embodiment of the Grim Reaper, Sheathing is played by comedian Bruce Morton and makes his spine-chilling and unmissable debut in the second episode of this new series.
A touch of Hollywood glamour comes to Craiglang as American talk show sensation, Craig Ferguson, from Cumbernauld, takes on the role of Callum – an old friend of Isa's who returns to Scotland after a life in LA.
The new series finds laughter in makeshift living arrangements, death, steak pies, walking football, caravanning and Californian stunt men as the pensioner pals go about their everyday lives – with hilarious consequences.
Ford Kiernan, who plays Jack, was delighted that the last run was a hit across the UK.
He said: 'It's reassuring to know that people are still engaging with it after all this time. It's great hearing about kids picking up on it from their parents, people who hadn't heard of it first time around which is a great vibe.
'Even as kids, Greg and I were watching things like Steptoe and Son years after it had first been aired. So it's testament that a good fan base is forever giving and they've been just great to us.
'We've got such a brilliant cast full of 'go to' characters we write comedy for now. Not to be flippant but it makes it easier at times to come up with a story and be able to say "right who are we going to give this to?". If you were in a sitcom where there were only three characters it would be tough but we're a bit like The Simpsons now, there are so many characters, the writing is that bit easier.'
And Greg Hemphill, who stars as Jack, is delighted by the success, and added: 'It feels fantastic and exciting and the fact that it didn't happen overnight means it's very special. These characters have been with Ford and I for over 20 years. They've changed and mutated over time. They look different.
"It's like watching an early episode of The Simpsons where they're not drawn quite the same. It's exciting after all this time to find new viewers to come along and love Still Game.'
And with the new series, he teases: 'Expect the unexpected. It's always nice to retain an element of surprise and keep the audience guessing but keeping the bits of the show that the fans love.
'As the show goes on we do take care not to take it off in a direction which wouldn't work for the characters. The thing is the audience know the characters as well as we do now so we have to really make sure that the episodes are fun, believable and surprising.'
Still Game returns to BBC One on Thursday, 8 March, at 9.30pm
READ MORE NEWS FROM SCOTTISH FIELD BY CLICKING HERE.