Scottish cat reaches final of national pet slimming competition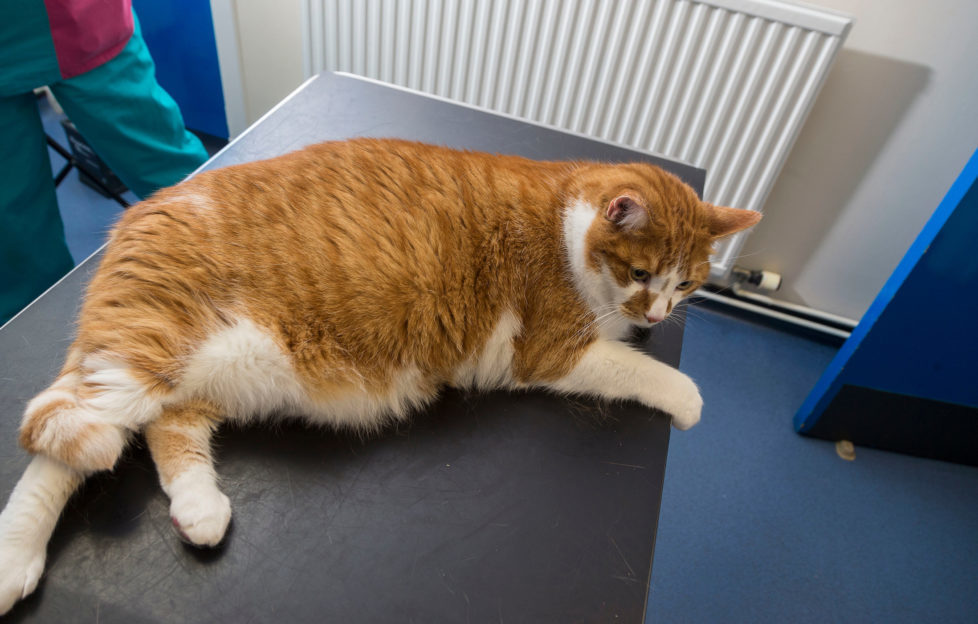 A podgy puss from Aberdeen, who loves ice cream and crisps, has reached the finals of the UK's largest pet slimming competition – PDSA Pet Fit Club.
The seven-year-old ginger and white tabby cat has been selected to compete against six other fat pets from across the UK, including dogs, cats and even a giant rabbit. Together they weigh 18st 7lb (118kg) – more than heavyweight champion Anthony Joshua (113kg) – and need to lose nearly 7 stone (42.55kg).
Pumpkin's story
Weighing in at a whopping 1st 8lbs (10.2kg), Pumpkin has eaten and snoozed his way to become 46% overweight. He needs to lose 7lb (3.2kg) to reach his ideal weight.
The flabby feline gets fed three times a day and does virtually no exercise as he hates going outside.
His owner, Chelsea Mullen (21), from Bridge of Dee, Aberdeen, said: "He's a very happy, friendly and loving cat but has turned into a couch potato. His daily exercise now consists of moving from the bed or sofa to the food bowl and back again. He's very reluctant to go outside because that involves getting off the sofa and he doesn't even move if he sees a fly!
"Pumpkin tends to eat dry food and he does like cat treats. He also loves indulging in leftover ice cream and crisps. He always tries anything to get food and claws at you until you give in!"
Chelsea has owned Pumpkin, and his sister Munchkin, who isn't overweight, since they were kittens.
She said: "They both seem to eat the same amount but the difference is that Pumpkin simply doesn't do any exercise. He just lies there.
"Several years ago Pumpkin got stuck in the cat flap. It was so stressful because he was completely wedged in, couldn't go forwards or backwards. He's avoided it ever since.
"We would like Pumpkin to lose weight so he can start having fun and learn how to play with both his toys and his sister Munchkin again, but most of all we want him to lose the weight in order to keep him healthy."
As part of the competition, Pumpkin will embark on a strict six-month diet and exercise programme, specially tailored by the vets and nurses at Aberdeen PDSA Pet Hospital.
Fiona Gregge, PDSA Senior Vet, who will be helping to overseeing Pumpkin's diet, said: "Pet obesity is a growing issue that affects millions of UK pets. Carrying excess weight can have serious health risks and increase the chances of pets suffering from life-limiting and life-threatening diseases including arthritis, diabetes and heart disease.
"With the help of PDSA Pet Fit Club, Chelsea is making the necessary lifestyle changes to help get Pumpkin down to a healthier weight. We will support him every step of the way over the next six months to ensure they succeed."
PDSA Pet Fit Club
Pet Fit Club is a six-month diet and exercise programme, tailored and overseen by expert PDSA vets and nurses. Pumpkin will be competing against two dogs, three cats and a rabbit, including Milo the cat from Margate who is nearly double his ideal weight tipping the scales at a whopping 1st 12lb (11.8kg). Also taking part is giant rabbit Lola from Derby who weighs 1st 2lb (7.4kg) making her nearly 40% overweight.
PDSA Pet Fit Club was launched in 2005 and has already helped 78 dogs, 34 cats and 7 rabbits lose a total 68 stone 9lb – equivalent to a grand piano or 192 Chihuahuas.
To help them with their weight loss plan, Pet Fit Club participants will receive free diet pet food for the duration of the competition, courtesy of Dechra. The overall Pet Fit Club Champ, who will be crowned at the end of 2017, will win a year's free supply of Dechra pet food and a £250 voucher for a pet friendly holiday courtesy of Sykes Cottages.
For more information about this year's pet finalists and to follow their progress visit www.pdsa.org.uk/petfitclub.