Macallan 1878 bottle is exposed as a fake by Whisky 101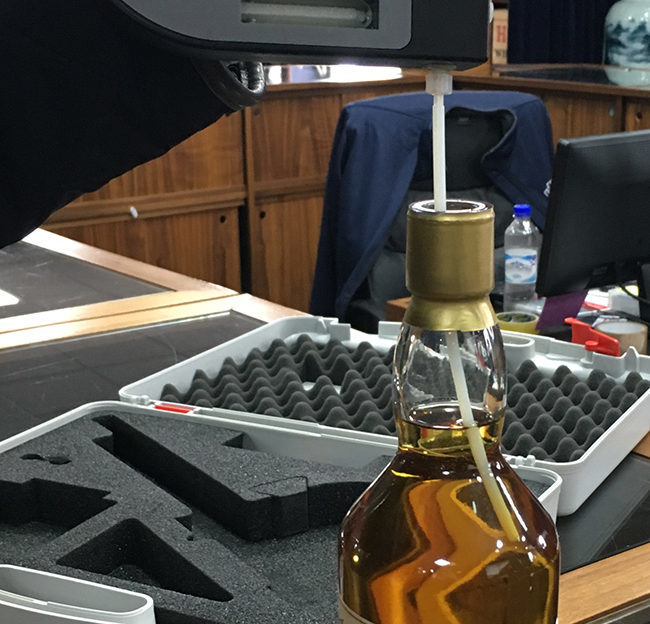 One of the world's only known bottles of Macallan 1878 still in circulation has been officially exposed as a fake.
Following an investigation by Rare Whisky 101, working in partnership with Sandro Bernasconi, bar manager at the Waldhaus Hotel, the bottle has been confirmed as a forgery.
The Waldhaus Hotel Am See in St Moritz hit the headlines earlier this summer after a Chinese customer paid 9,999 Swiss Francs (c£7,700) for a glass of the rare Scotch whisky, thought to be the most ever paid for a poured dram of liquid gold. Were the bottle genuine, it would have carried a bar-value of around 300,000 Swiss Francs (£230,000).
Following a series of investigative and forensic tests carried out by RW101, the whisky has been shown to date back no further than 1970, deeming it almost worthless as a collector's item. Sandro Bernasconi from the Hotel has flown to Asia in the last week to refund the paying customer in full.
One of the world's leading authorities on rare whisky, RW101 was called in by the hotel owner following publicity surrounding the sale of the dram. The eye-watering price paid for a drop of this seemingly rare vintage caused a stir among a number of experts within the whisky industry who have questioned its authenticity and asked for clarity on what exactly the bottle contains.
A sample of the Macallan 1878 was subsequently collected by the team at RW101, and flown back to the UK for a series of forensic tests and analysis to determine, as best as modern science allows, the precise composition of the liquid. Firstly, and most critically, the liquid was subjected to carbon dating at the University of Oxford to verify the year of distillation.
The conclusion from Rare Whisky 101's investigation is that the whisky is a modern fake.
Results from University of Oxford's Research Laboratory for Archaeology and The History of Art suggested a 95 per cent probability that the liquid was created between 1970 and 1972. Subsequent laboratory tests carried out by Tatlock and Thomson (providers of scientific services to the wine and spirits industry) showed the sprit was most likely a blended scotch comprised of 60 per cent malt and 40 per cent grain.
Ken Grier from The Macallan brand owner, Edrington, said: 'As the leading brand in the fast growing secondary market for rare whiskies, with an estimated 30 per cent share by value, we take this very seriously.
'We praise the work that our partners, RW101, are doing to bring awareness of any fraud to light. We would urge consumers to buy from reputable sources at all times.'
RW101 co-founder David Robertson added: 'The Waldhaus team have done exactly the right thing by trying to authenticate this whisky. Over the past year, we have been invited by numerous bottle owners and auction houses to assess suspicious bottles.
'Indeed, we've noticed an increasing number of old, rare archive or antique bottles coming to market at auction, and it's difficult to know how prevalent this problem is. We would implore that others in the market do what they can to identify any rogue bottles.
'The more intelligence we can provide, the greater the chance we have to defeat the fakers and fraudsters who seek to dupe the unsuspecting rare whisky consumer. We're also working closely with The Macallan brand owner, Edrington, as they start to take a leadership position on fake whisky.
'As with any purchase, we would recommend that each buyer does their research, assesses the bottle and its packaging presentation, and where they can afford to do so, send some of the liquid for technical evaluation and/or carbon dating.
'If you do have a pre-1900s bottle we suggest it's worth extracting a sample to prove if it is genuine or not (most likely not). Even if the bottle has been opened, if you can prove the whisky was distilled pre 1900, then you have some very valuable whisky to enjoy!'
Sandro Bernasconi, manager at the Waldhaus Hotel, added: 'When it comes to selling our customers some of the world's rarest and oldest whiskies, we felt it was our duty to ensure that our stock is 100 per cent authentic and the real deal. That's why we called in RW101.
'The result has been a big shock to the system, and we are delighted to have repaid our customer in full as a gesture of goodwill.'
For more information on rare whisky market performance and activity visit www.rarewhisky101.com