Impressive new sculpture is a mark of village's proud heritage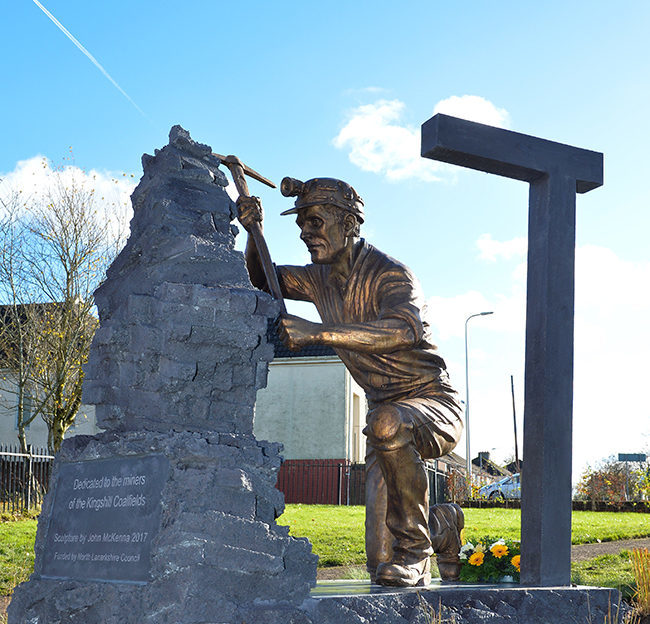 A sculpture honouring the lives of the miners who worked in the Kingshill Collieries has been unveiled in Allanton, North Lanarkshire.
It follows a campaign from residents to celebrate the area's industrial legacy and to remember the men who lost their lives while working there.
Miners travelled from across the central belt to work at the collieries, which closed in 1974.
The Kingshill No1 and No2 collieries were owned by the Coltness Iron Company. Kingshill No1 opened in 1919 followed by Kingshill No2 in Forth. A treatment plant was built at at No 1 in 1952. There was also Kingshill No3, which was the first NCB colliery to be opened in the area in 1952. All of the pits were important to the people of Allanton.
As the mining industry declined, pits in the Shotts area began to close. Kingshill No1 closed in 1968 and No3 closed in 1974.
The new piece of art to honour the miner's lives was created by renowned sculptor John McKenna.
Margaret McLean, secretary of Allanton Tenants and Residents Association, said: 'The sculpture is a truly inspirational piece of work and I have no doubt that everyone who has a family member associated with mining will be filled with admiration and pride when they see it.
'We are grateful for the support we have had from our local councillors and various staff at North Lanarkshire Council for their support and guidance.'
Matt Costello, local regeneration manager, said: 'This project is a great example of a community led project.
'This fabulous piece of art will enhance the village for years to come and is a credit to the miners and the group, led by Margaret McLean, who has driven this forward. The project highlights the council's commitment to invest with and in our local communities through the local development programme.'
The old K1 site in village is now North Lanarkshire Council's latest local nature reserve and is managed by the Greenspace team.
The countryside ranger service and volunteers have collaborated with the tenants and residents association on an interpretation board describing the mining history the trails and the variety of wildlife, flora and fauna some unique to the area.
To celebrate the Queen's Diamond Jubilee a new wood was planted within Kingshill with help from countryside rangers, Scottish Woodland Trust, T&R and villagers of all ages.The countryside ranger team also regularly takes local primary pupils on to the site for nature study events.