An evening of celebration for Scotland's outstanding seafood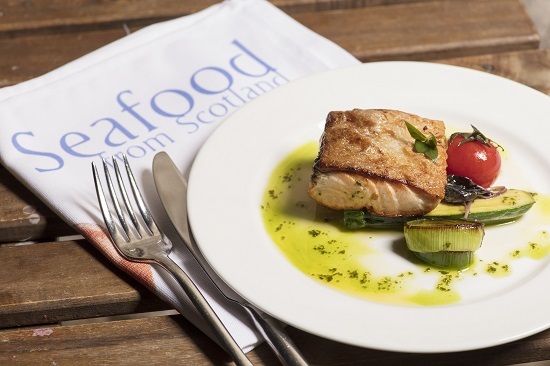 The Scottish seafood industry was celebrated this week, as it hosted some fine dining with a twist.
Seafood Scotland hosted the Spirit of Seafood evening, treating leading industry specialists, journalists, bloggers and chefs to a bespoke experience, tasting some of Scotland's finest seafood paired with spirits from Scottish distiller, Arbikie.
Edinburgh's Fireside at The Arches provided a unique space to showcase some of the best food and drink Scotland has to offer.
Chef Mark Heirs cooked up a storm in the purpose-built open-plan kitchen, preparing four fine seafood dishes and a dessert dish.
The dishes included a variety of species sourced from the Outer Hebrides and the north-east Atlantic, including scallops, crab, cod, mackerel and salmon. Each course was paired with Arbikie gin and vodka to create unique cocktails to enhance the flavours of each dish.
Clare MacDougall, trade marketing manager at Seafood Scotland, said: 'As part of our ongoing mission to inspire and engage the trade, chefs and culinary stars of tomorrow, we aim to demonstrate the sheer versatility of Scotland's seafood.
'This relaxed fine dining experience enabled guests to mingle with Mark as he cooked, and sample some of Scotland's finest seafood and spirits at a unique and unforgettable evening.'
Chef Mark added: 'I've worked with Seafood Scotland at a few of their events now and I always appreciate the opportunity I'm given to showcase exceptional Scottish seafood to the guests.
'Even in Scotland, not everyone is aware of the quality of ingredients we have on our doorstep, so hopefully the work Seafood Scotland is doing to promote this will help raise awareness of the industry across the UK and overseas.'
Industry representatives and speakers included Clare MacDougall, Seafood Scotland; Adam Hunter and Kirsty Black, Arbikie; Matthew Hurst, Loch Duart; Magnus Houston, Coast & Glen.
Seafood Scotland was established by the industry in 1999 to increase trade opportunities for the Scottish seafood sector.
Dealing with all seafood species, Seafood Scotland is a non-political organisation that works throughout the supply chain with fishermen, fish/shellfish farmers, processors, retailers, food service companies, caterers, NGOs and consumers.
READ MORE NEWS FROM SCOTTISH FIELD BY CLICKING HERE.