1989 cask of The Macallan sells for just under quarter of a million pounds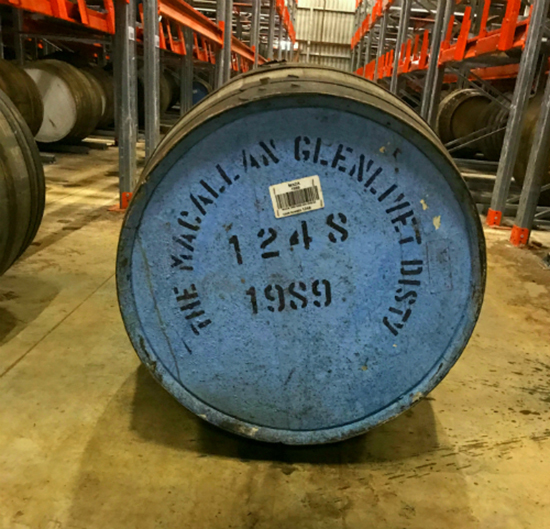 A cask of Scotch whisky was sold for almost quarter of a million pounds at auction last week.
The barrel of Macallan 1989 went under the hammer for £242,000 when it was sold in Blackpool, after a four-hour battle.
The sale was managed by Whisky-Online Auctions, and they believe the sale of Macallan 1989 was a world record for a cask of 1989 whisky.
The cask, a refill Sherry hogshead, had been left to mature in one of Macallan's bonded warehouses since being filled in January 1989. It was the oldest of a series of Macallan casks auctioned by Whisky-Online.
The previous owner paid £2700 for the cask in 1994.
In November 2017, a cask of Macallan 1995 sold for £52,100.
Wayne Ormerod, the founder of Whisky-Online Auctions, said: 'This was a superb sale. Macallan is a blue chip distillery known for its Sherry casks, so it's ideal for auctions like ours that specialise in quality older whiskies.
'It is great to see this level of demand for casks of single malt from serious auction buyers.
'There were multiple bidders who were determined to secure the cask, which is why the auction kept extending and it ended up going for such a fantastic price.
'We've been auctioning rare bottles of whisky for several years, so when the opportunity to start auctioning casks came along it seemed like a natural progression. We've been surprised by just how successful it's been.'
As well as the Macallan cask, there has been interest in casks from Isle of Jura, Tullibardine and Arran.
Wayne added: 'A cask of aged Macallan is an increasingly historic and valuable asset and will always fetch high prices, particularly as the old Macallan distillery will be closing later this year after production is switched to the new facility.
'That makes these casks representing the distillery's golden era even more special.
'This is a new and rapidly-growing part of our business and we expect these extraordinary prices will attract many other cask owners keen to find out how much their own liquid gold could achieve at auction.'