Sandman Signature's new Scottish venture is a hit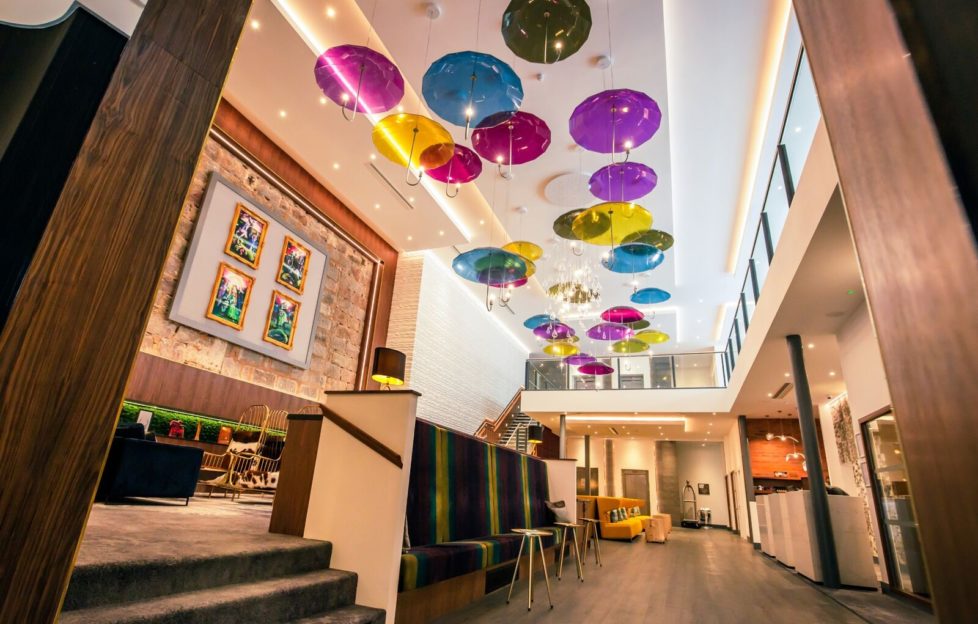 As an Aberdeen lass, it isn't often I've had the need to indulge in a night's stay at one of the Granite City's hotels.
But having heard so much about the new Sandman Signature Aberdeen – the first Scottish venue in the Canadian hotel chain – I was keen to see what all the hype was about.
Walking into the reception area, it was nice to see a place with a bit of personality. Stepping away from the traditional look, wave-like shapes carved into walls turned thoughts to Aberdeen's beautiful beach; cowhides strewn over chairs acknowledged the city's historic Aberdeen Angus; and thistle-patterned carpets paved the way towards the seating area.
My eyes drawn upwards, brightly-coloured umbrellas were strung from the ceiling alongside sparkling glass raindrops – a nice nod to the eclectic mix of weather that the north east experiences on an almost daily basis.
The former Robert Gordon University building has been transformed into a colossal 218-bedroom hotel. Once you've found your way through the maze-like corridors, the rooms feel quite separate from the hustle and bustle of the city streets outside.
Peaceful, comfortable and modern, the rooms feel luxurious and the exposed brick walls add a hint of the industrial. The beds are handcrafted by Glencraft Luxury Mattresses – an Aberdeen-based company that holds the Royal Warrant and creates career opportunities for disadvantaged, disabled and visually impaired individuals. The general consensus –  one of the best night's sleep we've all had in a while!
Downstairs we were treated to a whisky tasting with Cherry Faurie, the Freedom An' Whisky bar's whisky ambassador. Originally hailing from the Philippines, Cherry became a bit of a jetsetter, living in the likes of Dubai and Africa before settling in Scotland with her young family.
Previously working on the Isle of Jura in a distillery, she has an impressive knowledge of the water of life. The rather swish looking Freedom An' Whisky bar holds over 150 whiskys and is the ideal place to curl up with a smoky, peaty dram or two. Hosting regular events for both connoisseurs and complete beginners – like myself – Cherry is at the forefront of their whisky tasting experiences.
Their Chop Grill & Bar serves up local produce galore and we were lucky enough to be treated to a three-course meal. Starting off with some beautiful seared Scottish scallops, cauliflower, celeriac, apple, pea puree and shoots, paired with a smooth Sauvignon blanc from Chile, it was a promising start.
This was swiftly followed up by the Chop Signature – an in-house smoked 12oz ribeye steak and garlic roasted vegetables and the best chips that I've had in a long time. It is safe to say that my fellow diners and I were full to the brim – an 'eyes bigger than belly' moment – but not ones to pass on the opportunity of a gluttonous pud, we were delighted to be presented with a decadent white chocolate brownie, dark chocolate sauce and traditional ice cream to finish.
Arguably big enough to feed a small army, but who's complaining?
The central location of this hotel is ideal for anyone away on business or for those looking for a city break in the historic Granite City. The hotel also has an extensive array of function rooms – available for wedding receptions, corporate events and dinners of all sizes.
Find out more on their social media pages.
Sandman
Facebook: www.facebook.com/SandmanSignatureAberdeen/
Instagram: @sandmanaberdeen
Freedom an' Whisky
Facebook: www.facebook.com/FreedomAnWhisky
Instagram: @freedomanwhisky
Chop Grill & Bar
Facebook: www.facebook.com/ChopAberdeen 
Instagram: @chopaberdeen