Scot helps team set fastest Pacific rowing time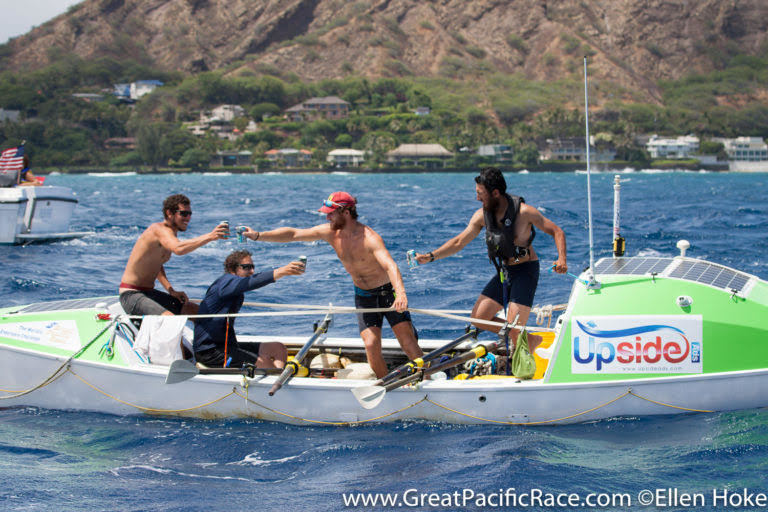 A 23-year-old who learned to sail at a Scottish school has become the youngest person to row the Pacific.
Michael Prendergast, who learned his nautical skills while he was a student at Gordonstoun, completed the crossing from California to Honolulu with his three American team-mates in 49 days, 23 hours and 15 minutes.
Michael undertook the gruelling task, which has been described as the world's ultimate endurance challenge, to raise money for Down's Syndrome Scotland because his younger brother, Andrew, has the condition.
Michael, who lives near Spynie Castle in Moray, says his school experiences kept him going,
and he admitted: 'Mentally, it was the toughest challenge I could ever do. The two hours on, two hours off pattern was relentless.
'There was never a chance to relax and if I was lying down for more than an hour-and-a-half, I was having a lie-in!
'However my experiences doing team sports and expeditions at Gordonstoun really helped me. I knew that we all have good days and bad days and that it was all temporary, even though the nights at sea were the longest, hardest, wettest, coldest nights you could imagine.
'It was the Gordonstoun motto "Plus Est En Vous", which means "there is more in you" that really kept me going.'
The team were the first to cross the finish line of the Great Pacific Race in their 7 x 1.8 metre boat, Isabel.
Along with team-mates Robert Behny, Evan Buckland and Jordan Godoy, Michael reached Hawaii at 2.15pm local time on 27 July. As they turned the final corner into the marina, a single bagpiper played them in.
Michael's father Peter, who is deputy head at Gordonstoun Junior School, said: 'We all got up in the small hours of Friday morning to watch Michael and his crew crossing the finish line on a live feed.
'It was a really emotional moment for all the family and we were so proud to see what Michael and his teammates achieved.'
As they neared the shore, Michael helped his team mate Robert Behny unfurl a banner asking his girlfriend to marry him. After she said 'yes', they all celebrated on the pontoon and tucked into their first full meal in seven weeks. Michael ate a hamburger followed by a steak.
All the team-members suffered hallucinations during the 3000 mile journey. During a particularly difficult spell when the crew were rowing for two hours on and one hour off, Michael thought that he was in a pub and a waitress was about to bring him fish and chips.
Michael has raised £7000 towards his target of £40,000 for Down's Syndrome Scotland. He hopes his remarkable achievement will help him raise the remainder.
He explained: 'I am passionate about raising funds for Down's Syndrome Scotland because of the support they have given my brother.
'Andrew is a very happy young man but everyday, simple tasks can be major obstacles for him. The daily struggles and pressure that my family is under to give Andrew the care that he needs is unimaginable. I'd love to achieve my goal of raising £40,000 so that the charity can continue to support these special members of our community.'
Like Michael's family, staff and pupils at his former school have been following his progress.
Principal of Gordonstoun, Lisa Kerr, added: 'This is an incredible achievement and we're really proud of Michael.
'All Gordonstoun pupils learn to sail because it's a great way to teach team-work, resilience and confidence, although we didn't expect anyone to go on to row the Pacific!
'I'm delighted that Michael was inspired by his time at Gordonstoun to complete this incredibly tough challenge in order to raise funds for Down's Syndrome Scotland.'
Michael concluded: 'The final 24 hours were the hardest.
'We expected to arrive back to Hawaii on Tuesday but then we ran into a strong current which delayed us by two days. It was really tough to keep going when we were already exhausted but the thought of my family back home kept me going. Plus, I didn't want to fail.'
Donations can be made via Michael's Just Giving page HERE.