Historic Scottish home wins major restoration title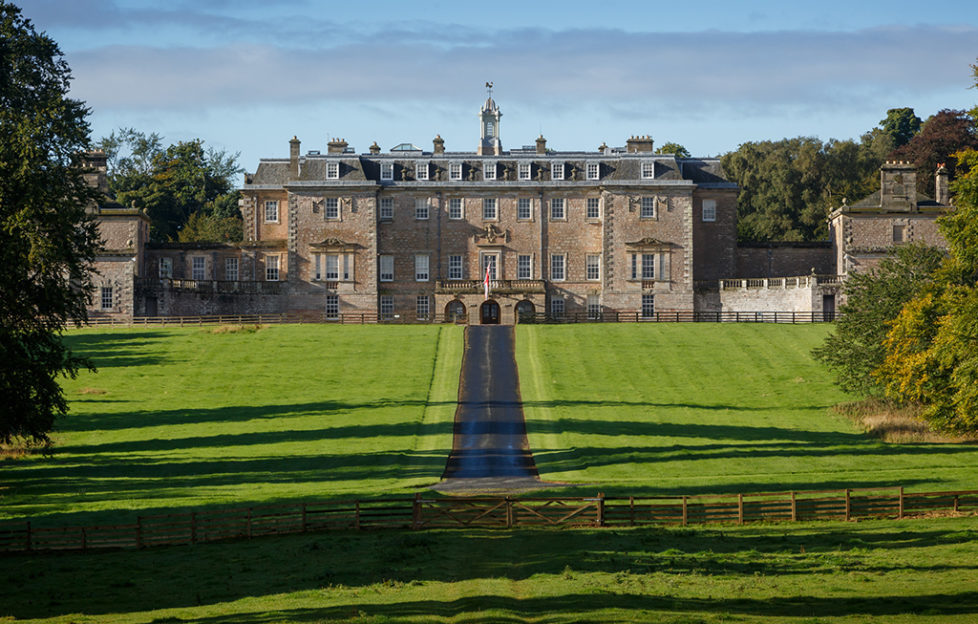 The owners of one of Scotland's finest historic homes are celebrating after winning a major UK restoration award.
Marchmont House, an 18th century Palladian mansion near Greenlaw in the Scottish Borders, has been chosen as the winner of the 2018 Historic Houses/Sotheby's restoration award following an intensive six-year effort to convert it from a former care home into a sumptuous property which its owners hope will become a hub celebrating makers and creators.
Work on the 50,000 sq ft plus property was initiated by father and son team Oliver and Hugo Burge, directors of Marchmont Farms Ltd – owner of Marchmont House and Estate. Together, they have overseen a stunning restoration that is sympathetic to key periods in the history of the Grade A listed building.
Marchmont was built in 1750 by Hugh Hume-Campbell, 3rd Earl of Marchmont. It was sold in 1912 to Edinburgh lawyer, Robert Finnie McEwan, who commissioned Sir Robert Lorimer, the leading architect of the day, to remodel the house.
Its fine Georgian core was retained, with Lorimer adding features including a grand staircase and a substantial oak-paneled music room dominated by a Great Pipe Organ with 1,962 pipes, which has recently been restored.
The property was sold to the Sue Ryder Foundation in the 1980s before being bought by Marchmont Farms in 2005, after having purchased the estate in 1988.
Marchmont has now been structurally restored and decorated to the highest standards with huge attention to detail throughout. The restoration included work on 76 rooms, 197 windows and eight roof lights and involved 15 tonnes of new steel beams, 20,000 engineering bricks, 2,500 litres of paint, 501 light fittings and eight miles of wiring. Friezes were added to doors, paneling was introduced, a chimney piece was relocated and stone floors were put in.
A conscious effort to involve local firms meant that over 85% of the craftsmen and women involved came from the South East of Scotland.
Paintings, sculptures, period furniture, rugs, curtains, floor and wall coverings have all been chosen to reflect the home's 268 year history, right up to the present day. Objects and furniture from the Georgian period feature alongside the magnificent ceilings of plasterer Thomas Clayton in the 18th century state rooms.
The importance of Lorimer's changes to the house have also been recognized in the choice of Victorian, Edwardian and modern works, as well as many arts and crafts pieces. An entire attic floor is dedicated to the arts and crafts movement and the house also features a collection of over 120 rush-seat chairs by designers including Lutyens, Gordon Russell, William Morris, William Burges, Ernest Gimson and Lawrence Neal.
Other works of art include sculptures by Henry Moore, Hepworth and Chadwick, with Scotland well-represented through works by Henry Raeburn, Alexander Naysmyth, Samuel Peploe, Rory McEwen, Ernest Archibald Taylor and others. The landscaped gardens surrounding the property feature sculptures by Paolozzi, William Turnbull and David Nash, with new arrivals to come.
Hugo Burge, director, Marchmont Farms Ltd, said: 'Creativity is part of the DNA of this beautiful Scottish property and we have gone to great efforts to undertake a restoration that reflects the legacy and talents of artists and craftsmen from significant periods in its history, featuring Scottish provenance wherever possible.
'It's extremely rewarding to have our efforts recognized in this way as we begin the next stage in Marchmont's journey to celebrate makers and creators of the past and present, to encourage design and craftsmanship for future generations.'
Marchmont House offers monthly, pre-bookable tours for the public and can also be rented in part or as a whole. Future plans for the house include a series of events based on historic designer craftsmen including Gordon Russell and Ernest Gimson as part of a long-term plan to bring the house alive as a home for makers and creators.
On 14 and 15 September, Marchmont will play host to a special symposium, kindly sponsored by world-leading auctioneers, Christie's and by antique dealers, H Blairman & Sons, to celebrate the rush-seat chair, which was hand-crafted in large volumes in the eighteenth century and became a key subject of the Arts and Crafts revival. There are also plans to create a special rush-seat chair workshop in the old Marchmont coach house as part of efforts to preserve this rare and fascinating craft. It will be home to the apprentices of Lawrence Neal, a fourth generation rush-seat chair-maker going back to the Arts and Crafts movement's Ernest Gimson.
Several events have been lined up at Marchmont House.
The Rush Seat Chair – A celebration of Past, Present and Future runs on Friday 14 and Saturday 15 September.
Join eminent speakers and current maker Lawrence Neal for an enjoyable symposium about rush seat chairs, featuring the work of Clisset, Gimson, MacLaren and Macintosh. Ideal for anyone with an interest in Arts and Crafts. Day tickets start at £40.
Full details are HERE.
House tours, with pre-booking essential, run on 29 September, 27 October, 24 November and 15 December, with the Marchmont curator . The cost is £15 per person (£10 for TD10 postcode residents and students). Includes light refreshments. Accompanied children under 12, free. Lasts 2-2.5 hrs.
Click HERE for more details.