Scots 16th century jewellery could reach £15,000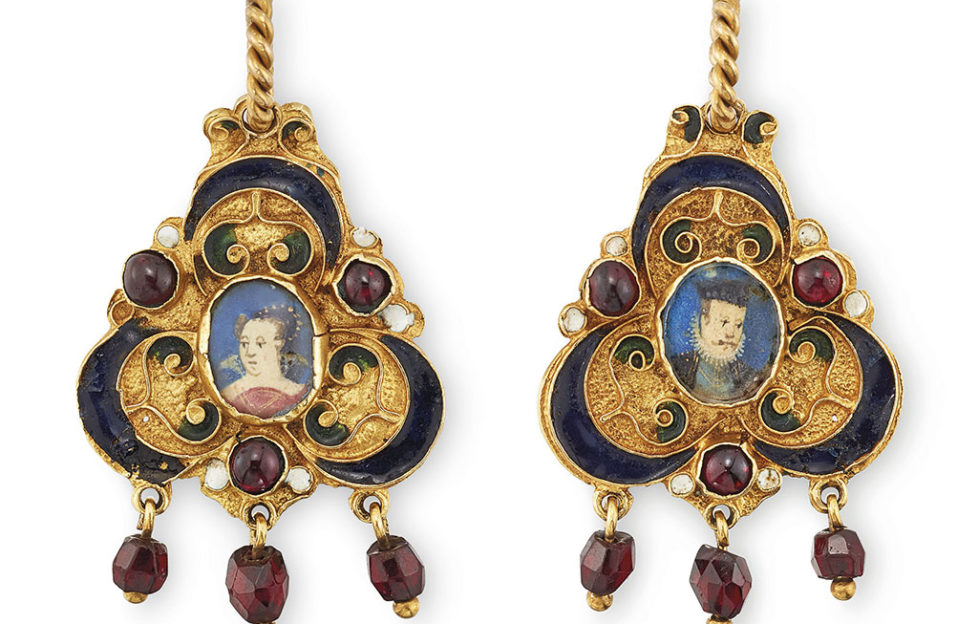 A rare 16th century Scottish heirloom with extraordinary provenance is going to auction next week.
Christie's forthcoming Important Jewels sale on 28 November in London will offer an enamel and garnet two-sided portrait miniature pendant, circa 1560-1590, has descended directly through the Earls of Darnley and Dukes of Lennox to the present owner.
Although the persons depicted have not as yet been identified, it is highly likely they depict some of the most prominent members of the Scottish Court during the second half of the 16th century.
This jewel represents a specifically Scottish type of jewellery, traditionally associated with the court of Mary Queen of Scots and James VI of Scotland, there are no direct equivalents known that originate from England or Europe.
Although the miniatures have not been be definitively identified at this time, they could portray the youthful James VI and his wife Anne of Denmark or James VI and Mary, Queen of Scots, or indeed 1st Earl of Moray James Stewart and his wife Agnes who married in 1561.
This pendant compares with a group of miniatures traditionally associated with James VI and his mother, Mary, Queen of Scots, also mounted as jewels, similarly decorated with cloisonné enamel scrolls and dated to the last decades of the sixteenth century. When they were exhibited at The Art of Jewellery in Scotland (ed. Rosalind Marshall and George Dalgleish, Scottish National Portrait Gallery,1991, no. 7) George Dalgleish suggested that these jewels could represent a specifically Scottish style of jewellery as there are no surviving equivalent examples from either England or Europe.
Although Scotland was not rich, this jewel, whomever it depicts, certainly shows that well-born men and women in Scotland were commissioning portrait jewels similar to those worn by their counterparts across the border. Moreover, the techniques of cloisonné enamelling, hammering, stone setting and faceting used in this pendant demonstrate that the goldsmiths clustered in their booths around the High Kirk of St. Giles in Edinburgh kept abreast of the times.
The charm of this small scale jewel and the intimate portrayal of the two individuals represented gives it a distinctively private and personal character which explains why the descendants of the original owners have treasured it over so many generations up to the present day.
The pendant has an estimated price of £10,000-15,000.
Click HERE for more details.