Louise believes there's no limits to creating art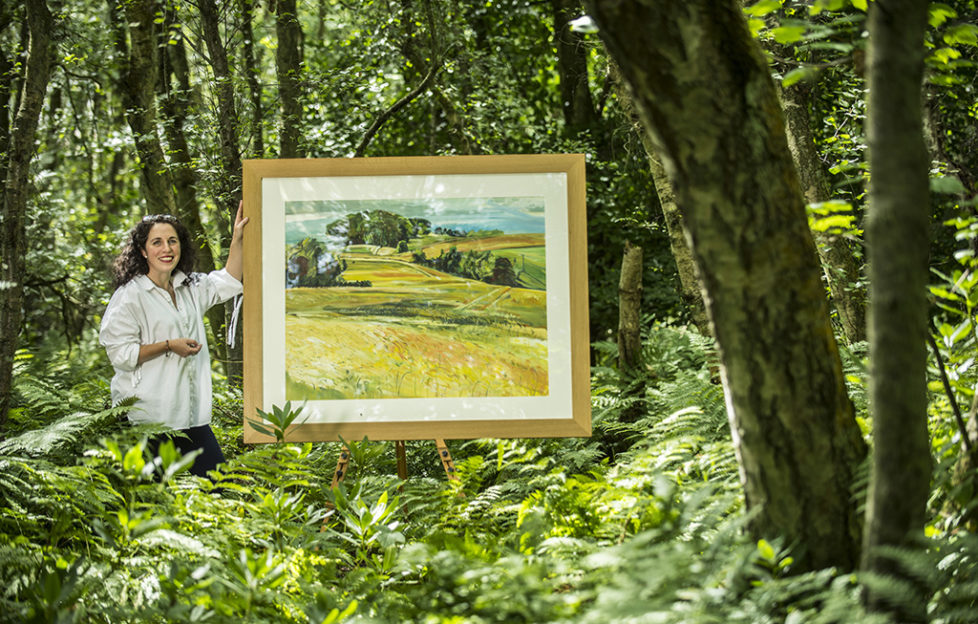 Inspired by white light and limitless horizons, Louise Allardyce feels Aberdeenshire's great outdoors is an artist's paradise.
It is easy to see why artists past and present have flocked in their masses to Aberdeenshire – undoubtedly good for the soul, nothing beats gazing out on the soft greens, blues and purples of Bennachie or Lochnagar.
For Louise Allardyce though, born in Scotland's 'Dear Green Place' and raised in Aberdeen, the beauty of the north east has been a long-standing source of artistic inspiration. Continuously building her repertoire and working on private commissions, she documents the shifting agricultural landscapes and local landforms of Aberdeenshire.
Whiling away hours on north easterly hillsides, Louise has a unique painting style – while fellow artistic colleagues can sit for days and months working to create identical paintings of the landscape in front of them, Louise enjoys a more fluid approach.
Often completing three pieces in a day, she works spontaneously to capture the ever-moving light and energetic views of the great outdoors. Working quickly, her paintings give a graceful glimpse into the irregular countryside of Scotland.
'I like working in plein air. I'm not a studio painter. I can't even work in a sketchbook! There are some beautiful studio artworks out there, but I'm just not wired that way'.
Working mostly with acrylics, inks and pastels, Louise embraces the fact that no two moments are the same in the countryside. 'I've always enjoyed looking into the distance, into the bigger expanse. I suppose that's one of the main reasons moving up to Scotland was so great – because of the skylines and the horizons'.
Finishing her studies in tapestry at Edinburgh College of Art in 1992, Louise then pursued her artistic career in Oxford. Finding that the southern countryside's square bails and 'muggy' scenes lacked a certain je ne sais quoi, she later realised that the light of the north east was calling upon her to return.
'In Oxford, there was quite a yellow light, and up here there's definitely a white light. When I used to come up for holidays, you'd come over into Stonehaven and you'd immediately feel the whiteness… What I love about the light is the play – it'll push the hill back, bring it forward, or throw something into sharp relief '.
Moving back to Aberdeenshire in 2002 with her young family, she has continued to produce highly intuitive works.Though traditionalists may have a gripe or two about Scotland's changing landscapes and modern developments, Louise happily incorporates the likes of wind turbines into her works.
'Well they're there, aren't they! I'm interested in them – they mark the landscape, they scale it'.
Admitting that she is trying to steer clear of using too much green in her paintings, Louise portrays the essence of the countryside with bursts of colourful strokes and illustrations of movement.
Though the lion's share of her work is dedicated to paintings, Louise still dabbles in tapestry. That said, she finds a distinct lack of enthusiasm for exhibiting such works in contemporary galleries.
'There's now the British Tapestry Group which has a beautiful website and there is a resurgence. But in many places, it's still seen as a craft – which is really quite annoying because it's a great art'.
Seeking to push herself out of her comfort zone, she now looks towards new challenges.
Aside from the desire to work on larger projects, Louise also hopes to work on oil paintings. Recognising that acrylics have their limitations, namely that they dry very quickly while on location, her friend and artistic colleague Dorien Van Diemen has encouraged her to broaden her horizons.
'I think oils would just offer a bit more flexibility and depth. I like the thick and thin – that variation on the page. I know what I like, I've just got to get on and do it!'
Being nearby Menie Estate and Newburgh beach, Louise also takes inspiration from the coastal scenes around her, and hopes to include these in her latest collections.
The local artist recently took part in NEOS, the North East Open Studios – as Scotland's largest open studios event, organised by award-winning artists, makers and galleries of the north east. Aberdeen has welcomed one of its very own talents back home with open arms.
For more information on Louise Allardyce's work, go to www.louiseallardyce.com.