Frankel race place to go under the hammer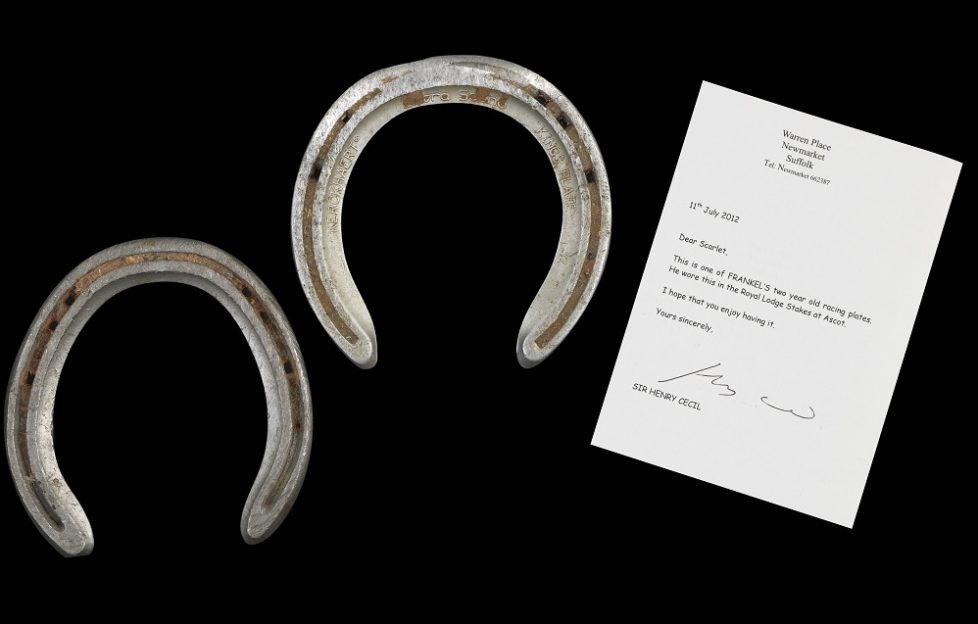 A racing plate worn by the legendary racehorse Frankel will go under the hammer at Bonham's sporting sale later this month.
The plate, worn at the Royal Lodge Stakes at Ascot in 2010, is accompanied by a letter from trainer Sir Henry Cecil, to the current vendor stating 'This is one of Frankel's two year old racing plates. He wore this in the Royal Lodge Stakes at Ascot. I hope that you enjoy having it. Yours sincerely, Sir Henry Cecil', with signature.
The racing plate is a front shoe, made by Kerckhaert Kings Plate Extra Sound 32 (size 7), together with one of Frankel's training plates.
The plate is expected to sell for between £15,000-20,000 in Edinburgh on 31 October.
Frankel (foaled 2008) is a retired champion British Thoroughbred racehorse, who remained unbeaten in his 14-race career, being the highest rated racehorse in the world from May 2011.
Nicknamed 'Usain Colt', he was bred by Juddmonte Farms, trained by the late Sir Henry Cecil at Warren Place, Newmarket, and is still currently owned by Prince Khalid Abdullah. He was named after the renowned late American trainer Bobby Frankel.
Dubbed the world's greatest racehorse, Frankel's performance in the 2000 Guineas was described as 'one of the greatest displays on a British racecourse'. He earned nearly £3 million in prize money.
Frankel is now retired to stud at Juddmonte Farms and charges a huge £175,000 a time stud fee. It is estimated that he is now worth £100 million, making him potentially the most expensive horse in history.
Provenance: The vendor had a share in racehorse 'First Mohican' at Warren Place, Newmarket; the yard where Frankel was trained. They therefore knew trainer Sir Henry Cecil personally and the racing plate was gifted by Sir Henry, in person, to the vendors' daughter.
Frankel's ex farrier has confirmed that during his time as farrier at Warren Place, he regularly used the Kerckhaert racing plates and indeed this plate is the style and make of the plates that he used to shoe Frankel. Frankel had unusually large feet and wore shoe sizes 7 and 7.5.
A large selection of Frankel's racing plates were given to Sir Henry Cecil to be passed along to Juddmonte Farms, however it is uncertain as to what happened to these plates. It has been suggested that there are possibly now only two remaining racing plates of Frankel's that are not in the care of owner Prince Khalid Abdullah. It is thought that one sold at a charity auction and the other is the current lot for sale with Bonhams.