Stars give their support to International Scotch Whisky Day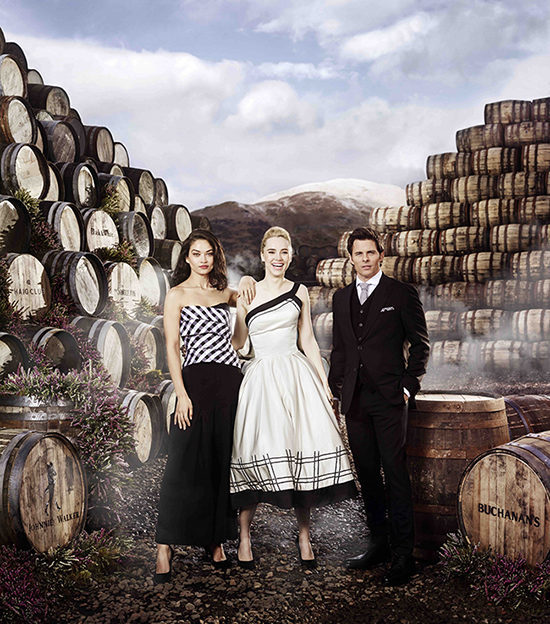 Scotland's national drink will tomorrow be celebrated globally from free distillery tours across Scotland to a series of red carpet events around the world.
Thursday, 8 February, is International Scotch Whisky Day.
The annual diary date invites whisky lovers to raise a dram to Scotch, with A-listers James Marsden, Suki Waterhouse and Shanina Shaik launching this year's celebrations by meeting some of the people behind the craft at the iconic Cambus Cooperage in Alloa.
International Scotch Day is a celebration of everything that gives the world's favourite whisky its unique character, flavour and personality and is held during the week of the birthday of one of the world's most influential Master Blenders – Alexander Walker, the son of John 'Johnnie' Walker who brought Scotch to the world.
This year's celebrations will be bigger than ever, taking place in over 70 countries worldwide, almost doubling the volume of last year's inaugural celebrations and truly getting the world talking, thinking and enjoying Scotch.
Diageo's distillery visitor centres across Scotland will open their doors free of charge on 8, 10 and 11 February to explore behind the scenes of some of the world's most iconic Scotch whisky brands such as Johnnie Walker Blended Scotch and Glenkinchie, Talisker, Oban, Dalwhinnie and Cardhu Single Malts. To sign up for a free standard tour, click HERE.
Exclusive International Scotch Day tours of the Diageo Archive in Menstrie are already full, with 100 aficionados given the opportunity to immerse themselves in the unparalleled heritage of Scotch whisky with unique access to the biggest drinks industry archive in the world.
Celebrations will take place in India, Mexico, The Philippines and South Africa involving consumer and media engagements throughout the day, and red-carpet star-studded parties by evening. Events, PR, social media, broadcast, e-commerce, sampling and in-store and in-bar activity are planned, and all designed to drive excitement about Scotch.
X-Men star James Marsden, supermodel Shanina Shaik and actress Suki Waterhouse will lead a series of special International Scotch Day celebrations. Shaik will celebrate International Scotch Day in Johannesburg, Marsden will travel to Manila and Delhi and Waterhouse will be in Mexico City to celebrate the day.
Suki said: 'I can't think of a better place to be than in Mexico City for International Scotch Day. Scotch has always been my go to drink and I have such an appreciation for its history and complexities.'
Marsden added: 'I'll be celebrating in Delhi on February 8. Scotch has always been one of my favourite drinks and I'm excited to travel to these two incredible cities to experience International Scotch Day with my fellow Scotch enthusiasts.'
When asked to describe her favourite thing about Scotch, Shanina Shaik said: 'I love that it's a drink that's withstood time. It's gone from a classic drink to one that mixologists can modernize with delicious ingredients.'
Ronan Beirne, Global Brand Marketing Director at Diageo said: 'Last year's International Scotch Day was a huge success and this year we wanted to turn up the volume and make it even more of a celebration with our three global ambassadors and events in many more markets.
'The world's love affair with Scotch continues to grow, and just last month we reported global net sales growth of 3% in Scotch whisky – with the world's favourite whisky, Johnnie Walker, growing by 7%.
'We chose to shoot the campaign creative at the iconic Cambus Cooperage against a backdrop of casks representing a tradition of craftsmanship that dates back centuries, alongside these three stylish personalities enjoying a Scotch together. A perfect way to show that Scotch is cool, and made to be enjoyed whenever and wherever.'
The LoveScotch campaign encourages those who choose to drink, to do so responsibly.