New whisky release will be Nectar to your lips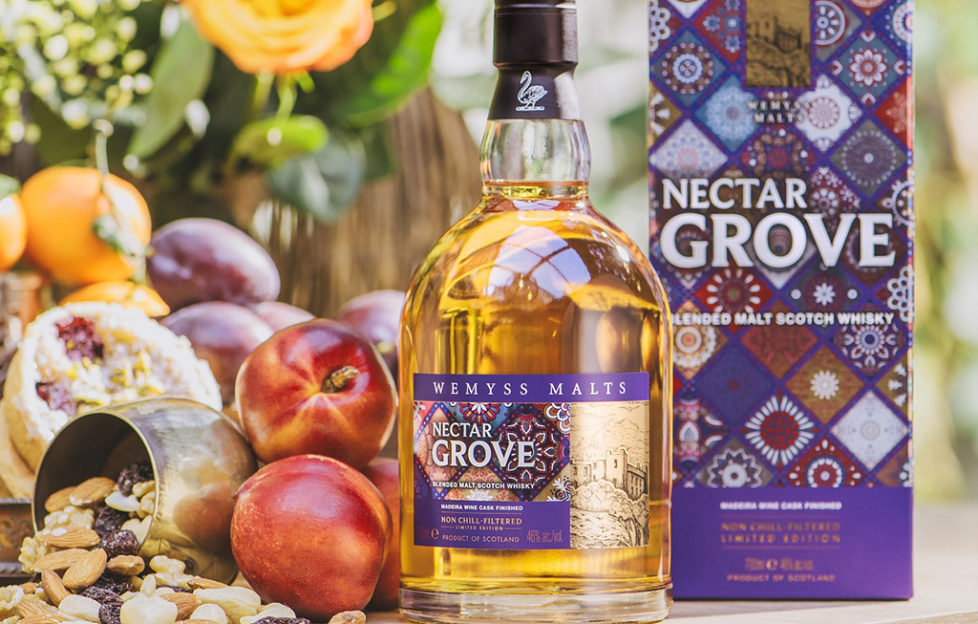 Family run independent bottler Wemyss Malts is releasing a new blended Scotch malt whisky called Nectar Grove.
Wemyss has selected Highland Scotch whiskies and finished them for a further period in casks which had previously held Madeira wine.
In keeping with other releases from Wemyss Malts, such as The Hive, Spice King and Peat Chimney; this new whisky has been given a flavour led name by the Wemyss tasting panel which reflects its succulent and luscious fruit character.
In Wemyss' first foray into finishing, the Highland blended malt has been imbued with the fruity and complex sweet flavours of Madeira wine and reminiscent of a ripe fruit grove of peaches, nectarines and citrus.
The finish is of gentle oak spice, sweet pastries and juicy stone fruits. This fruity and fragrant malt whisky is ideally suited for enjoying during warm summertime's and can be used to make a refreshing whisky cobbler cocktail.
Nectar Grove is bottled at its natural colour which has a beautiful peachy golden hue and at 46% non-chill filtered to retain the intensity of flavours and aromas in this whisky.
The eye-catching packaging design was inspired by Portuguese ceramics and fretwork, reflecting the vibrancy and variation within the whisky.
William Wemyss, founder and managing director at Wemyss Malts, said: 'We are delighted with the results of our first "finished" blended malt. Nectar Grove continues our line of limited edition blended malts which has previously included World Whisky Award winners Velvet Fig and Kiln Embers.'
A total of 9000 bottles of Nectar Grove will be available from selected retailers in the UK, EU and Asian markets with suggested retail price of £43.95.
Edinburgh-based Wemyss Malts is owned by the Wemyss family and their family seat in the brand logo is Wemyss Castle in Fife where they've lived since the 1300s.