New releases offer the quintessential taste of The GlenDronach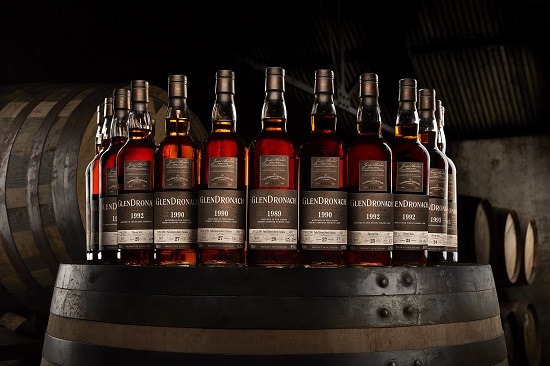 Fifteen hand-selected casks of whisky distilled between 1989 and 2006 are now available.
The GlenDronach Distillery has unveiled Batch 16 of the cask release programme.
The casks, ranging from 11- to 28-years-old, and distilled between 1989 and 2006, showcase facets of the quintessential nature of The GlenDronach distilled through the years, matured in the finest Spanish oak sherry casks.
As the distillery continues to honour the patient art of maturation in Pedro Ximenez and Oloroso sherry wood, Batch 16 offers connoisseurs a rare opportunity to explore the powerful layers of complexity for themselves.
For the cask release programme, master blender Rachel Barrie selects the finest Spanish oak casks. Each batch represents an exquisite collection of sherry butts and puncheons.
However, unusually, Batch 16 also includes a Port pipe to highlight the finesse and ripe bramble fruitiness of The GlenDronach.
Master blender Rachel said: 'The Batch 16 cask selection showcases facets of The GlenDronach house style; robust, elegant, fruity and full-bodied.
Each cask individually demonstrates the finesse, powerful complexity and rich layers of sherry cask maturation found in every GlenDronach expression; from the 28-year-old sherry butt distilled in November 1989 with the robust, mellow maturity of rich fruitcake and smoked walnut, to the 22 year old PX puncheon distilled in June 1995 with sweet treacle toffee and manuka honey.
'At the other end of the age spectrum, the 11-year-old PX distilled in January 2006 balances sweet and dry complexity as nutmeg-spiced bramble toffee bursts on a velvet wave of cocoa.
'All casks express The GlenDronach's persistent dedication to the time-honoured methods and traditions since founding in 1826, a time when sherry and port casks were first imported and used to mature single malt.
'Revered for mastery of Spanish oak sherry cask maturation, The GlenDronach is synonymous with depth of cask colour and richness of taste, whether influenced by the sweet dark fruits of Pedro Ximenez or the dry nuttiness of Oloroso sherry.
'I am delighted to now be sharing the Batch 16 cask selection with connoisseurs across the world.'
Batch 16 comprises between 513 and 698 bottles from each cask.
READ MORE WHISKY NEWS FROM SCOTTISH FIELD BY CLICKING HERE.