Balblair releases two new expressions for the spring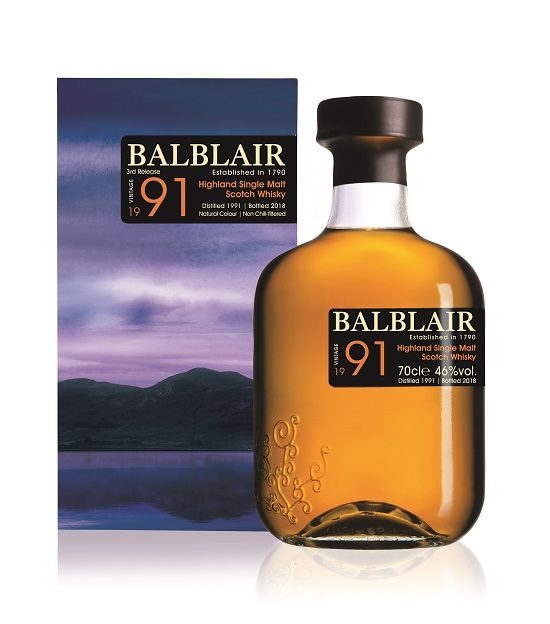 A Highland distiller known for its light, fresh and fruity character is all ready for spring with a couple of new expressions.
Spring produce will go hand in hand with Balblair's signature style, as it has unveiled hidden gems to elevate the discerning whisky collection through the launch of hand-selected 1991 and 2000 vintages
Balblair, the renowned Highland distiller nestled in the Dornoch Firth, has released two exclusive additions to its acclaimed collection.
The new 2000 and 1991 editions will add gravitas to any whisky collection and the joint release is the culmination of a meticulous maturation process overseen by Balblair's respected distillery manager, John MacDonald.
His hand-selection of casks is in keeping with Balblair's traditions of precision and purity. MacDonald considers the 2000 and 1991 editions to be whiskies that will appeal to connoisseurs, but that are also accessible for more casual whisky drinkers.
Explaining the characteristics and complexities that make the new vintages must-haves, John said: 'On the palate, the new 2000 edition's richness comes through in its slightly oily texture with ground spices and old hardwood providing the initial flavour hit.
'It matures to flavours of pineapple, bitter orange peels and honey, and finishes slowly with lasting sweetness, creaminess and notes of bitter chocolates.
'The 2000 has been matured for 13 years in American oak, ex-bourbon casks and five years in first fill Spanish oak butts. It is a whisky full of character and life and deserves a place in any discerning drinker's arsenal.'
The 1991 vintage, matured for 24 years in ex-bourbon American oak casks, with a further three years in first fill Spanish oak butts, it is a dram designed to impress your guests – whisky aficionado or novice.
John added: 'Bright amber in colour with rose gold highlights, the nose is expansive and complex with rich citrus fruits and vanilla notes as well as toffee and chocolate.
'Notes of honey, winter spices and apricot, with a hint of liquorice are imparted from the bourbon barrels and Spanish oak butts used in the maturation process.
'The palate features our signature citrus orchard flavour profile and is followed with rich creamy chocolate and layers of poached apples and pears, Christmas pudding and hot vanilla sauce. It finishes with sparkling orange and toasted coconut overtones accentuating full-bodied sweetness of vanilla and caramel creating a rich and celebratory dram.'
Balblair distillery is the oldest working distillery in the Scottish Highlands, initially established in 1749 and the first official records of it from 1790. The distillery building and its warehouses sit on the original site to this day and lets its whisky take the lead: it is only bottled when it's ready.
Balblair 2000 and Balblair 1991 will be available globally online, and in independent and specialist retailers.
The 2000 and 1991 Balblair vintages retail at £70 and £125 respectively.