Hot Toddy syrups launched with Scotch whisky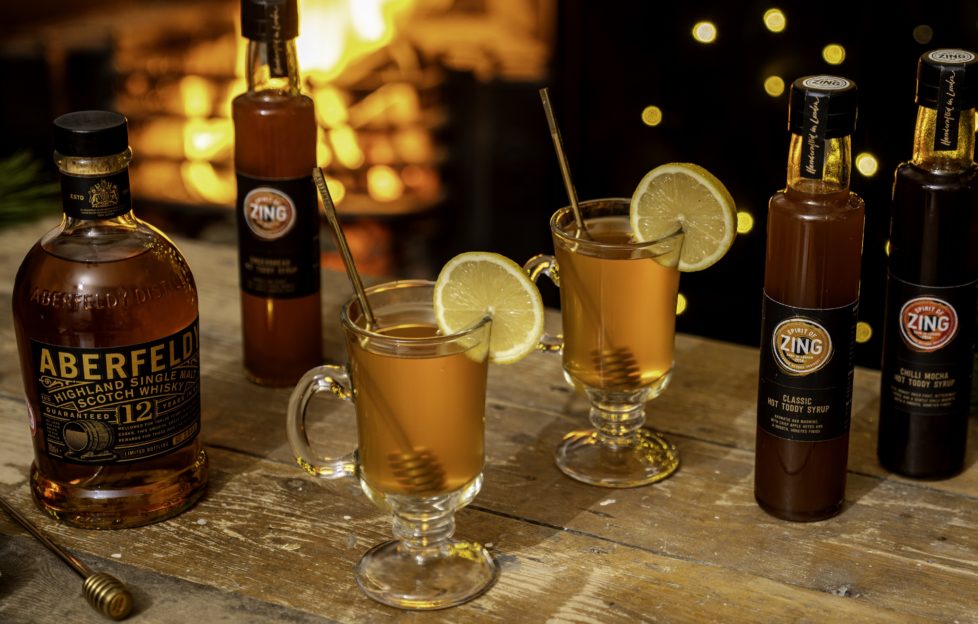 Aberfeldy has teamed up with World of Zing to launch a new range of Hot Toddy Syrups in time for the winter months.
The Hot Toddy, which dates back to the 18th century, is loaded with a variety of exotic spices which started to emerge through the British Empire's new trading routes. Many people consumed hot toddies for their purported medicinal qualities.
Working alongside Aberfeldy World of Zing has created new interpretations of this traditional cocktail using popular contemporary flavours and ingredients. Furthermore, the syrups are made with a base of British honey to support local beekeepers.
Available in 250ml bottles, the three flavours developed are:
Classic – a traditional hot-toddy with seasonal spices, including allspice, star anise, nutmeg, cinnamon and an intriguing touch of earl grey.
Mixed with Aberfeldy 12 it's: 'Aromatic & warming with crisp apple notes and a smooth honeyed finish.'
Chilli Mocha – builds on the Classic with the addition of coffee, cacao and smoky chipotle chillies.
Mixed with Aberfeldy 12 it's: 'Rich, robust dried fruit with a gentle chilli warmth and a smooth honeyed finish.'
Gingerbread – builds on the Classic with the seasonal favourite flavours of gingerbread using ginger and galangal root.
Mixed with Aberfeldy 12 it's: – 'Aromatic and bright with a gentle ginger warmth and a smooth honeyed finish.'
Simply pour 15ml of syrup into 35ml of Aberfeldy 12 Years Old and top up with hot water for a perfect winter warmer.
Pritesh Mody, founder of World of Zing, said: 'Given World of Zing's reputation for flavour innovation in the drinks industry, this project is the perfect way for us to showcase how to revitalise a well-known but rarely ordered cocktail. The Hot Toddy syrups have received incredible feedback since trials started, so I'm thrilled to officially launch them.'
Georgie Bell, Global Malts Ambassador added: 'The Hot Toddy is such an iconic whisky serve, it really is a great winter warmer. Each syrup blend we've created with World of Zing melds harmoniously with Aberfeldy 12's honeyed flavour profile to give three different variations on this traditional and sometimes forgotten serve.'
The Hot Toddy syrups are available from www.WorldofZing.com and www.DrinkSupermarket.com. Retail price: £7 per 250ml/bottle, trade price: £24/ Case (6x250ml).
Aberfeldy 12 Years Old is available from https://shop.dewars.com/, Amazon and other specialist retailers for RRP £35.00