Chapter Five of Balvenie DCS revealed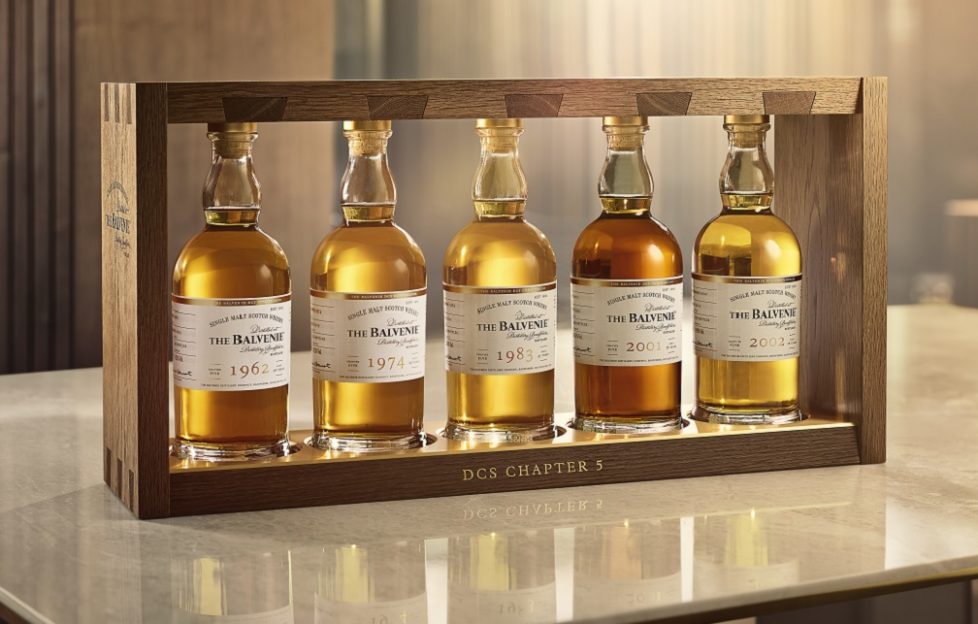 The Balvenie has unveiled the final chapter in The Balvenie DCS Compendium Chapter Five, titled Malt Master's Indulgence.
The eagerly anticipated release is the last of the coveted Compendium series and is comprised of five unique and rare vintages carefully selected by malt master David C Stewart MBE for their significance to his career.
David became malt master in 1974 and is the longest-serving malt master in the whisky industry. He now mentors apprenticemalt master, Kelsey McKechnie, passing on his knowledge to another generation.
David said: 'It takes a good deal of time to understand how each cask differs and how whisky maturation is affected by various wood types. You need confidence to select casks and know which are likely to achieve greatness.
'Working for a family company, I've been lucky enough to have been given the freedom to make stock decisions based on my preference and vision, with the free rein to pick casks and hold on to whisky, not always knowing what I'm going to do with it, for no other reason than thinking one day it will be extraordinary. For me, this is indulgence in its truest form.'
Aged between 16 and 56 years, the five rare liquids include the oldest ever whisky to be released by The Balvenie – a fragrant and sweet 1962, taken from a European oak Oloroso sherry hogshead, that commemorates David's very first year at the distillery.
A luscious 1974 vintage with malty notes of honey and orange peel celebrates the year of his appointment to Malt Master and a 1983, with hints of vanilla and butterscotch flavours, marks the start of his experimentation with maturation. A vibrant 2001 European oak Fino sherry butt, brings orchard fruit notes with oaky spiciness. Finally, a 16-year-old first-fill American oak bourbon barrel, offering a combination of smokiness, sweetness and spiciness, signifies his involvement in the reintroduction of The Week of Peat at the distillery after a 50-year hiatus.
The Balvenie DCS Compendium Chapter Five whiskies are:
1962, Aged 56 years – Cask No. 5575, European oak Oloroso sherry hogshead, filled 29th June 1962, 42.1% ABV: £37,000 (RRP)
1974, Aged 44 years – Cask No. 17706, Refill American oak barrel, filled 9th December 1974, 51.3% ABV: £17,000 (RRP)
1983, Aged 35 years – Cask No. 4483, Refill American oak hogshead, filled 27th September 1983, 42.0% ABV: £3,500 (RRP)
2001, Aged 17 years – Cask No. 9325, European oak Fino sherry butt, filled 25th April 2001, 63.5% ABV: £800 (RRP)
2002, Aged 16 years – Cask No. 12147, First-fill American oak bourbon barrel, filled 18th September 2002, 53.9% ABV: £700 (RRP)
The unveiling of Chapter Five follows the release of four other chapters, released annually since October 2015: 'Distillery Style', 'The Influence of Oak', 'Secrets of the Stock Model' and 'Expecting the Unexpected'. The full collection is comprised of 25 outstandingly rare single cask single malts, representing David's lifetime of skill and knowledge in liquid form.
William Grant & Sons chief executive, Simon Hunt, said: 'David's contribution to The Balvenie's craft is simply immeasurable, which is why it is fitting that the last chapter of the Compendium should celebrate his 57-year journey with us and some of his most pivotal moments on the path to becoming the industry's longest serving malt master.
'David's inimitable skill and vision has been instrumental in producing some of the finest and most unusual whisky to ever come out of our distillery – and the impact of his pursuit of excellence and desire for experimentation has helped shape the whole whisky world for the better. It has been a true pleasure to afford such a talented individual with the freedom necessary for exceptional work.'
As with past Chapters in The Balvenie DCS Compendium, Chapter Five is presented in a handcrafted frame, produced by Scottish craftsman Sam Chinnery. The chapter set for Chapter Five has been crafted from European Oak, which has been fumed to create a beautifully rich and dark wood, and each set has an individual number engraved on the frame, showing it is one of just 50 sets available worldwide. Individual bottles from the set will also be available in a single presentation frame.
Each set is accompanied by The Balvenie DCS Compendium book, written by former Balvenie Global Ambassador Dr Samuel J Simmons. The book, signed by David, features rare archive imagery from The Balvenie distillery, along with information on each of the five DCS Compendium chapters, which documents the thought process taken by David in curating the compendium. The Balvenie is also planning a series of celebratory events throughout 2020 to mark the completion of the Compendium.
To learn more about The Balvenie and The Balvenie DCS Compendium, visit https://www.thebalvenie.com/our-range/dcs-compendium/