Whisky Galore and Harry Potter star on his love of a dram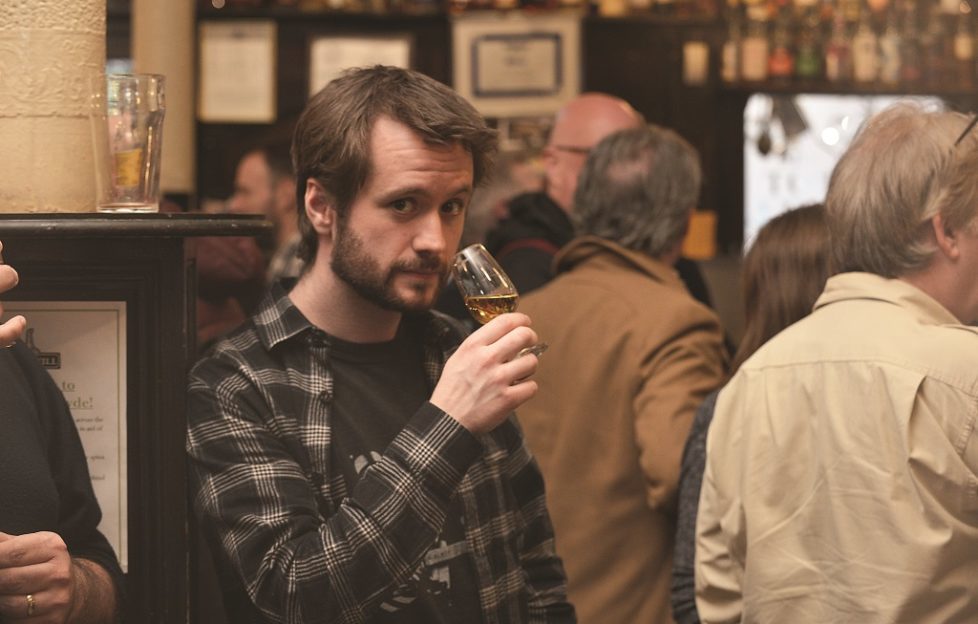 Scottish actor Sean Biggerstaff enjoys his whisky.
The Glaswegian was Sergeant Odd in Whisky Galore and Oliver Wood in the Harry Potter films, and during the filming of the former, he took great pleasure in educating his co-stars in drams
What led to your love of whisky?
I remember being allowed to dunk my fingers in my grandpa's whisky. I must have been about two-years-old. I guess they figured if I wanted it, I would hate it if I tried it, and stop asking about it.
I remember spending the best part of a week eyeing up an 18-year-old bottle of Glenmorangie when I was about 18 or so, when I was on the Isle of Man. I think that was my first one when I turned 18.
A couple of friends of mine have worked in whisky auctioneers over the years, and that let me get free access to some really incredible drams which they had come across in the course of their work.
Do you have a favourite dram?
I got really into Glenfarclas – I love that sweet sherry taste and then in Iain Banks' book Raw Spirit, it was mentioned as one of the last family distilleries that was left, which I was happy to discover. For my 30th birthday, I went on their distillery tour and tasted a lot of the old casks. I really wanted to buy one from the year I was born, but they didn't have one which had been sherried.
I used to exclusively like quite sweet, mostly sherried whiskies, and I'm still more Speyside than anything else. I couldn't handle peaty flavours before, and I still don't enjoy too much of the reaking monsters, but my tastes have expanded to Springbank and even Caol Ila.
You're a member of the Scotch Malt Whisky Society – what's been the main benefit for you?
A year or so ago, a friend of mine, who is in the Society, took me along one night, and shortly after that I joined up. It feels like one of the best things I've ever done, discovering this source of very reasonably-priced drams.
I've been drinking a lot of single cask whiskies from the Society, as they often get in the whiskies that are used in blends, so when you try these, you get a good idea of what it's like. Each one is so unique. Some of the best whiskies I've tasted are from distilleries that don't sell at all. I just bought a bottle of Highland Park that doesn't taste anything like the standard experience – this one was 10 times more complicated.
Did you have many drams during the filming of Whisky Galore?
I spent a month filming on Speyside, so as a whisky-head, I was happy as a pig in shit! We were driving past Benriach and Glenglassaugh every day. I was the only one on the cast that was really into their whisky, and I was trying to educate them all. I think I got Kevin Guthrie to become a Balvenie fan, and my reputation as a whisky aficionado among the cast was good!
I'd never actually seen the original film until I was cast in the new one. I was in two minds about whether to watch it or not, but I thought, everyone else had seen it. Having viewed it now, and great as it was, it's very, very old and it's very dated in some ways. There's so many advantages to the way you can photograph the Scottish landscape now. We definitely made a prettier film than the original, with all these glorious locations.
They kept trying to get whisky companies to sponsor it, but as I predicted, they can't really do it, as they are all signed up to drink responsibly campaigns. We were making a film where the goodies steal the whisky and then get hammered on it – it's hardly being responsible!
I was very disappointed when I was told we wouldn't be drinking the real thing. I heard that on The Angel's Share, every fifth take was a dream dram! All of the whisky you see in the film was fake.
Why do you think there's been a renaissance in whisky in recent times?
It's true of spirits in general. Gin has been a big beneficiary this last couple of years, and there's been a lot of new distilleries opening and new expressions released, while companies have been putting out new single cask whiskies.
You do wonder how sustainable it can be, and if the supply will outstrip demand. If course, I hope it doesn't.