The vending machine that dispenses fresh veg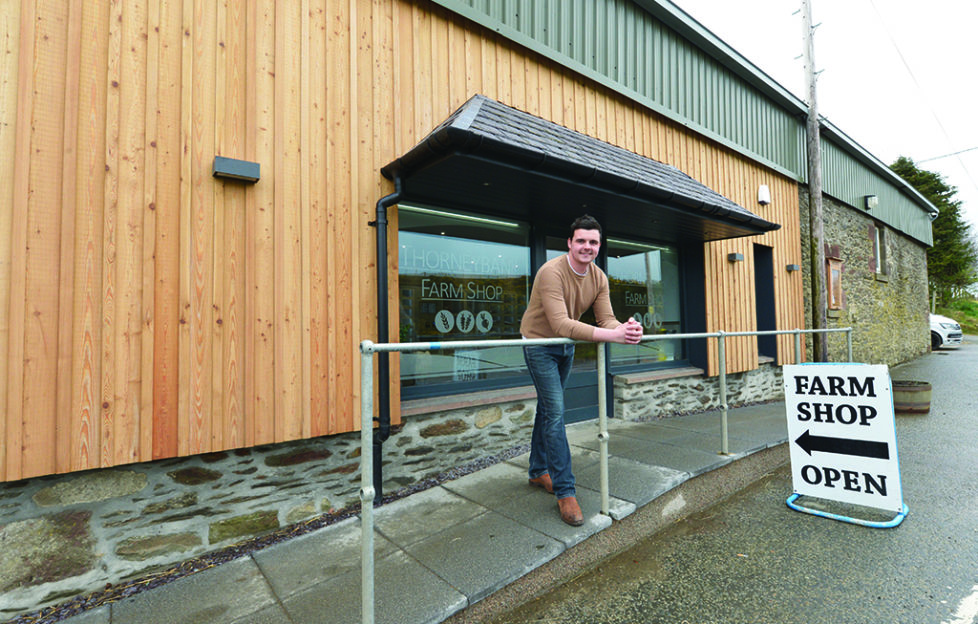 Vending machines are no longer reserved solely for sweeties – the Stephen family of Lower Thorneybank Farm Shop in Inverurie, Aberdeenshire.
The humble vending machine – ever think you'd see one that supplied vegetables straight off the farm? Neither did we.
Championing the field to fork concept, the Stephen family at Lower Thorneybank Farm Shop installed state-of-the-art technology back in December 2018.
Bucking the trend, the sweets of old that made your teeth hurt just by looking at them are nowhere to be seen. Instead, the Stephen's vending machine supplies fresh produce straight from the family's fields, as well as homemade bakes, made by Catherine – mother to Neil, Murray and Megan, and wife to Stuart Stephen.
Together, they run the shop alongside a beef, sheep and arable enterprise at their two neighbouring farms – Netherthird and Lower Thorneybank, near Rothienorman, Inverurie.
Though this 'eat local' concept has been around for a while – the abiding memory of our ancestors being that dinner consisted of meat and two veg, supplied by the farmer down the road – it is nevertheless one that we Scots are revisiting.
Cutting out the middle man, buying directly from local producers and preventing needless lorry journeys that pollute our air and congest our roads is, in fact, becoming something of a trend.
'The farm shop was started up in 1979 by my grandfather, Eric,' explains Neil, speaking from his tractor. 'He always had surplus veg so he literally just stuck a box at the side of the road so people could stop by and help themselves.'
Quickly realising the of a wheelbarrow – and it took off rapidly. Having started with neeps, tatties and cabbages, soon he was selling the likes of ale, leeks, beetroot, cauliflower and broccoli to local passers-by.
Over time, the wheelbarrow was replaced by an old horse cart to display his produce; and soon enough, Eric cut a hole in the wall of one of their sheds, up-scaling his makeshift stall. Sadly, the honesty box system didn't take hold, but the next generation of the family started looking at alternatives.
'I noticed that no-one my age was coming through the door and I couldn't work out why. But then I realised that most young people don't carry cash,' says Neil. 'The convenience side of things is so important to people when they're shopping these days.'
After a chance encounter while on a trip to Germany, Neil heard about a company on the Black Isle that was selling eggs through an old-style vending machine. Enlisting the help of JSR Services at Blairgowrie, the Stephen family set up a high-tech machine with facilities for both cash and card – keeping both the traditionalists and millennials happy.
'We were a bit unsure about what my grandfather, Eric, would think of the machine, but he thinks it's brilliant,' says Neil. 'He still comes up to the farm and kicks about. We're very lucky to have him and my dad – they embrace technology and crack on with it.'
Their new system – which has individual compartments, a 12-inch touchscreen and a mobile tracker that helps the family keep an eye on popular items – allows produce to be stowed away safely every day. Customers can pop in and buy ingredients that have been brought in by the tractor just hours before, seven days a week from 7.30am to 7.30pm (or until the long summer evenings finally fade into darkness).
Lower Thorneybank Farm Shop also hosts pop-up shops, allowing other local businesses like Louise's Farm Kitchen – that specialises in home-reared pork – to sell their wares on site.
'It's mutually beneficial,' says Neil. 'Hopefully, the people that come in to buy their products will buy something of ours at the same time. It's good to collaborate with other small producers in the local area.'
With plans to expand the business, Neil says: 'We'd like to put in refrigerated machines, then we could start keeping meat and dairy products. Another thing we're going to try and do is start a 'click and collect' service for vegetables.'
With the general public becoming increasingly interested in the origin of their food, the Stephen family have tapped into a growing market. 'It's something I've really taken for granted because I've been brought up in this environment,' explains Neil.
'It's amazing though – some people really don't know where their food comes from or how things are physically grown.'
With plans to introduce more social media and videos, showcasing the field to fork concept at its best, it's certain we'll be seeing much more of this tech-savvy family in the months ahead.
Find out more on the Lower Thorneybank Facebook page. https://www.facebook.com/lowerthorneybank/