Talented chefs compete for Andrew Fairlie Scholarship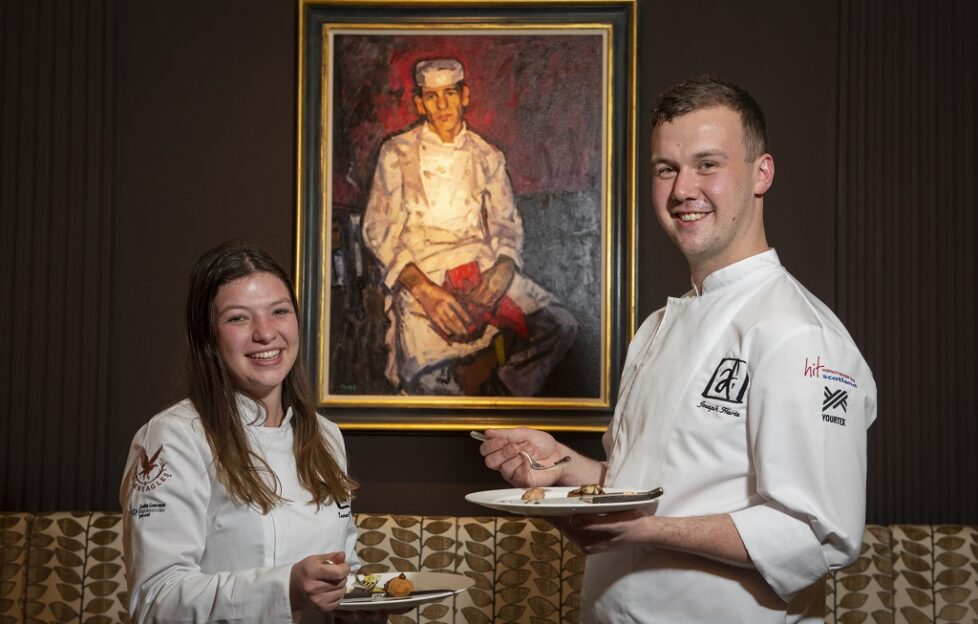 The Hospitality Industry Trust Scotland has announced that the second annual Andrew Fairlie Scholarship will take place on Tuesday, November 16.
The finals will see five talented chefs compete for the chance to become Andrew Fairlie scholars and take part in once-in-a-lifetime culinary experiences.
Perth College UHI will host the skills test and judging portion of the day, with the winners' announcement being made at Gleneagles. A teenage Andrew, encouraged by mentor Keith Podmore, enrolled in a City & Guilds course at Perth College UHI before following Podmore to London members club, Boodles, and eventually winning the first ever Roux Scholarship.
The scholarship recognises two outstanding individuals each year – one male and one female – who are forging ahead with their culinary career and working in Scotland.
The aspiring chefs in the running for the 'ultimate scholarship' in the industry include Josh Wilkinson, 26, who is currently working as Senior Chef de Partie at the Isle of Eriska Hotel.
Chef de Partie at The Torridon Amy Stephenson, 22, has likewise made the final, as has Spud Henderson, 32, Chef de Partie at Craig Millar @ 16 West End.
There are also two returning finalists from 2019's competition – Ryan McCutcheon, 29, now Chef Patron at Achray House Hotel, and Peter Meechan, 24, Chef de Partie at The Glenturret Lalique Restaurant.
Spearheaded by HIT Scotland and supported by the First Minister, Scottish Government and Gleneagles, the scholarship was first launched in February 2019 in recognition of Andrew Fairlie's significant and lasting contribution to the hospitality industry.
In 2019, the scholarships were awarded to Emma-Rose Milligan from Kilmarnock and Joseph Harte from South Queensferry.
David Cochrane, CEO at HIT Scotland, said: ;After announcing the finalists last year, we are very much looking forward to seeing them in action next month.
;This is a unique opportunity for these chefs working in Scotland to take on the mantle of Andrew's legacy and experience some fantastic industry opportunities that will help develop their careers. Best of luck to all the finalists!;
Stephen McLaughlin, Restaurant Andrew Fairlie Head Chef and lead judge, said: 'We have had to wait a while for this year's Andrew Fairlie Scholarship to come around and now that it is almost upon us, we are as excited and as privileged as ever to play our part in preserving and extending Chef Andrew's legacy through nurturing and mentoring this year's very talented finalists.
'The finalists can expect a tough challenge to be laid out in front of them on Finals Day, but at the same time the day itself will be fun, educational and inspiring. We are delighted to be partnering the day with Perth College and are over the moon to add the college to the list of Andrew Fairlie Scholarship collaborators.'
First Minister Nicola Sturgeon said: 'After what has been an incredibly difficult year for our hospitality sector, it is heartening to see new and inspiring culinary talent emerging through this fantastic scholarship in honour of Andrew Fairlie. Throughout his life and career, Andrew did so much excellent work to inspire the next generation of ambitious, talented chefs in Scotland and this scholarship will contribute to his legacy.
'It is great to see so many young, up-and-coming chefs aiming to benefit from the scholarship. They will all undoubtedly make their mark and contribute to a strong and sustainable recovery for Scotland's hospitality sector.'
Conor O'Leary, managing director at Gleneagles, addeed: "We are enormously proud to support the Andrew Fairlie Scholarship, which provides an important platform for emerging talent and strengthens Scotland's reputation as a centre for culinary excellence.
'We very much look forward to hosting the finalists here at Gleneagles in November and are delighted to have the opportunity to continue working with HIT Scotland to ensure the culture that Andrew established is promoted and nurtured in the next generation of chefs.'
The chosen winners will gain industry-wide recognition as Andrew Fairlie Scholars and experience once-in-a-lifetime opportunities such as a practical stage in an international kitchen and at Michelin star restaurants Restaurant Andrew Fairlie at Gleneagles and Core by Clare Smyth.
Established in 1994, HIT Scotland works to inspire and support the hospitality industry by funding exceptional scholarship experiences for individuals working in the sector.  In this time, HIT Scotland has awarded over 3,000 emerging talent scholarships and 14,000 bursaries – all of which are solely funded by donations and support from the industry. Find out more HERE.