Eden Mill launches nine new premium gins – and new bottles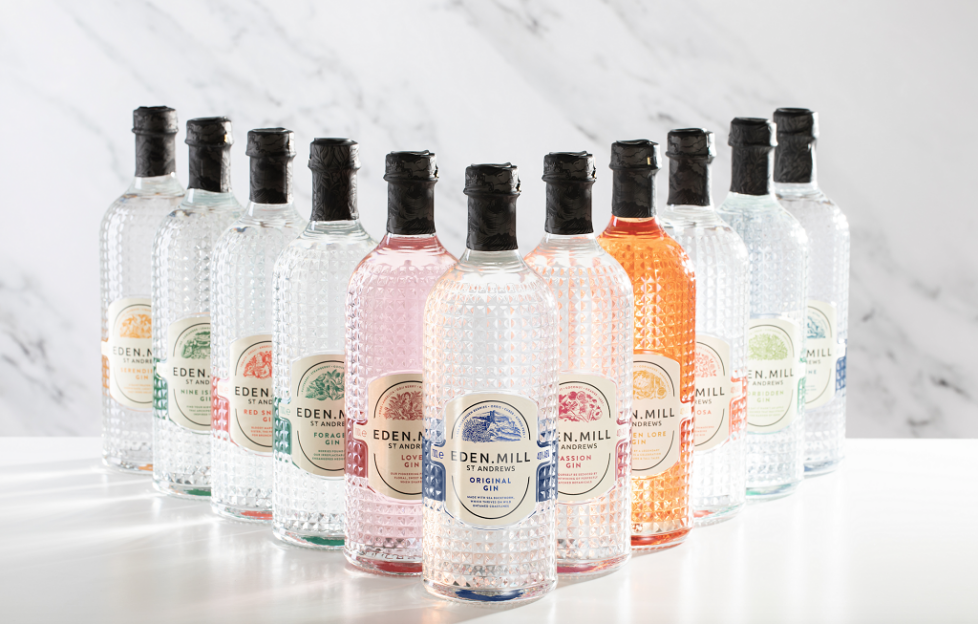 Eden Mill distillers has announced a significant bottle redesign in a major step forwards in their journey to carbon neutrality – and launched nine new gins.
The announcement follows the recent news that their climate positive distillery and visitor attraction which will use biomass plant and field electricity to power stills will open in spring 2022.
For the first time since 2014 the brand will distil their award-winning London dry style Original Gin into a glass bottle, joining their full range, including their famous Love Gin, Golf Gin and nine new premium gins in a standardised new crystal cut design which uses 18% less glass than industry standard.
The move away from their iconic ceramic design for this lighter more easily recycled 70cl bottle is a major step forwards in the journey to carbon neutrality for Eden Mill, who are due to open a new £10m climate positive whisky distillery in St Andrews in 2022.
The nine new gins launched today showcase Eden Mill's passion for innovation; combining locally sourced botanicals with inspiration and influences from across the world in a series of quality expressions, with a new gin for every palette.
Each Eden Mill gin has its own story; depicted with words and a unique woodcut style print. Eden Mill's popular Golf Gin and Original Gin move into a new super-premium gin tier from Eden Mill, to be known as their Heritage Range, with beautiful prints showing the botanicals featured in each gin and the story of St Andrews. Further products in this collection are due to be announced later in 2021.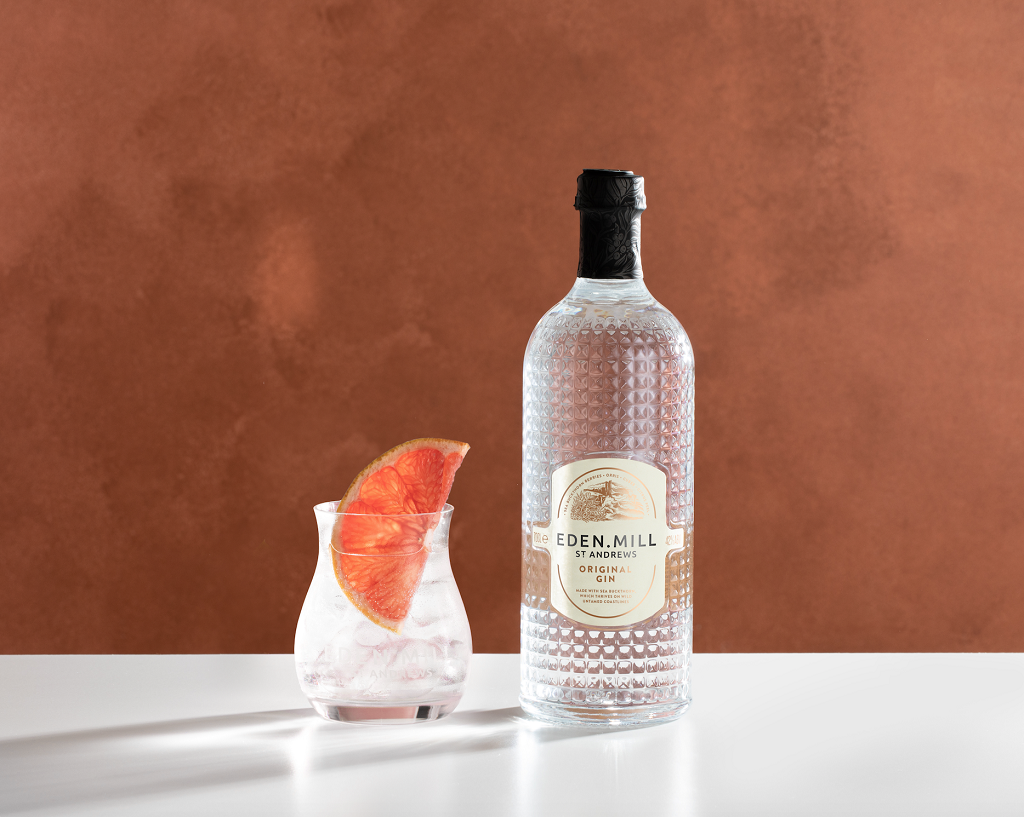 Standout new flavours include the Rosa Rosa Gin, a delicate floral gin made from Rosa Canina and Rosa Damascena. Forager Gin will be popular with fans of a sweet gin, using berries found in the irreplaceable but endangered hedgerows of St Andrews.
Neptune Gin is inspired by the god of the sea, infused with samphire and locally sourced sea kelp and Golden Lore Gin will likely become the perfect Christmas gift, bringing tangerine and cranberry flavours together in a delicious citrus spiced gin. Fans of one of Eden Mill's best-sellers, Passionfruit and Coconut Gin will be delighted to discover the distillers have revisited the favourite with a new name, Passion Gin.
Tony Kelly, CEO and co-founder of Eden Mill said: 'At Eden Mill we are passionate about celebrating the best of old and new. Our gins are inspired by our heritage and roots in St Andrews, and the hidden stories of our home and it is wonderful to see these stories told across our new bottles in beautiful illustrations.
'We're proud to be sharing this new range alongside some of our most popular gins in our innovative new bottle design. Standardising our bottle production across all of our gins to this more sustainable design will greatly help us reduce waste, as we continue to push boundaries and move a step closer to a brighter, cleaner, clearer future for our distillery and the spirits industry.'
Eden Mill's premium new gin range is available to buy from £25, 70cl, 40% ABV.
Original Gin and Golf Gin in their new Heritage Bottles are available to buy for £30, 70cl, 42% ABV from edenmill.com.