East Neuk Festival concludes at Kellie Castle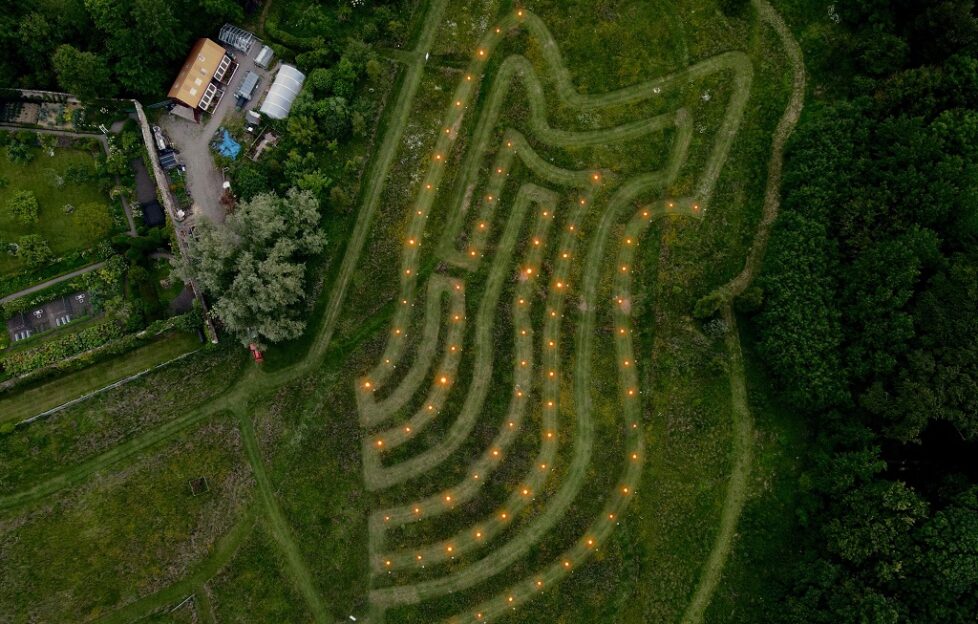 Scotland's East Neuk Festival concluded its programme of live performances on Sunday after four days of live music-making along Fife's coastline.
To mark the end of the 2021 festival and illuminated by the flickering glow of bougie flames, regular ENF artist violinist Benjamin Baker took the opportunity to give an impromptu solo performance inside a large-scale labyrinth the festival has created within the grounds of National Trust for Scotland's Kellie Castle near Pittenweem.
Co-created with Kellie Castle gardener Jackie Chalmers and inspired by the contours of the Fife Coastal Path route, the labyrinth will remain in the Castle's wildflower meadow for the rest of the summer for members of the public to enjoy.
The 2021 East Neuk Festival took place 1-4 July featuring indoor concerts, al fresco performances and pop-up events in the fishing villages of the East Neuk of Fife. For many of the musicians participating, these were their first concerts with an audience for over 15 months.
The festival continues online until 1 August, with specially filmed and recorded performances by The Tallis Scholars, The Castalian Quartet, Sean Shibe, Benjamin Baker, Llŷr Williams, Rihab Azar and more at www.eastneukfestival.com/events/online/.
East Neuk Festival was founded in 2004 to present world-class music in the beautiful coastal area of Scotland known as the East Neuk of Fife.
Run by director Svend Mc-Ewan Brown, the festival has three key areas of activity, all of which culminate in the festival programme. It presents a core programme of concerts and recitals from distinguished artists including Christian Zacharias, Scottish Chamber Orchestra, The Tallis Scholars, the Belcea, Elias, Pavel Haas, Calidore and Castalian String Quartets, Theatre of Voices, Paul Hillier, Renaud Garcia-Fons and Sean Shibe in quirky and atmospheric locations ranging from churches, halls, an ex-nuclear bunker, caves, an RAF base, a Scout hall, stately homes and gardens.
The festival supports young artists through its ENF Retreat programme and by championing young artists both within its own programme and elsewhere. It also commissions annual Big Projects: work from leading work for community and professional musicians, inspired by the landscape, heritage or history of the area.
ENF has twice been awarded the Royal Philharmonic Society Award for Audience Development and won the Scottish New Music Community/Education Project Award in 2019.
For more details visit www.eastneukfestival.com.