Business growth award honour for McQueen Gin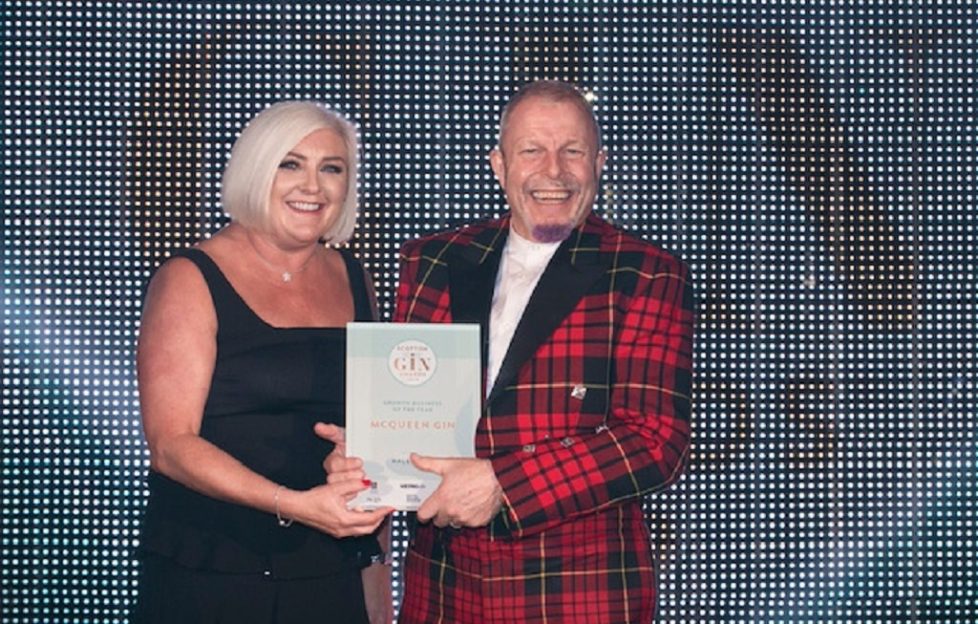 McQueen Gin triumphed at this year's Scottish Gin Awards held last night (Thursday 10 October) at the Doubletree by Hilton Hotel, Glasgow Central, winning Growth Business of the Year.
The Trossachs-based gin producer fought off competition from a seven-strong shortlist to earn the coveted title.
The multi-award-winning McQueen Gin was one of the first Scottish distilleries to produce colour-changing flavoured gins and has seen rapid growth over the last 12 months, reporting £2.1 million in revenue during 2018/2019. To meet increasing demand, last year McQueen Gin invested £750,000 to develop a state-of-the-art facility in Callander to increase distillation capacity.
Following completion of the renovation in May 2019, the business has raised production from 130,000 bottles to 3,000,000 per annum. New features include an automated bottling line, enhanced manufacturing processes as well as increased packing and shipping capacity.
As the brand continues to grow its overall operation, McQueen Gin will continue its long-term commitment to training and development within the local community and has doubled its workforce in the last 12 months, creating 15 new jobs for the rural area.
Dale McQueen, co-founder of McQueen Gin, said: 'The Scottish Gin Awards is one of the highlights of the gin calendar and to win Growth Business of the Year is testament to the hard work and dedication of all our staff and customers who help bring our innovative gins to market.
'We'd like to extend special thanks to our valued customers; Aldi, Asda, Morrisons and Sainsbury's. Their support has been instrumental to our growth and has allowed us to invest in the expansion of our distillery to help meet the rapidly growing demand domestically and internationally.'
Founded in 2016, The Scottish Gin Awards is a programme that showcases the innovation and excellence in gin distilling across Scotland. The independent competition is judged by a panel of experts drawn from the across the sector, bringing together industry experience and market knowledge to recognise the very best of the Scottish gin industry.
Visit mcqueengin.co.uk for more information.