VEGA shines brightly in Glasgow's eating scene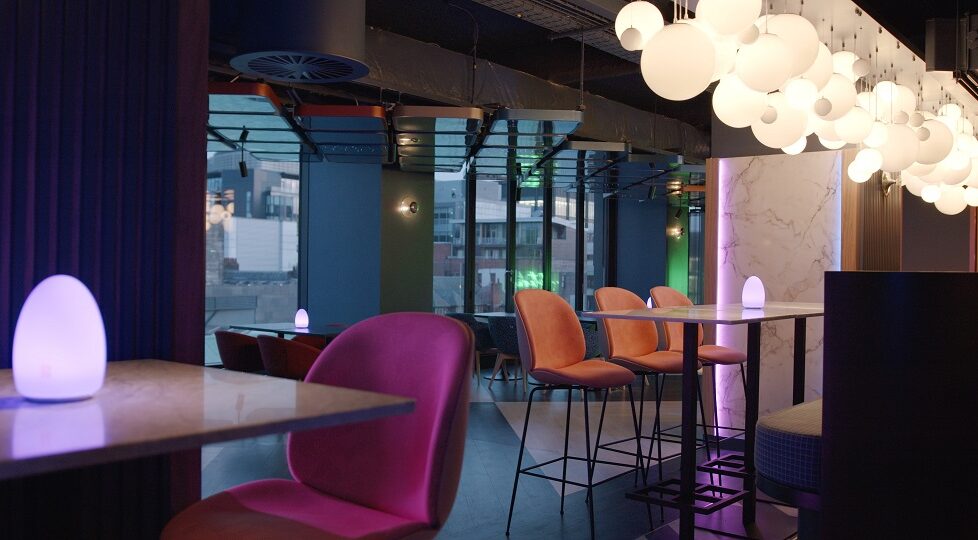 There's a new star in Glasgow's dining and entertainment landscape.
VEGA, illuminating the top floor of YOTEL Glasgow, is named after a star, and there's a glittering prize awaiting when you head up to it. My companion and I travelled in a world-first immersive disco lift, which music and flashing lights as it moves, and on reaching your destination, there are some extraordinary views and glossy Instagrammable interiors to behond.
We were able to see the sunset, which was a fascinating sight for me, having lived in the west of Scotland for most of my life.
VEGA is welcoming guessed as part of a phased soft launch plan with 50% off food until its official opening on Wednesday, 28 July.
This is very much a place for younger people – every detail of the destination bar, restaurant and neon-lit bowling alley has been designed to wow and light up guests' social media feeds.
The rooftop space has capacity for 282 guests and uses bold contrasting flooring with wood and monochrome patterns, dramatic lighting and a combination of neon blue and pink hues to create a visual focal point within the venue.
With a modern Art Deco look and futuristic feel, the daring interiors feature eye-catching pink and blue high backed woven chairs, elegant and comfortable multi-coloured pastel seating with materials such as natural woods mixed with marble and slate used throughout the venue.
The fun neon-lit four-lane bowling alley entertains guests with its animated ceiling projections, arched ceiling details and bespoke visual lighting effects that are triggered with the movement of bowling balls.
The menu was impressive – don't expect fine gourmet grub here. This is good, filling wholesome food that will keep you full to the brim for several hours.
The menu is easily divided into different sections, and we began with snacks.
I opted for the haggis bon bons with chipotle ketchup (£6.50). I love haggis and these were just the right size too – there were enough there to satisfy my appetite as a starter, and for those in a rush, would definitely provide a good filling feed in the short term. The chipotle ketchup was a real surprise, as I didn't think haggis would need any extra spice to it, but this was a great accompaniment. Don't overlook it, as I nearly did.
My companion's choice was the jalapeno cream cheese poppers (£7). Again, there was a good sized portion, and the jalapeno was hot enough to announce its presence, without burning your mouth too much.
We had a good look at the menu, before both opting to pick from the buns and subs section for our main course.
I'm a sucker for chicken at the best of times, so my choice was the fried chicken sub, monterey jack cheese, lettuce, pickles, japapenos, mayo and hot sauce (£8.50). The food was presented in a brioche bun, rather than a sub, but this wasn't a problem.
The chicken was beautifully cooked – the crispy outer coating had been slightly softened in places by the sauces. The brioche bun was perfect – the glorious, buttery sweet taste worked in tandem with the sauces and chicken.
My companion decided that, if you can't decide on something when there's so many options, go for something that you know will keep you happy, so they picked the grilled 80z beef burger, with monterey jack cheese, chipotle ketchup, lettuce and pickles (£9.00).
They were more than happy when the order came, as the burger was big, it was thick, and tasted great – it was well seasoned, so they were delighted with it. The chipotle ketchup gave it a special flavour that made it stand out from the crowd.
As an accompaniment, we were spoiled for choice. There's a choice of corn tacos and nachos, with adobo pulled pork taco, a bajo lemon sole taco, pinto and black bean chilli taco, and loaded nachos.
But in the end, we picked from the sides menu. There was a choice of charred corn, shredded slaw, house salad, beer battered onion rings, and fries of various kinds. I picked the fries with garlic and herb mayo, while my companion picked the sweet potato fries, with the same dip.
My fries were just how I like them – skin on and seasoned, while the sweet potato fries were incredible (and I secretly wished I'd ordered some of them too!), as they were chunky, and full of flavour.
Those with a vegan diet are also catered for, with a variety of burgers, baked potatoes, tacos, and other dishes that will appeal, with a host of salads and sweet potatoes also available.
We were so full that we had to decline dessert – which was tough, as there were a double chocolate brownie, with vanilla ice cream and cherry sauce, warm churros in cinnamon sugar, dulche de leche, and mango sorbet with lime granita.
The drinks menu is worth a look too. As a sucker for a milkshake, I ordered a space shake – cookie dough, toffee sauce and Scottish tablet. Yum. It was beautifully indulgent, and did the trick perfectly. For those who aren't driving, there's also a number of boozy space shakes on offer too.
VEGA opens at 8am daily, and there's a host of dishes on offer as it is a venue which can be used at different times of the day, for different purposes, with the changing menu reflecting that. The mood music played in the background during our visit was perfect for the tone – a bit of jazz funk never offended anyone.
It's bright and it's bold, it's in your face and at the same time it's subtle, and best of all, it's a whole lot of fun.
VEGA Glasgow, 60 Argyle St, Glasgow G2 8QW.
0141 428 4496