There's plenty of vegetarian variety at La Favorita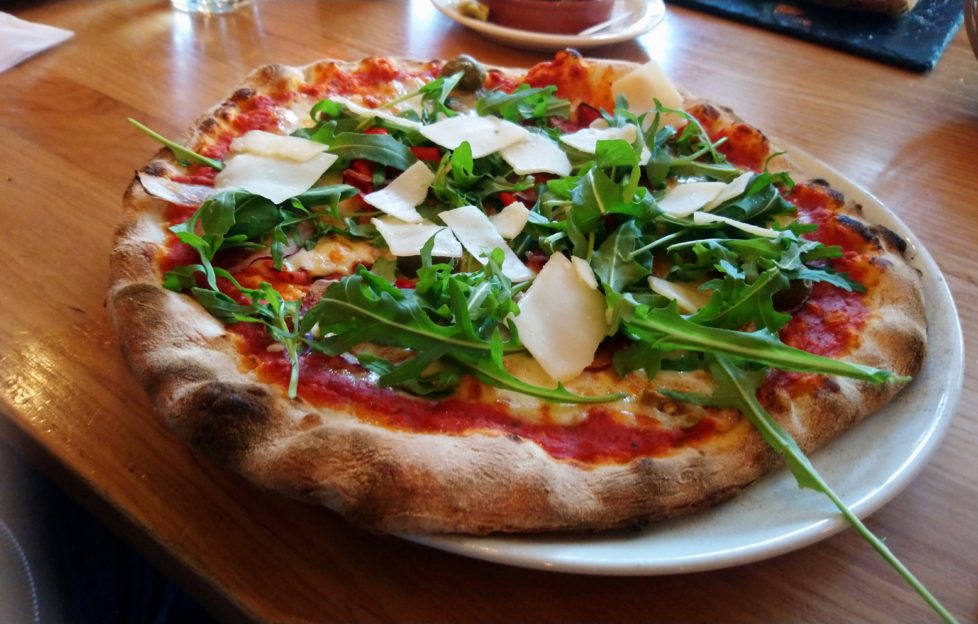 This week is National Vegetarian Week – and restaurants throughout the country are realising that there is a growing demand for vegetarian and vegan dishes.
At the Vittoria Group restaurants in Edinburgh, the team are joining the cause by offering delicious, sustainable Vegetarian specials that will draw the capitals foodies' attention to the growing trend.
National Vegetarian Week runs from Monday 13-Sunday 19 May, and Scottish Field sampled some of the fare on offer at La Favorita on Edinburgh's Leith Walk.
As we waited, we were given some bread and oil – you can never go wrong with a freshly baked slice of bread, some olive oil and a dash of balsamic vinegar. A perfect start.
We both opted for starters on a similar theme.
I chose the bruschetta tartufata – toasted sourdough bread, topped with wild mushrooms and melted gorgonzola cheese, drizzled with truffle oil. This was a perfect start – the mushrooms were carefully cut to a small size and didn't slip out of my mouth as I bit into the beautiful bread. Sourdough isn't my usual choice, but I could easily be converted on this evidence.
I am very partial to truffle oil, and this gave the bruschetta a very continental taste, and I couldn't fault it. The three slices presented are excellent value for money.
My companion chose bruschetta, toasted house-made bread, topped with vine tomatoes, fresh garlic, basil and olive oil, with rocket and parmesan shavings.
She couldn't have been happier – the tomatoes were evidently fresh, and had a wonderful taste, which was like a little bit of summer. Again, three slices were brought out – you can taste the quality of ingredients here.
I had been advised beforehand by a friend that the pizzas at La Favorita have to be tasted to be believed. And he was right!
I selected the Fire & Smoke, which features fire roasted peppers, smoked mozzarella, green olives, red onion, jalapenos, red chilli peppers and gorgonzole on a tomato base, topped with fresh rocket and parmesan shavings.
I have always held a belief that you can always judge a restaurant based on the quality of its most basic dishes, such as pizza, fish and chips or a full English breakfast. Without a doubt, La Favorita passes with flying colours, as this is how a pizza base should be. It's thin and crispy around the edges, but soft enough to bite into without it become a battle of man versus food.
The vegetable topping was so filling, that I honestly didn't notice the lack of meat (my usual favourite on a pizza), and the flavours really sprang to life, complementing each other perfectly. The peppers were wonderfully sweet, and afterwords, my mouth had a pleasant afterglow from the chillis. A winner – hugely recommended for vegetarians and carnivores alike.
This 10 inch pizza was so filling, I had to leave a quarter of it at the end (and I was given it to take away).
My companion chose another vegetarian dish, the melanzane ripiene impante – these are discs of mozzarella sandwiched between aubergine slices, coated in bread crumbs and lightly fried, and were served with a sugo of vine cherry tomatoes and pesto.
Her first reaction when her dish arrived was one of shock – there were a fantastic four of them served up.
She tucked in, and was delighted with the flavours, the mozzarella working well with the meaty texture of the aubergine, making it superbly filling.
She was, ultimately, unable to finish her meal, and had to take away two of the sandwiches. That made two of us, unable to finish our meals, because we were so full – that speaks volumes.
The vegetarian dishes are permanently part of the menu at La Favorita, but this week is the ideal time to give them a go.
La Favorita, 325-331 Leith Walk, Edinburgh EH6 8SA.
0131 5542430