Heavenly retreat at Macdonald Pittodrie House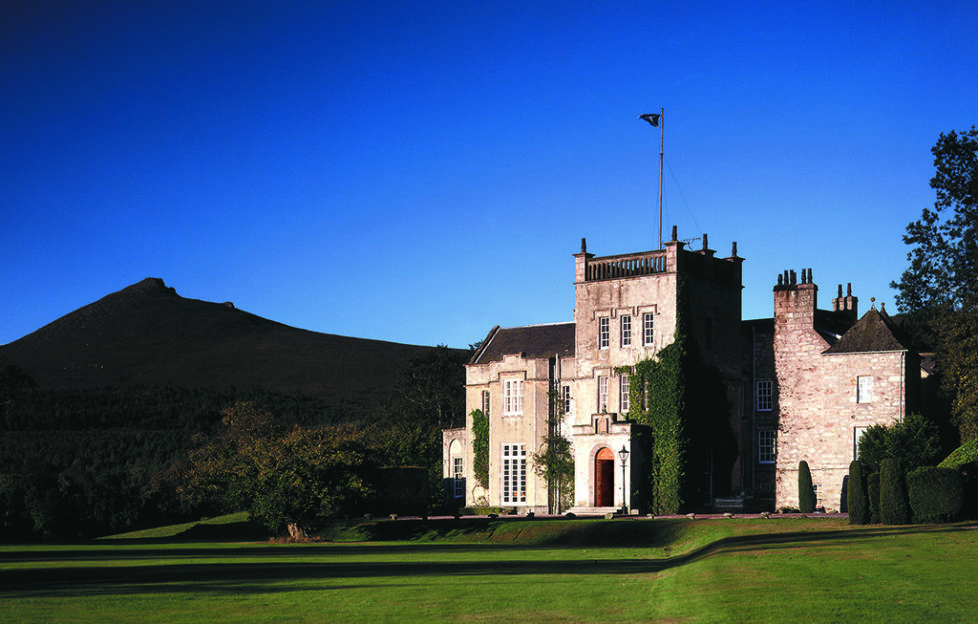 There is something utterly enchanting about an escape to the countryside; and although it might sound like the opening scenes to a Jane Austen novel, we really did have an idyllic start to our weekend retreat.
Making our way down a winding driveway, seeing the dappled sunshine through the trees and listening to the gentle rustle of leaves in the wind, we had found a little piece of heaven in the grounds of Macdonald Pittodrie House Hotel.
All we needed now was for Mr Darcy to make a guest appearance… Though a little sad that Colin Firth hadn't cleared his diary for us, we'd soon abandoned our fantasies when we turned the corner and were met by the sight of the glorious 17th-century mansion – and it truly was fit for a queen.
Based just outside of Aberdeen in the Chapel of Garioch, the four-star venue is set amidst 2,400 acres of ancient woodland and grounds, and sits at the foot of Aberdeenshire's famed Bennachie. As we walked up to the grand entrance, we could see a couple enjoying Afternoon Tea in a bay window – we'd certainly be revisiting that one later.
Making our way to one of their 27 bedrooms, we walked up a charming flight of stairs, worn by the footsteps of the many residents that had walked upon them before us. Flinging open the windows of Room 1, we could see Bennachie in all its sunny glory – a feast for the eyes. It was a snug and comfortable room, very well catered for, and of course the modern bathroom, fluffy bathrobes and slippers were a very welcome addition.
After settling in, we decided to stretch the legs before dinner and went on one of the hotel's recommended walks to a nearby waterfall. Just an hour there and back, it was a pretty stroll, offering panoramic views of Aberdeenshire farmland.
We also ventured through their Walled Garden where nature thrived all around. Quite unexpectedly, we discovered a well hidden bird's nest – a hungry wee blue tit, waiting for Mum and Dad to deliver an afternoon snack, was cheeping impatiently inside. Watching from afar, we waited until an adult brought a juicy beastie back to the nest. It really was nature at its best and we were already totally enthralled by the tranquillity of the grounds.
For dinner, we went for a bar supper in The Snug. The chefs at Pittodrie House are passionate about sustainable, local produce, serving Scottish lamb and beef – the beef being matured for a minimum of 21 days – British chicken and British pork that is Red tractor certified.
I opted for the Thai green curry with corn fed, free range chicken, while my guest chose the Scottish beef burger. For those with a tighter budget, this is perhaps one to reserve for a special treat, but the service was slick, the food was delicious, and the bar itself was cosy and welcoming. We finished it off with a sticky toffee pudding; because how else does one finish a Scottish country bar supper?
We adjourned to our room for a spot of R&R, a cup of tea and we watched the sun disappear behind the hills. The silence was almost deafening it was so still, so we both enjoyed a very peaceful night's sleep.
In the morning we went to the Orangery for a spot of breakfast. Anticipating the usual continental brekkie, we were pleasantly surprised to find an extensive buffet, with additional cooked options available. Not one to turn down the opportunity of a Scottish classic, I chose the MacSween's haggis with fried hen eggs, and my guest went for the John Ross Jr smoked salmon and scrambled eggs. We enjoyed looking out onto the sunny lawn, once again with Bennachie providing a majestic backdrop.
We were keen to explore the surrounding area, and so went on a hunt for some of the local hotspots. Firstly, we visited Lower Thorneybank Farm Shop in Rothienorman, Inverurie, where they have recently installed a state-of-the-art vegetable vending machine. Picking up some spuds, carrots and berries – as well as some delicious homemade chocolate chip shortbread – we were delighted to uncover yet more fabulous local produce.
We then headed to Gordon Castle Walled Garden in Fochabers, just over an hour away from Macdonald Pittodrie House Hotel. Zara and Angus Gordon Lennox, owners of the estate, have worked tirelessly with their team to develop a stunning garden; they even grow their own vegetables and fruit for use in their on-site café. A peaceful haven not far from the hotel, this is an essential pit stop for anyone venturing north of Pittodrie House.
Before we knew it, it was time to head back for Afternoon Tea in Pittodrie House's luxurious Drawing Room. Full to the brim with fascinating antiques and centred around a welcoming wood burning stove, we took our seats in the bay window – the very same spot we had seen upon arrival.
The sun's rays poured in through the windows as a tower of Afternoon Tea goodies arrived. The savoury selection consisted of delicious sandwiches, as well as a miniature chicken and leek pie and a salmon tart. The pie was incredibly moreish and perfectly crisp on the outside, while the smoked salmon was piled high.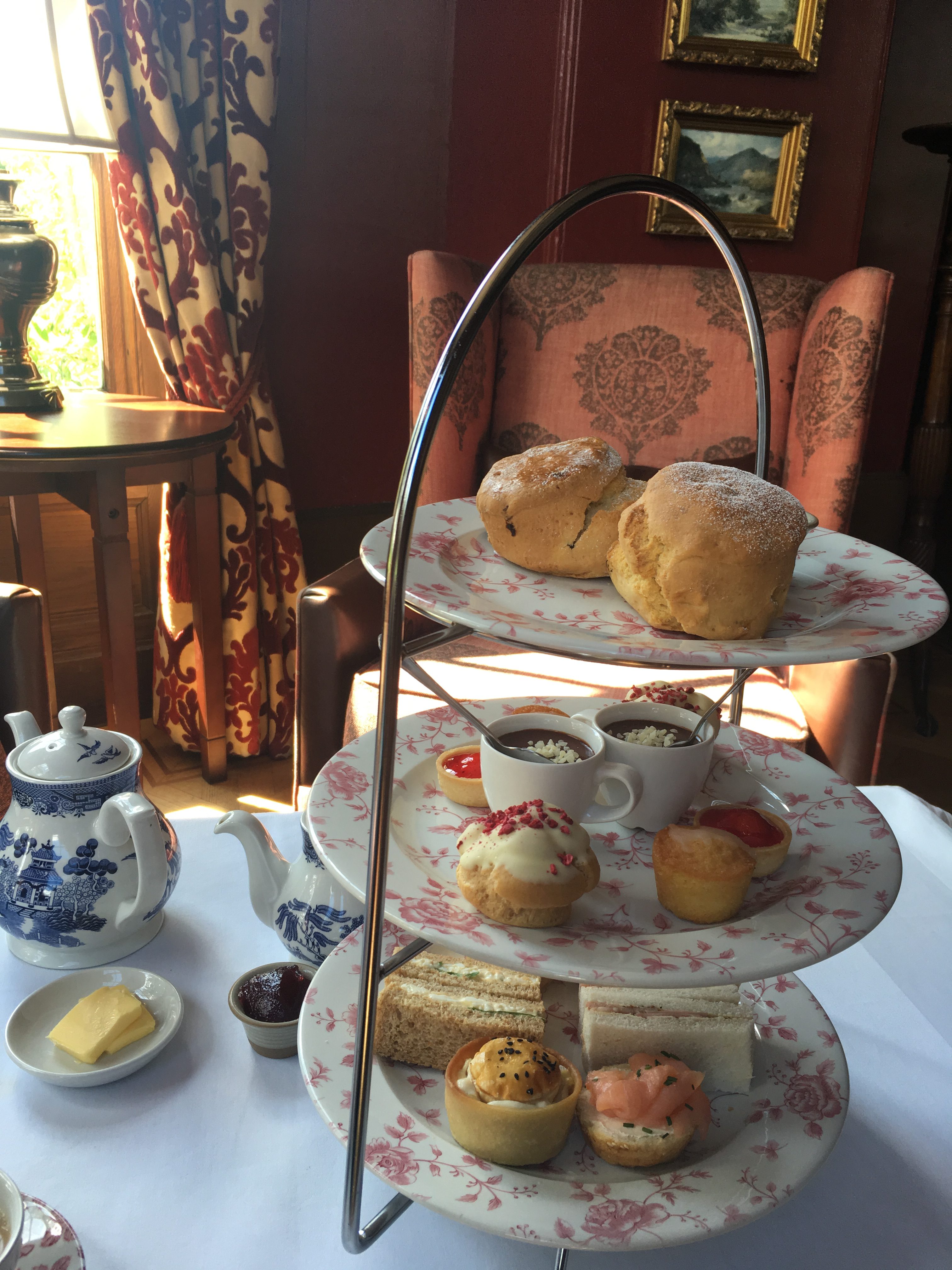 After a daydream out the window, we started on the next level which was full of delicious sweets. Easily our favourite was the raspberry and white chocolate profiterole, closely followed by the chocolate mousse with popping candy which brought happy childhood memories flooding back.
Scones topped off the whole experience, and a decadent Afternoon Tea had us full to the brim. We were hard pushed to finish it, but what a beautiful display it was. It was the delightful way to celebrate with family.
Though we thought we might struggle to do dinner justice, the hunger pangs returned once more with one look at the menu in the Mither Tap Restaurant. The 2-AA Rosette rated fine dining restaurant has a wonderful team; the service was faultless and the food…well, it was incredible.
Ed Blackhall, head chef at Macdonald Pittodrie House Hotel, and his team put an immense amount of care and attention into every plate of food they put out, and we were so lucky to have been the guinea pigs for their new tasting menu.
The first plate that arrived was stylish and simply presented. A green pea velouté with ham hock tortellini, parmesan wafer and truffle oil certainly sounded good, and it did not disappoint. An explosion of flavour hit the palate.
Beetroot cured salmon, wasabi, pink ginger and toasted sesame was next on the menu, and it was almost too beautiful to eat. Almost. It was not a flavour combination I had experienced before, and the wasabi wasn't nearly as hot as I had anticipated. The whole dish tasted beautifully earthy.
Cleansing the palate was a surprise entry – passionfruit sorbet, sloe gin and cardamom syrup. With my sweet tooth, this was most certainly one of my favourites of the night. It was served in a jam-jar (even more appealing as I am unashamedly a massive fan of the millennial fad).
The lamb loin that followed with asparagus tips and red wine jus was a showstopper, cooked to a pink perfection, and deliciously salty. Ed and his team made the lamb tender to the point it almost melted in the mouth.
The chocolate mousse with honeycomb pieces and ice cream that followed was rich, creamy, sugary, smooth and crunchy all at once – my guest and I looked at each other across the table; the look of delight in the eyes said it all. Willie Wonka, eat your heart out! This one's hard to beat.
To finish was a platter of Strathdon blue cheese and quince. Though I'm normally the last to dive into a cheeseboard, I thoroughly enjoyed it – and no one was more surprised than I was. For those who are a bit wary of the stronger cheeses, this was a really nice one to end the meal.
After watching the sun set once more over Bennachie, we couldn't have asked for a more beautiful end to our stay. Having come straight from a busy week at work, two days at the hotel allowed for some much-needed relaxation. Its rustic beauty and rural charm offered the ideal breakaway from the city, and the staff were incredibly eager to ensure our stay was peaceful and happy. If we could have stayed a few days more, we would have very happily done so. But as with all good things, they must come to an end.
Macdonald Pittodrie House Hotel rooms start from £130 per night for a cosy room; £150 for an executive room; and £180 for feature rooms. Four-poster bedrooms are £250.
They have private function/dinner rooms, including the Billiard Room, as well as a beautiful Ballroom which is ideal for intimate weddings with a breathtaking backdrop.
They are already taking bookings for Christmas lunch, dinner, parties and Afternoon Tea. Find out more on their website.