An enchanting Afternoon Tea with Edinburgh's The Cauldron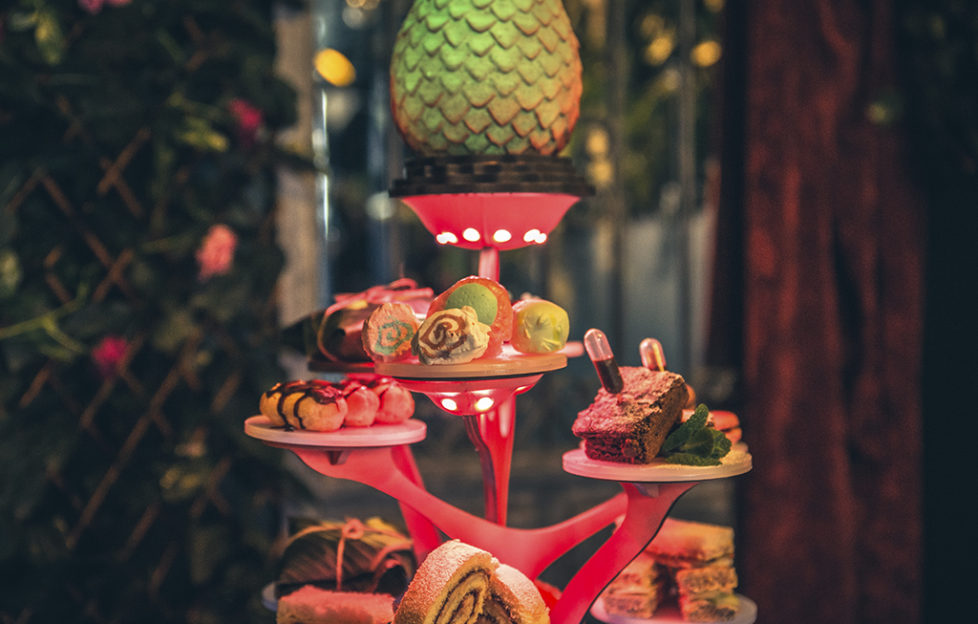 Forget Bertie Bott's Every Flavour Beans. Have you ever brewed your own Potion Tea?
Channelling our inner Minerva McGonagalls, my colleague Rachel Morrell and I donned our witches hats and headed to Edinburgh's The Cauldron, a magical haunt that has just launched an interactive Wizard Afternoon Tea Experience. With fully-functioning wands, an abundance of magical surprises, and quirky wizard masters looking after us, it was a blast from start to finish.
Based on the capital's Frederick Street, The Cauldron is bedecked with floating lampshades and jaunty bewitched paintings, while every inch of the walls is lined with intriguing potions. The reception area alone looks like a Fringe venue – and it doesn't take long for the theatre to begin.
Greeted by Dave Duckworth – wizard master, molecular mixologist, black-cat-owner and co-founder of The Cauldron – we were presented with our very own wands and led to our potions table. And don't worry if you are new to casting spells. As soon as we took our pews, we were enthusiastically invited to test our skills on the cake stand (which features a pulsing dragon egg with magical powers), and it worked seamlessly. Future Hermione Graingers? Perhaps not. More practice is definitely required for us to meet such lofty standards, but we nevertheless had a wonderful time accidentally summoning our wizard masters (AKA our very helpful, very patient waiters and waitresses) to the table.
Spells aside, the sweet and savoury offerings that were brought to the table were an absolute delight. Catering to our every need, The Cauldron staff provided us with a gluten-free option instead of their classic Afternoon Tea – and we wouldn't have known the difference. Stacks of Turkish delight, Millionaire Shortbread, brownies with raspberry syrup, beautifully parcelled scones, and sandwiches were presented to us, as well as freeze-dried Skittles which were a total, sugar-filled revelation.
The stars of the show, though, were the drinks offerings. Without ruining all the surprises, we practiced more wand skills before being able to grind and brew our own tea. Tipping the vials of rosebuds, peppermint and jasmine into a mortar and pestle made the resulting concoction seem all the more enjoyable. We were later led by Potions Professor Dave for Tea Drinking Round Two, creating colour-changing, glowing drinks that brought out the inner child in us both.
The brainchild of Dave, a former astrophysics student, and his co-owner Matt Cortland, who is a technologist, product designer and former reading teacher, the pair were keen to introduce a spot of showmanship to their new Afternoon Tea experience – and it doesn't disappoint. From enchanted tea boxes to Goblin-cursed tea cups, the pair's scientific and technological backgrounds have helped create a truly immersive experience like no other.
If, like me, your letter to Hogwarts got lost in the post, this is the perfect chance to practice for future magic school admissions tests. Pure unadulterated fun, this would be the perfect gift for the Harry Potter-loving millennial in the family. Jump on your broomsticks, hold onto your Sorting Hats, and enjoy the ride.
The Cauldron's Wizard Afternoon Tea costs £34.99 for the Arcane Wizard's Tea and £19.99 for the Little Wizard's Afternoon Tea. It can be booked ONLINE. 
The Cauldron Co has also launched a crowd-funded investment campaign – Equity For Magic – raising funds to help the business expand its immersive experiences. To find out more, to become a shareholder, and to breathe a bit more magic into the world, visit their website.