Yummy brambley apples meatballs with tasty mash and gravy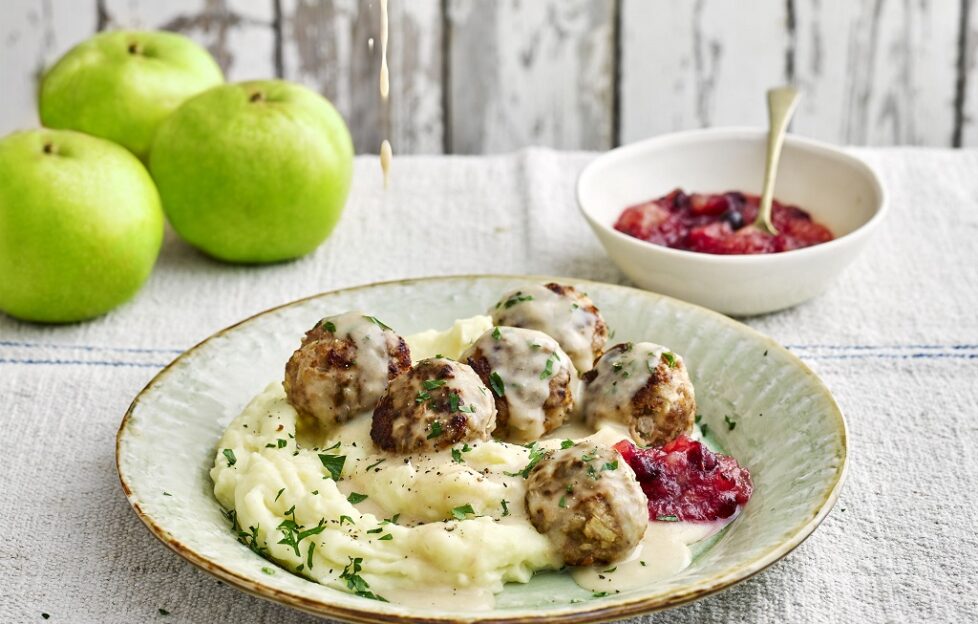 Bramley Apple Meatballs with Creamy Mash and Bramley Apple, Cranberry Sauce
For the meatballs: 1 Bramley apple, peeled, cored and grated
500g turkey thigh mince
1 white onion, finely chopped
1 tsp parsley (fresh, dried or frozen)
100g bread crumbs
1 egg, whisked
Salt and pepper to taste
1 tbsp sunflower oil
For the gravy: 30g butter
2 tbsp flour
400ml stock
1 tbsp Worcestershire sauce
30ml single cream (optional)
For the Bramley apple and cranberry sauce: 4 tbsp of apple sauce (see recipe) mixed with 4 tbsp cranberry sauce
Mix together the ingredients for the meatballs and roll into roughly 30 walnut sized balls
Heat a large non-stick frying pan over a medium heat, add a little sunflower oil and fry the meatballs in batches until cooked through. Remove the meatballs from the pan and set aside
To make the gravy, add the butter to the frying pan and melt. Sprinkle over the flour and stir cooking for 2 minutes.
Gradually whisk in the hot stock and keep stirring until the gravy has thickened. Add the Worcestershire sauce, and season to taste. Pour in the cream, if using, and whisk
Combine the Bramley apple sauce and cranberry sauce
Serve the meatballs on a bed of creamy mashed potato, pour over the hot gravy and serve with the Bramley apple and cranberry sauce on the side
Recipe © British Apples and Pears | https://www.britishapplesandpears.co.uk/recipes/
We bring you another delicious recipe for the week with delicious apples involved.
With British fruit in season, and apples and pears dropping from the trees, it seems like the right time to celebrate and use them in our cooking, and today we present Bramley Apple Meatballs with Creamy Mash and Bramley Apple, Cranberry Sauce.
Courtesy of British Apples and Pears, here's another delicious recipe.
Top meal prep tip: Double up on meatball quantities and keep some pre-cooked in the freezer – simply thaw throughout the day and reheat in the evening.