You can't beat natural flavours when you're cooking at home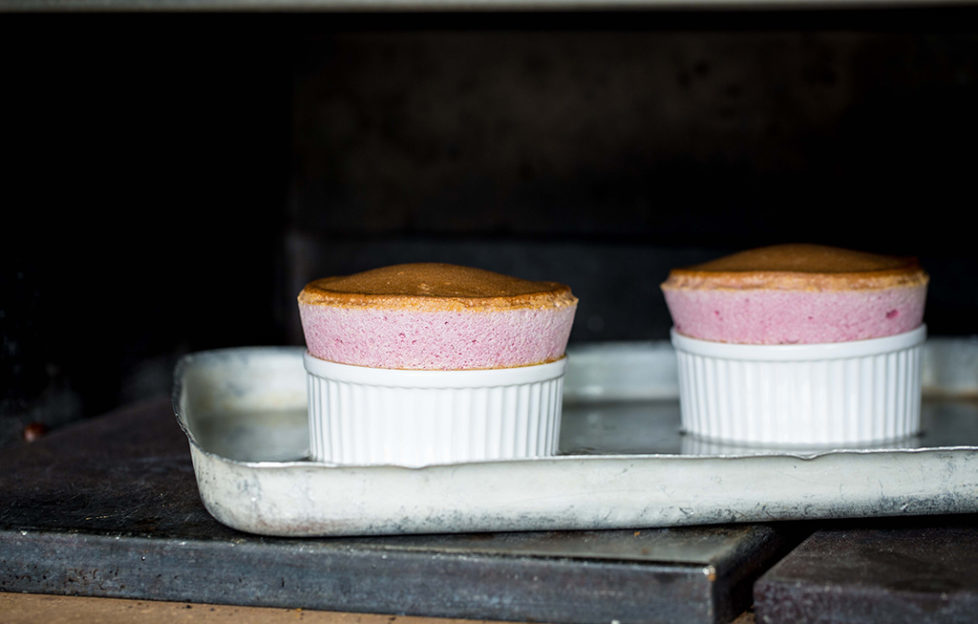 Scottish raspberry soufflé with salted chocolate sauce (Makes 8-10 large soufflé ramekins)
Soft butter and caster sugar to grease the ramekins
1kg Scottish raspberry puree, reduced to 600g
45g corn flour
500ml milk
125ml cream
100g caster sugar
2g salt
200g 70% chocolate couverture
300g egg whites
150g caster sugar
Using a pastry brush, twice butter the ramekins and dust with caster sugar. Set aside for later. Place the reduced raspberry puree in a pan and place on a medium heat. Mix the cornflour with 45g of water to form a paste, and add the puree once it starts to boil.
Continue to boil for 2-3 minutes to thicken and cook the cornflour through. Pass through a fine sieve, onto a tray lined with clingfilm and allow to cool. Place the milk, cream, 100g caster sugar and salt in a pan and bring to the boil. Add the chocolate and mix. Pass through a fine sieve.
Put the egg whites in a bowl and mix on a high speed with a whisk. Add the sugar in 1/3 stages and continue to whisk to medium peaks. Place the soufflé base into a bowl and beat to loosen. Add a small amount of meringue and mix to combine. Add the remaining meringue and fold in to form your soufflé mixture.
Pipe the mixture into your buttered and sugared ramekins, and clean the edges. Place in the fridge for up to 24 hours before baking at 220°C for 8-10 minutes. Serve with chocolate sauce.
When it comes to cooking, you can't beat food with natural flavours and colours.
Here, we present something that ticks both boxes, with some tasty raspberry soufflés, which are the perfect summer dessert to wow your dinner guests.
Recipe by Phillip Skinazi, executive pastry chef at Gleneagles.