Watch how to make your own tasty clootie dumpling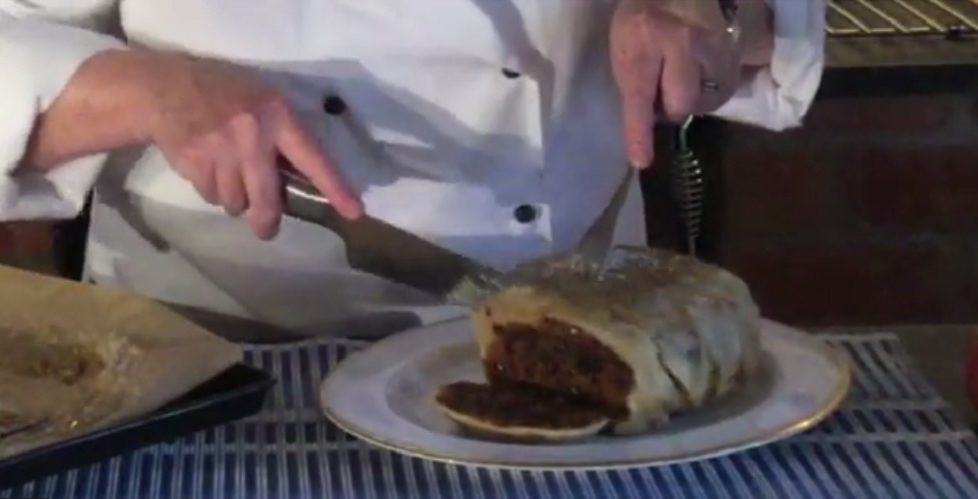 Cloutie Dumpling (Serves 10+)
Plain flour for dusting
100g vegetable suet
250g self-raising flour, sieved
1 tsp baking powder
75g caster sugar
450g currants & sultanas, mixed
1 tsp ground cinnamon
1 tsp each of ground ginger
1 firm green apple, grated
3 large eggs, beaten
Approx. 150ml milk
Caster sugar to dust
Scald a linen tea towel with boiling water. Ring out and lay on a flat surface. Sprinkle liberally with flour.
Place all dry ingredients in a large mixing bowl and combine.
Stir in apple, eggs with sufficient milk to mix to a dropping consistency.
Pile the mixture in the centre of the prepared tea towel and gather up the edge.
Tie into a bundle with natural string, allowing enough room for the mixture to expand.
Place an inverted plate inside the bottom of a large pan and place the dumpling on this. Add sufficient boiling water to come about three quarters of the way up the dumpling.
Simmer gently for 3½ - 4 hours, topping up water as necessary.
To turn out, heat an ovenproof plate. Remove dumpling from pan and untie. Turn out onto warm plate and place in a cool oven (130 degrees C/Gas mark 1) for a about 5 minutes to dry off.
Dust with caster sugar and serve with whipped cream.
Recipe © Wendy Barrie
Christmas is coming, and our kitchens will more than likely see more use than usual as we prepare for the big day.
We are delighted to present three video recipes from the award-winning Wendy Barrie, in the run up to the big day. Today, we present clootie dumpling.
Wendy explained: 'Clootie dumpling gets its name from the cloth it is boiled in; cloot is Scots for cloth.
'Many people have fond memories of their grandmothers making it and this is my Granny's original recipe.'
2018/9 Winner Thistle Regional Ambassador, Central, Fife & Tayside, Wendy is a highly respected campaigner for local sustainable food, popular cookery show presenter and food writer.
She is the founder and director of the award-winning www.scottishfoodguide.scot and www.scottishcheesetrail.com.
Wendy is leader in Scotland for Slow Food Ark of Taste and Slow Food Chef Alliance Member.