The perfect biscuit for those warm summer days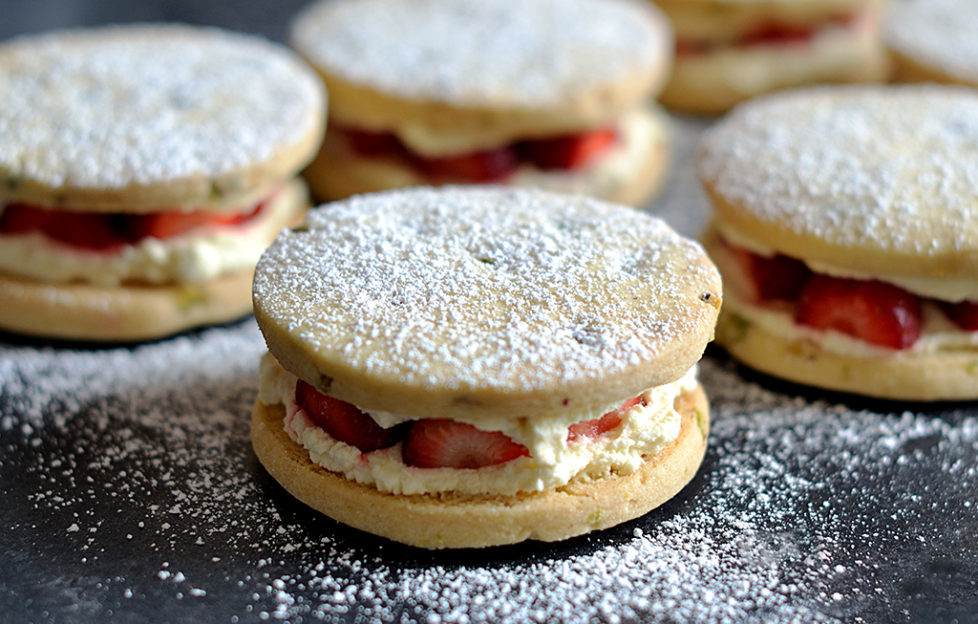 Strawberry shortcakes (serves eight)
For the shortbread - 100g caster sugar
200g salted butter (at room temperature)
300g plain flour
50g pistachio kernels
For the filling - 300ml double cream
Strawberries (washed and halved)
Icing sugar
For the shortbread - Pre-heat your oven to 160°c and grease your baking tray with a little butter. Cream together the butter and sugar in a large bowl until it becomes light and fluffy. Sift in your flour and mix to form a stiff dough. Roughly chop your pistachio kernels and add them to the dough. Tip the dough onto a floured worktop and gently knead until smooth.
Roll your dough to around 5mm thick and cut into circles. Transfer each shortbread to your pre-greased baking trays and prick each one with a fork on top. Bake at 160°c for around 15-20 minutes until the edges of the shortbread are golden.
Remove from the oven and leave to cool on the tray for around 10 minutes before transferring to a wire rack to cool completely.
For the filling - Cut your strawberries in half, dust with around a teaspoon of caster sugar and stir. Put aside to macerate. Whip your double cream in a large bowl until it thickens. Add a teaspoon of icing sugar if desired.
Once your shortbread has cooled completely, spread a dollop of cream onto the underside of each biscuit. Add the strawberries to half of the cream-topped biscuits, either neatly arranged in circles or randomly, if preferred. Use whatever cream is left to fill any gaps in the strawberries.
Sandwich your strawberry and cream topped biscuits with the biscuits with only cream. Dust with a little icing sugar to serve.
Strawberry shortcakes could perhaps be described as summertime snack eating at its best.
It's a tasty treat that accentuates the freshness of its ingredients and how pure its flavours are, alongside a crunchy biscuit that creates a pleasing mixture of textures on the palate.
It's a great thing to make when strawberries are in season – we heartily recommend these.
Recipe from Baking with Granny .