The Empire Biscuits strike back for a great recipe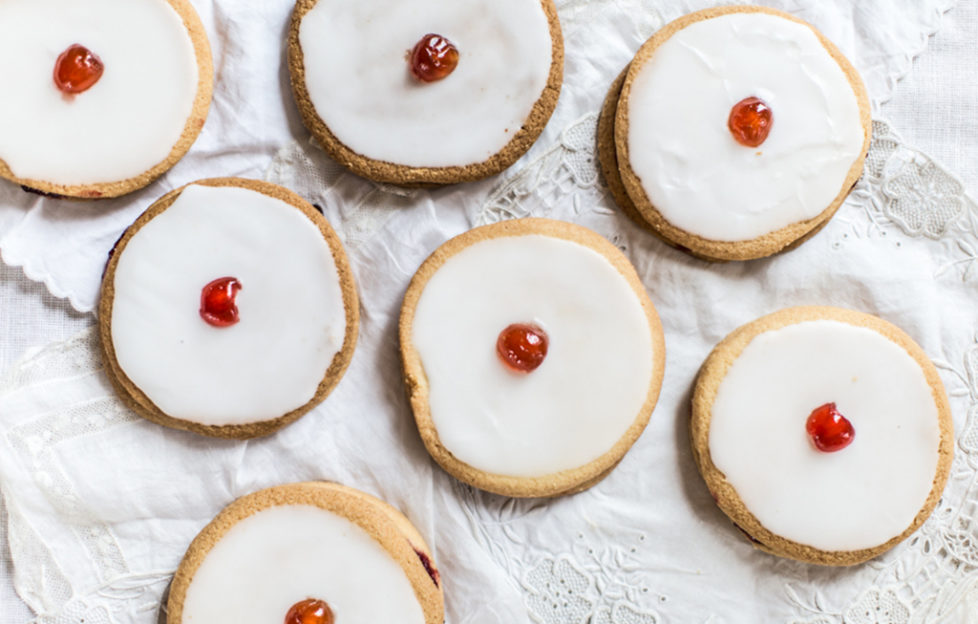 Giant Empire Biscuits
225g butter, softened
100g caster sugar
250g plain flour, sifted
Raspberry jam
Glace cherries or jelly tots
450g icing sugar
60ml milk
Preheat oven to 180C. Line baking trays with baking parchment.
Cream together butter and sugar for 2 – 3 minutes until fluffy and light.
Add the flour and beat very briefly until just combined.
On a lightly floured surface, roll the dough out to 5mm thickness.
Cut into circles using a pastry/cookie cutter.
Bake in preheated oven for 8 to 10 minutes until the biscuits are lightly golden.
Allow biscuits to cool on baking trays for 5 minutes before removing to a wire rack to cool completely.
Dollop a teaspoon of jam onto a biscuit spread out a little but not right to the sides. Sandwich a second biscuit on top. Repeat with the remaining biscuits.
Using a small whisk mix together the icing sugar and milk to form a spreadable icing. Using the back of a teaspoon spread on top of the biscuit sandwiches. Top each biscuit with half a cherry or a jelly tot whilst the icing is still wet.
Recipe © Three Sisters Bake | https://www.threesistersbake.co.uk/
Our series of delicious bakes for autumn continue today.
Our recipes this week comes from Three Sisters Bake, who established their first café in Quarriers Village in 2011. The sisters recently opened Cake Bar on Great Western Road in Glasgow.
The new take-away and sweet treat destination is already known as the most instagrammable café in Glasgow, complete with neon signs and flower installations and of course, cake. Three Sisters Bake also has a countryside café in Killearn and a regular pop up at Platform at Argyle Street Arches.
They are sharing recipes this week with Scottish Field, and today we present some delicious giant Empire Biscuits.