Tasty tartlets that make for a yummy dessert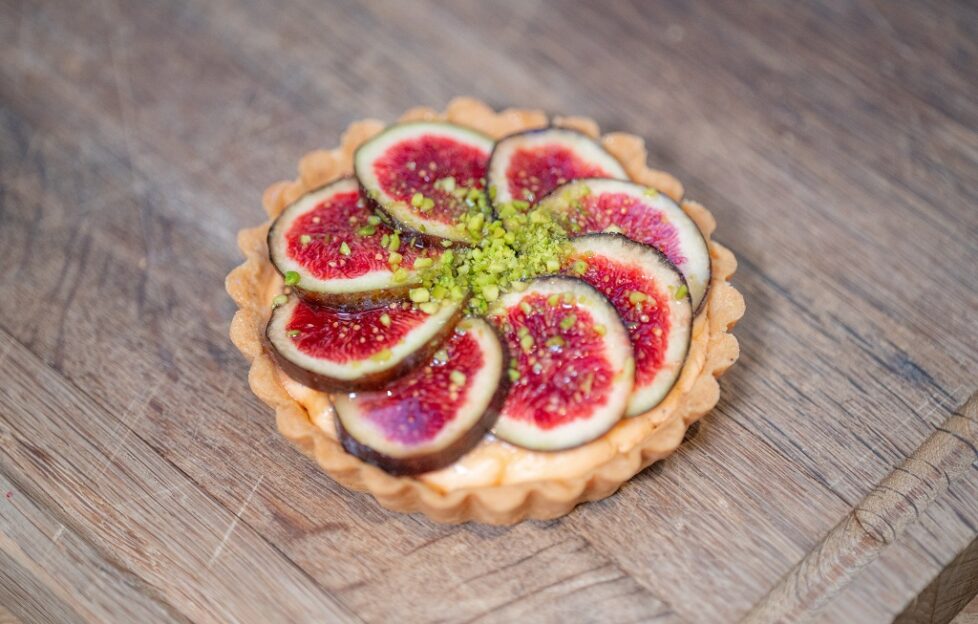 Fig, Pistachio and Tomato Tartlets
Pastry: 225g plain flour
40g icing sugar
1/2 tsp vanilla extract
125g cold unsalted butter, cut into cubes
1 egg yolk
Filling: 4 ripe figs (sliced lengthways)
100ml double cream
1 tsp Mutti Double Concentrated Tomato Puree
30g icing sugar
100g mascarpone (room temperature)
1 tsp vanilla extract
2 tbsp honey
4 tsp ground pistachios
For the pastry, put the flour and sugar in a food processor and blitz until combined. Add the vanilla and butter, and whiz until it resembles fine breadcrumbs. Add the egg yolk and 1 tbsp iced water, and whiz until the dough comes together into a smooth ball. Enclose in plastic wrap and refrigerate for 30 minutes
Preheat the oven to 180°C/160°C fan/gas 4. Roll out the pastry to a thickness of 5mm then cut into 4 circles, just slightly bigger than the tart tins, then line the tins with the pastry
Prick the bases and cover with one sheet of baking paper, fill with baking beans and blind bake in the oven for 8 – 10 minutes. Remove the beans then cook for another 5 minutes until golden brown. Set aside to cool while you make the filling
For the filling, beat together the double cream, Mutti Double Concentrated Tomato Puree and icing sugar until soft peaks. In a separate bowl mix together the mascarpone and vanilla extract until smooth. Add the whipped cream to the mascarpone then mix until smooth. Pipe into the tart cases then top with the sliced figs
Heat the honey in a small saucepan and brush over the figs.Sprinkle with the pistachios then serve immediately
Recipe © Mutti | https://mutti-parma.com/en/
Today we bring you our final recipe in association with Mutti, this time for a dessert.
Mutti, the Italian tomato brand, has announced Hannah Such from Kilburn, London, as the winner of its nationwide cooking competition.
Mutti's mission is to raise the tomato to its highest expression and this contest challenged consumers across the UK to do exactly that by creating a three-course tomato-based menu using the Mutti Essentials range.
Inspired by Mutti's Pomodorino d'oro award, this new culinary competition recognises and rewards the best tomato cook. Menus were judged on hero'ing the tomato, originality, presentation, menu appeal and taste.
Hannah's winning three-course tomato-based menu included – Starter: Aubergine Parmigiana Rolls with Basil Oil – hero'ing Mutti Polpa; Main: 'Nduja and Marscapone Spaghetti – hero'ing Mutti Passata; Dessert: Fig, Pistachio and Tomato Tartlets – hero'ing Mutti Double Concentrated Puree.
Hannah said: 'I'm incredibly proud to win. It's a big confidence boost, proving to myself that I am a good cook. I believe the quality of the ingredients is what makes the best dishes, hence why I use Mutti.
'I am so excited about the trip to the food valley in Parma. I can't wait to explore the home of Mutti and spend time with Mutti head chef Carlo – it's going to be an incredible experience.'
Today we bring you the recipe for her dessert, the Fig, Pistachio and Tomato Tartlets.