Tasty dish with langoustine, crab and seaweed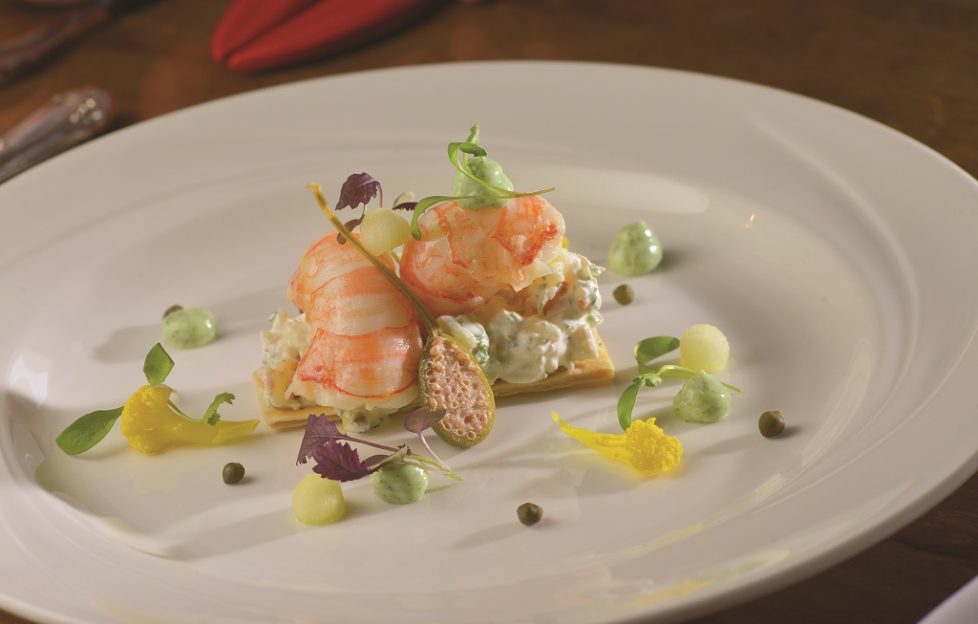 Butter poached Tiree langoustine tails with brown crab and new potato salad, seaweed mayonnaise and mojo verde
2 langoustine tails
100g unsalted butter
Roasted langoustine oil
50g white crab meat
4 new potatoes (peeled, cooked and diced)
10g sliced spring onion
5g chopped coriander
100ml crème fraîche
½ lemon
Salt & pepper
1 bunch curly parsley
1 small dried red chilli
½ tsp cumin seeds
½ tsp coriander seeds
1 garlic bulb
25ml white wine vinegar
20g caster sugar
100ml rapeseed oil
50g fresh seaweed
120ml rice wine vinegar
2 egg yolks
1 tsp wasabi paste
250ml vegetable oil
Butter poached Tiree langoustine tail. Method: Bring a pot of water to the boil. Blanche langoustine tails for 2 minutes (depending on the size), refresh in ice-cold water and peel, and place aside for later.
Orkney brown crab and new potato salad. Method: Zest and juice ½ lemon, mix with crème fraîche. Add crab, potatoes, spring onion, coriander, salt and pepper and add crème fraîche. Puff pastry base Roll puff pastry and cut into rectangles, pierce with fork and bake between silicone mats to keep flat for 15 minutes at 180ºC.
Mojo verde. Method: Wash and pick parsley, place in blender with all remaining ingredients, slowly blend in rapeseed oil and season to taste.
Seaweed mayonnaise. Method: Pick over the seaweed and rinse it well, then squeeze dry. Place it in a food processor with the rice wine vinegar, egg yolks and wasabi paste and blend. With the motor running, slowly add the oil until it emulsifies and thickens. Pass through sieve.
Assembly . Place puff pastry in the middle of the plate, carefully spoon crab and potato salad along the pastry. Poach langoustines in butter for two minutes, lift out, season and coat in roasted langoustine oil. Place the langoustines on the top of the salad. Garnish plate with caper berry, apple, cauliflower and micro coriander. Finish with seaweed mayonnaise and mojo verde.
Flavour is always the number one priority for Gary Phillips,  the head chef at Kilcamb Lodge on the stunning Ardnamurchan peninsula.
But how do you know when a chef is committed to his work?
Well, he falls in love with the place, buys a house and gets married. And that's exactly what Gary has done.
The 32-year-old chef from New Cumnock in Ayrshire started work at the hotel on the beautiful Ardnamurchan peninsula seven years ago and openly admits that he's now 'there for life'.
'Every day I come into work and I learn something new,' he says.
'It's different from other kitchens where you worry about what you are able to do and what's booked in for that night.
'Here we just do it. No matter how complicated the techniques, we do it. We really get to enjoy cooking because we cook whatever we want.'