Our recipe of the day is a pea panna cotta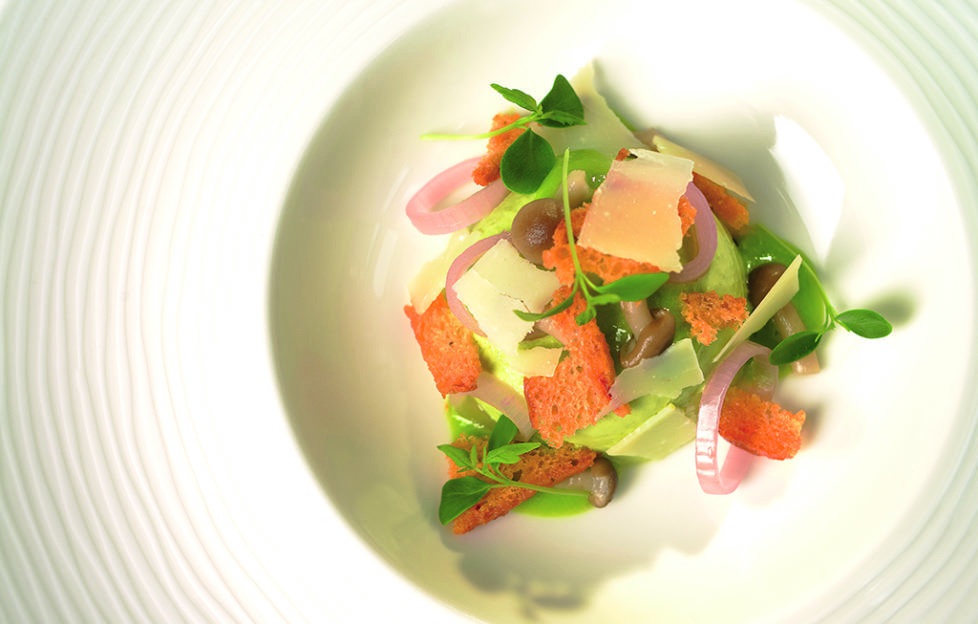 Pea panna cotta, pickled shallots and mushrooms
Panna cotta: 250ml whipping cream
1½ sheets gelatine (soaked in cold water)
250g frozen peas
Salt
Pickled shallots and mushrooms
50g sugar
100ml white wine vinegar
20 shimeji mushrooms
1 large shallot (cut into rings)
Pea cream: 50g peas
Cold water
Salt
Focaccia toast - ½ focaccia loaf
Olive oil
Sea salt
Shaved parmesan
Micro cress
For the panna cotta, bring the cream to the boil and stir in the soaked gelatine. Cook the peas in boiling salted water and add to the cream, purée together in a food processor and pass through a fine sieve.
Pour into moulds and allow to set in the fridge. For the pickled shallots and mushrooms, bring the sugar and vinegar to the boil, then pour over the shallot and mushrooms, and allow to cool.
For the pea cream, purée the peas, adding a little water at a time until you have a smooth paste. Season with salt and pass through a fine sieve
For the toast, thinly slice the focaccia, drizzle with olive oil and sea salt, spread out on an ovenproof tray and place in a hot oven (180ºC) until golden brown.
To serve: Remove the panna cotta from the moulds by briefly dipping them in hot water. Place in a bowl and garnish with the pea cream, mushrooms, shallot, toast, parmesan and cress.
With its seafood bias and focus on quality produce, Craig Millar's @16 West End in St Monans will hook your attention and reel you in.
For someone whose mum used to call him the fussiest eater ever, Craig Millar has clearly changed his ways. 'Now I'd eat anything – apart from celery and peppers,' laughs the man who is now a chef. 'To actually eat a raw pepper – I still couldn't do it.'
Peppers aside, Millar has made his mark with his modern, welcoming restaurant Craig Millar @16 West End – which holds 2AA Rosettes – in the pretty former fi shing village of St Monans in Fife's East Neuk.
Dundee-born Millar has owned the restaurant for fi ve years. Prior to that he was in partnership with Tim Butler, whose family were the original owners. 'I started as head chef, and a few years into that I got the chance to buy into the restaurant. We opened a second place in St Andrews, called The Seafood Restaurant. I had a partnership with Tim for 13 years and in June 2011 we decided to go our separate ways.'
(This recipe was originally published in March 2016)