Marinated White Fish with Hearts of Palm and Passion Fruit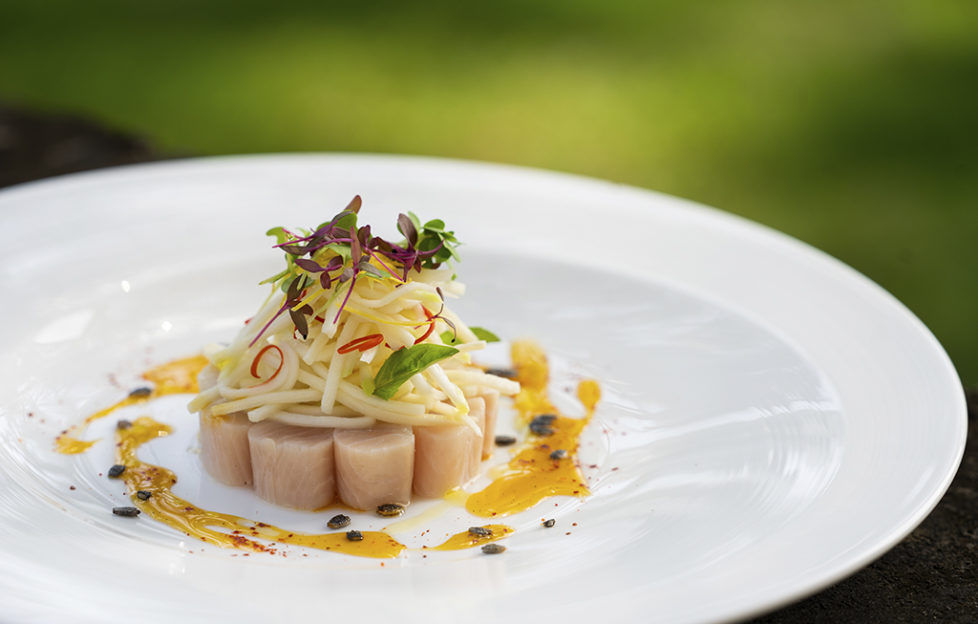 Marinated White Fish with Hearts of Palm and Passion Fruit
For the fish:
1 fillet (400g) mahi mahi / snapper / sea bass
The juice of 1 lemon
The juice of 1 lime
1 red chilli
1 shallot
Handful of basil
Handful of rock salt
Black pepper
A large piece of fresh ginger
For the passion fruit syrup and garnish:
Nectar
Passion fruit
Star anise
Long pepper
Black pepper corns
Cinnamon stick
Hearts of palm julienned
Green mango julienned
Soft red chilli
Lemon skin
Olive oil
Basil leaf
For the fish: Put the fillet in a tray and cover with rock salt for 5 minutes. Remove salt, then rinse, then dry with paper.
Squeeze lemon and lime and chop ginger, chilli, shallot and lemon and stir and mix altogether.
Marinate the fillet for 5 minutes in the mixture.
Slice into small pieces.
For the syrup and garnish: Cut the passion fruit and separate the seeds from the pulp.
Dry the seeds and keep for decoration.
Heat the Nectar to get a caramel, add the spices and passion fruit pulp and cook until you have a syrupy texture.
Leave to cool.
Mix the hearts of palm, mango, chilli, olive oil, lemon skin and basil leaf together to make the garnish.
To serve, place pieces of fish on the plate, add the mixed garnish on top, pour the syrup around the fish and finish with seeds and basil.
Recipe © Executive Chef Stephane Gortina from the restaurant at the Legian Seminyak, Bali | https://www.lhm-hotels.com/
Michelin-starred chef Stephane Gortina leads the team at The Legian Seminyak's restaurants and bars: The Restaurant, The Pool Bar and The Ocean Champagne Bar.
Chef Gortina's favourite dish is an exotic and colourful dish: Marinated Mahi Mahi with hearts of Palm and a Passion Fruit sauce and Gortina has shared the recipe for keen foodies to make at home. This dish would also work with snapper or sea bass if Mahi Mahi is not available.
One of the finest hotels in Indonesia, The Legian Seminyak, Bali is world-renowned for its exceptional culinary offerings. Arguably the best ocean-front dining destination in Bali, The Restaurant showcases a contemporary cuisine with a twist of Asian flavours and focuses on using local, organic and sustainable ingredients.