Indulge yourself with this chocolate fondant cake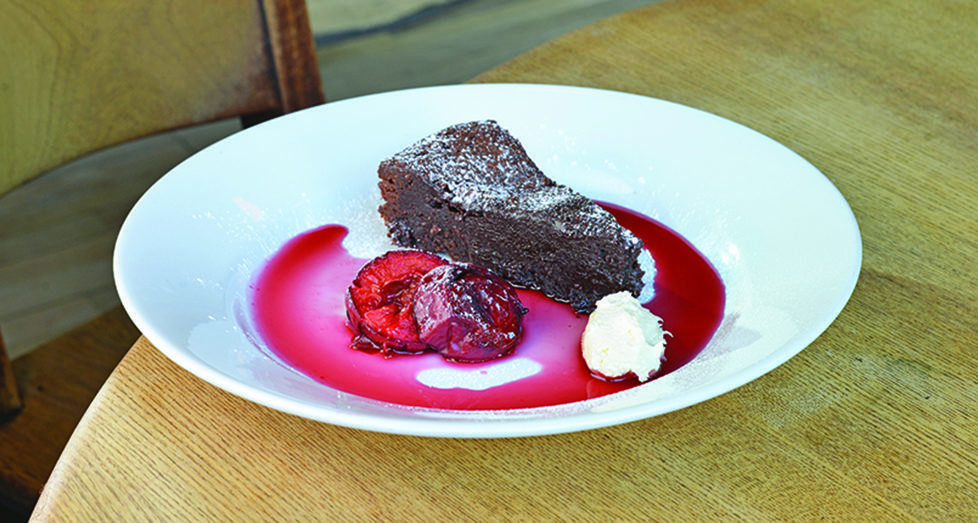 Chocolate fondant cake (makes 12 slices)
200g chocolate (preferably 70% cocoa), broken into pieces
200g salted butter
250g caster sugar
5 eggs
40g ground almonds
8 plums
Star anise
Caster sugar
Preheat the oven to 175ºC. Grease and line a 23cm-deep sandwich pan. Put the chocolate, butter and sugar into a plastic bowl and microwave on medium for three minutes. Remove and stir until well mixed.
Beat or stir in the eggs one at a time, then stir in the ground almonds.
Scrape this batter into the pan and bake for 25 minutes. The centre should still be wobbly at this stage, but it will firm up as it cools. Leave in the pan to lose the heat before turning it out. You can heat slices of it in the microwave for a few seconds and it is divine served with ice cream, fresh raspberries or the plums.
Halve the plums and remove the stone. Place cut-side up on a baking tray with half a star anise pushed into each half. Cover the plum halves with a teaspoon of caster sugar. Bake at 180ºC for 15 minutes.
Allow to cool then serve with the chocolate fondant and a scoop of crème fraîche.
Joanne Munro is head chef at a Glasgow institution – Café Gandolfi, in the city's Merchant City enclave.
She is keen to maintain the ethos on their produce being Scottish where possible.
Joannee said: 'I know everyone now talks about seasonality, but that's how I've always worked. Our menu very much depends on what produce is available that week, so it keeps our ideas fresh.
'I work very closely with suppliers, and they always know we're up for trying something a little bit different. I work with a great butcher.
'We also use a great supplier in Arran who grows organic vegetables. I love a Friday morning when these massive boxes arrive and there's the most mental-looking veg inside.
'In fact we're using asparagus now that's grown out near Glasgow airport, so I don't think we could get it any closer. I'm also in the process of smoking some nice big Portobello mushrooms – we do a lot of that sort of thing ourselves. We're then going to bread them like a schnitzel. 'I'm planning an asparagus risotto, but when we make risotto we like to add something with a different texture, so with these mushrooms it will be our take on a Milanese type of dish.'
There seems no doubt that more than 30 years after this much-loved establishment opened its doors having been inspired by the Gaelic proverb Deagh bhiadh, deagh bheannachd – 'Well fed, well blessed', Café Gandolfi looks set to bless its customers with a lot more of the same.