Have you every tried a delicious pork souvlaki?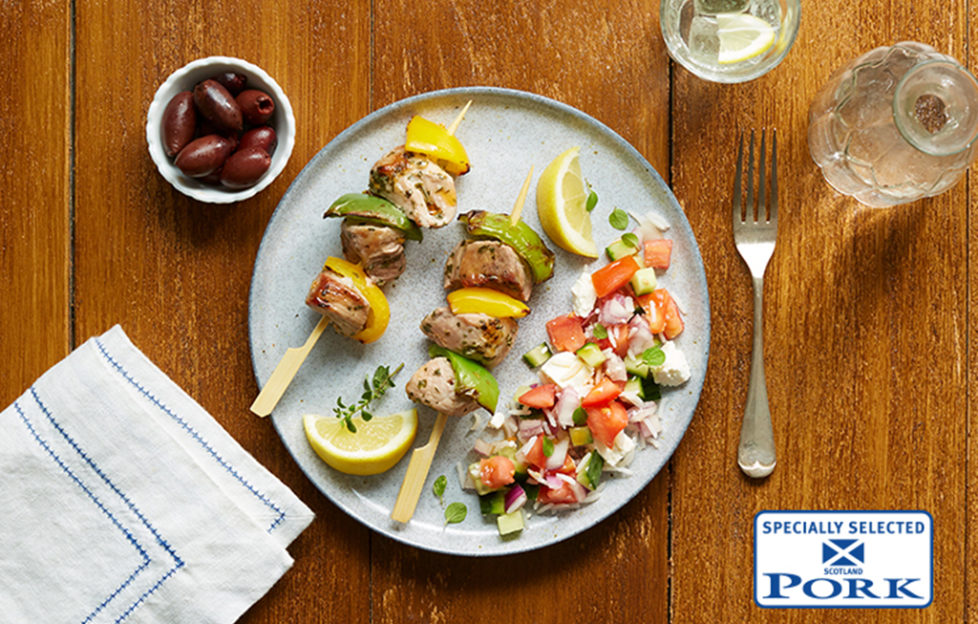 Pork Souvlaki (Serves four)
500g leg of pork or diced pork leg
2 x cloves garlic
2 x peppers
50ml lemon juice
50ml rapeseed oil
1 x tsp dried oregano
Black pepper
Salad: 100g cooked white long grain rice
3 x large vine tomatoes
A third of a cucumber
1 x red onion
150g feta cheese
Fresh basil
4 x metal or wooden long kebab sticks
Soak wooden skewers in water
Cut the pork into medium size chunks. Peel and mince the garlic.
Put the oil, lemon juice, garlic and dried oregano into a large bowl, season with some black pepper. Drop the chunks into the oil bowl and mix well
Marinate for a couple of hours, or if possible overnight
Chop the peppers into chunks, try to keep them the same size as the pork.
Thread the pork and the peppers onto the skewers
Preheat the grill to high and grill the kebabs for 15 minutes, turning as you grill
For the salad: Finely chop the red onion, cucumber and tomatoes add to the rice, crumble over the feta and mix well
Serve the souvlaki on a bed of the salad – tear over some basil leaves and serve
Putting pork on our tables is the aim of a new campaign with Specially Selected Pork.
As part of Quality Meat Scotland's Go Places with Pork campaign, a series of recipes that combine one of Scotland's best-loved ingredients with flavours from other countries are available on the Scotch Kitchen website.
Today, we present a recipe for Pork Souvlaki.
Quality Meat Scotland's marketing manager Kirsty Fox, said: 'Consumers can be confident that the meat has come from selected Scottish farms where high production methods and animal welfare standards, which are assured by the Scottish SPCA, are a priority.
'When selecting pork, make sure to look out for Specially Selected Pork logo in supermarkets and at local butchers.'
Find the full range of simple and delicious recipes at www.scotchkitchen.com.