Haggis salad – a quick and easy recipe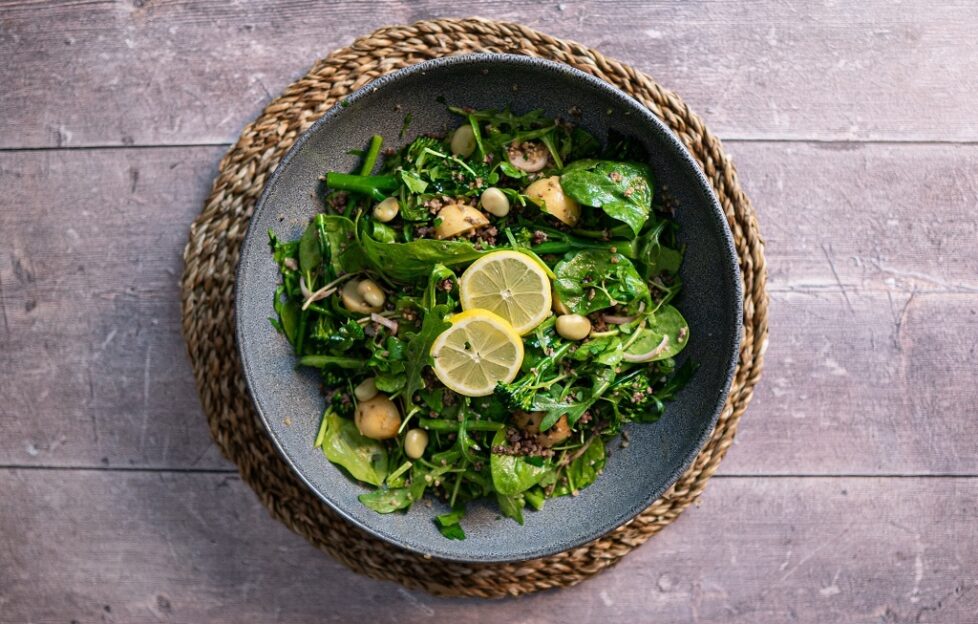 Haggis Salad
1/2 a 400g classic or vegetarian haggis (crumbled)
12 small new potatoes
A small pack of green beans
150g young broad beans
Small bunch of tenderstem broccoli
3 spring onions
Drizzle of olive oil
Juice of 1 lemon
2 shallots sliced into rings
15 mint leaves (10 torn, 5 shredded)
Handful of watercress and pea shoots
For the dressing: Dijon mustard
Olive oil
Lemon juice
Cook haggis according to the pack.
Prepare potatoes and salad.
Bring a large pot of water to the boil and blanch the potatoes - drain and slice into halves.
Bring a large pot of salted water to the boil. Drop in the green beans, broccoli, broad beans, peas and spring onions and cook for a couple of minutes.
Drain and cool under cold water.
Spread on a tray with the potatoes. Drizzle with a little olive oil and season with salt and pepper.
Whisk together the mustard and vinegar in a bowl, slowly adding the oils. It should have a thick consistency, like a sauce.
Season with a good amount of salt and black pepper.
Recipe © Macsween | https://www.macsween.co.uk/
This week, we've been giving you some new ideas about what to do with Scotland's national dish.
Courtesy of Macsween, we're mixing things this week up to bring you haggis in new and interesting ways.
Today, we keep pushing the boat out – and bring you a haggis salad!