Apple, bramble, honey and oats in a tasty recipe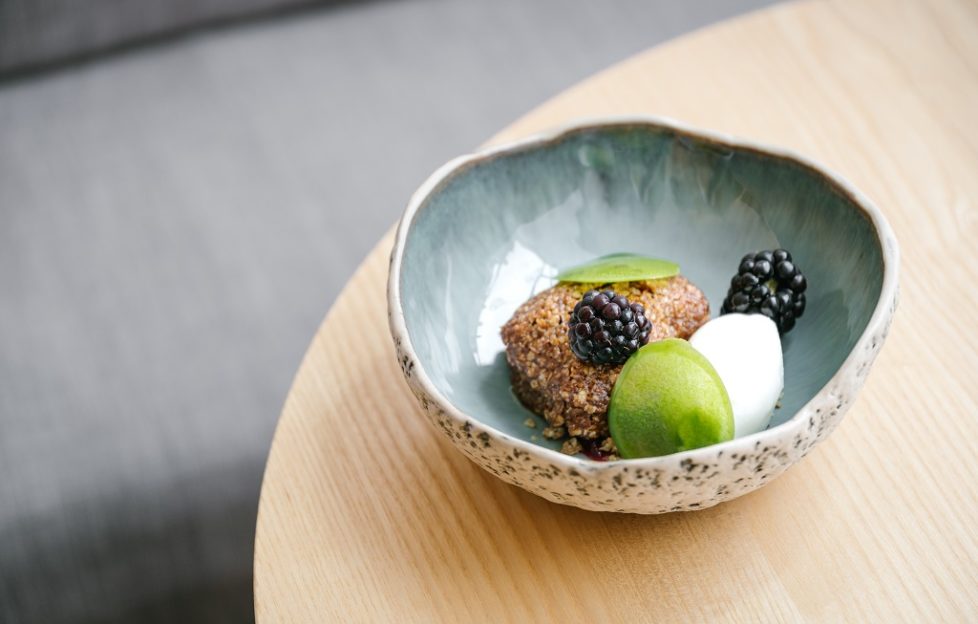 Apple, Bramble, Honey and Oats (Serves 4)
For the stewed fruit: 6 Braeburn Apples
100g Brambles
80g Caster Sugar
50ml Tullibardine The Murray Marsala Cask
Pinch Sea Salt
For the honey oats: 150g Porridge Oats
90g Butter
40g Honey
40g Muscovado Sugar
For the yoghurt ice cream: 170ml Water
150g Caster Sugar
1 tbsp Glucose Syrup
5g Pectin
250g Yoghurt
First make the ice cream. In a saucepan, add the water, glucose and half the sugar. Bring this gentle to a boil and stir to dissolve the sugar.
In a bowl, mix the remaining sugar and the pectin together. Now whisk this into the boiling syrup and mix for approximately 1 minute. Remove from the heat and allow to chill fully
Whisk in the yoghurt and then churn in an ice cream machine. Store in the freezer
Make the oats: Preheat the oven at 180⁰C
Gently melt the butter in a saucepan and then add the honey and the sugar. Cook on a medium heat while stirring for about 3 minutes. Remove from the heat and then add oats. Stir this well while still hot to make sure the oats get fully coats in the mixture.
Once in has cooled slightly, roll the mixture into small balls (slightly smaller than a ping pong ball) and space them on a baking mat. Cook for 8 minutes until the have flattened out and golden brown. Remove and allow to cool.
Stew the fruit: Peel and chip the apple into cubes about 1cm by 1cm. Add the sugar to a heavy bottomed pan and heat gradually until it reaches a light caramel. Carefully add the apple and half the brambles. Continue to cook on a medium heat until very soft and the mixture isn't too wet. Now remove from the heat and add the remaining brambles, whisky and salt. Let the residual heat soften the add brambles.
To serve: Add a large spoon of the stewed fruits to a bowl and place a disc of the oats on top. Lightly blowtorch the oats so it shapes itself over the fruit. Add a scoop of ice cream to the side and garnish with fresh brambles and apple. Serve immediately.
Our selection of tasty recipes with craft whisky and food pairings from independent restaurant Fhior and Tullibardine Whisky concludes.
The Tulli at The Table partnership showcases the diversity of the single malt whisky and explored non-traditional flavour pairings between the spirit and Edinburgh based restaurant.
The partnership between Fhior and Tullibardine sees chef patron at Fhior, Scott Smith and master distiller Keith Geddes, worked to design an exclusive tasting menu of seven courses boasting the best flavours of Scotland inspired by the history and modern practices of the distillery.
By experimenting with whisky in different forms, the menu was designed to encourage experimentation of whisky in food and communicate its quality, diversity and potential.