A tasty lobster thermidor recipe to make at home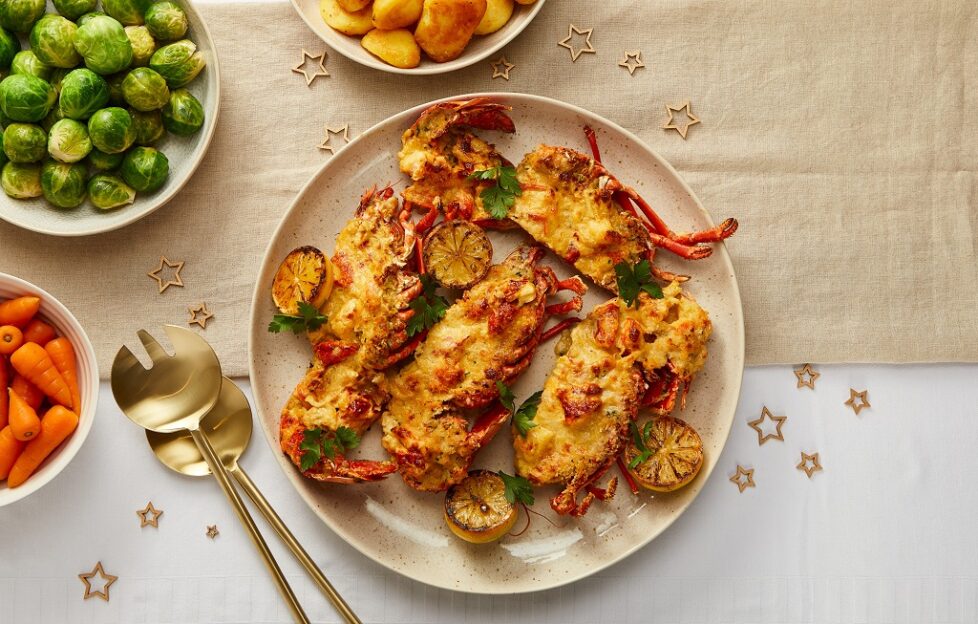 Lobster thermidor
2 whole cooked lobster, meat removed and shells cleaned
2 tbsp butter
2 shallots, finely minced
1 garlic clove, minced
2 tbsp plain flour
2 tbsp dry white wine
175ml milk
50ml double cream
100g Parmesan cheese, grated
50g Gruyere cheese, grated
Handful of chopped parsley, plus extra to garnish
1 tbsp Dijon mustard
Black pepper
Lemons, to serve
Flakes
Juice of ½ lime
Melt the butter in a high-sided (ideally non-stick) frying pan. Add the shallots and garlic and gently cook for a few minutes until softened.
Add the flour, whisk to combine and cook for a further 2 minutes.
Add the white wine then slowly whisk in the milk. Bring up to the boil then immediately reduce the heat to simmer for a few minutes, until the sauce has thickened enough to coat the back of a spoon.
Slowly add the cream, stirring until combined.
Remove from the heat and stir in the Parmesan, Gruyere, mustard and parsley. Season with black pepper, stir and allow the cheese to melt before folding in the chopped lobster meat.
Fill the shells evenly with the mixture and place them on a baking sheet under a pre-heated grill for 8 -10 minutes, or until the mixture is bubbling.
Garnish with a little parsley and serve with the lemons.
Recipe © Love Seafood | https://www.loveseafood.co.uk
This lobster thermidor dish will bring class and sophistication to the dinner table this festive season.
Nothing says special occasion quite like lobster and this classic serve is no exception. Ready in 15 minutes, it oozes glamour without having to slave over a stove all day.
Everyone deserves to treat themselves during the festive period and this recipe from Love Seafood allows you to indulge whilst also helping you to bring on better living.
Love Seafood is focusing on how seafood can Bring on Better Living, showcasing how easy and tasty seafood is to cook at home. It's simple, budget-friendly and encourages consumers from across the UK to bring more balance into their diets with a high-protein seafood option.
Shop your local fishmonger for a great choice of sustainably sourced seafood and for more recipe inspiration, visit www.loveseafood.co.uk.